Spotlight: The Popular Viscont White Granite
Tweet
---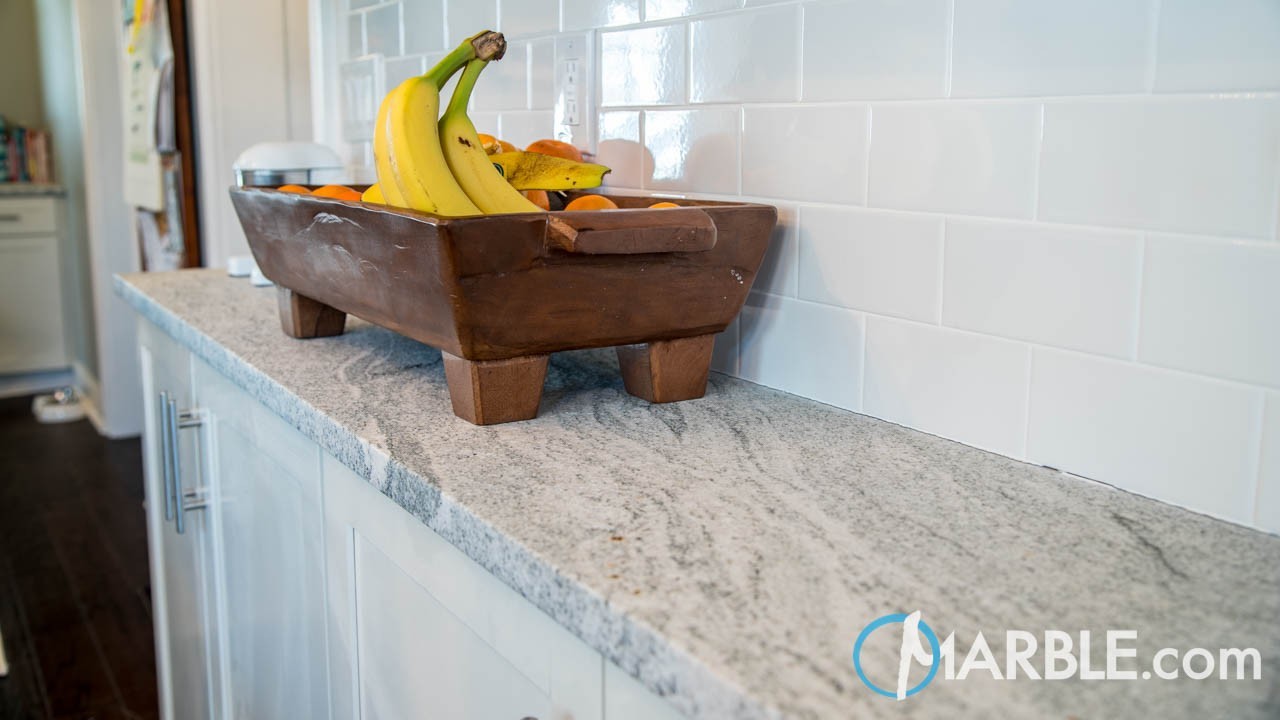 Quarried in India, Viscont White granite is actually a grey-white fine-grained granite with a consistent speckling of black and white, and the perfect granite for any kitchen, bathroom, floor or fireplace application, and like all natural stones, each slab is unique.
When polished, a clear epoxy resin is often used to fill any small pits or micro fissures, which does not impact the stone's integrity; it simply gives it a better, smoother finish. Frost resistant, Viscont White granite can be used for both interior and exterior applications. Viscont White granite is commonly used with modern kitchen designs, but can be a beautiful addition to any space, indoor or out.
Applications
This granite is suitable for both commercial and residential projects, kitchen countertops, bathroom vanities and surrounds, backsplashes, tiles, and fireplaces.
Surface Finishes
Viscont White granite looks best with a polished surface but can also be found with honed, satin, antique, flamed, brushed, water-jet, and sawn finishes.
Sealing
Viscont White granite should be sealed at the time of installations and then up to two times annually.
Origin
Viscont White granite is quarried in India, near Madanapalle, Andhra Pradesh. There are several Viscont White granite quarries, and each yields a distinct hue and veining pattern.
A key element in modern kitchen design is the reliance on natural materials. In the picture below, clean white cabinets and contemporary hardware produce a very sleek modern look that reflects natural light, thereby brightening the space. The Viscount White granite counter brings natural warmth and complements the wall color while the granite's grey and white veins accentuate the flow of the room.
Viscont White granite has many names, including, but not limited to, Viscount White, Bianco Viscont White, Madanapalle White, Mandana Pali White, and Wiscont, but just one beautiful and elegant style.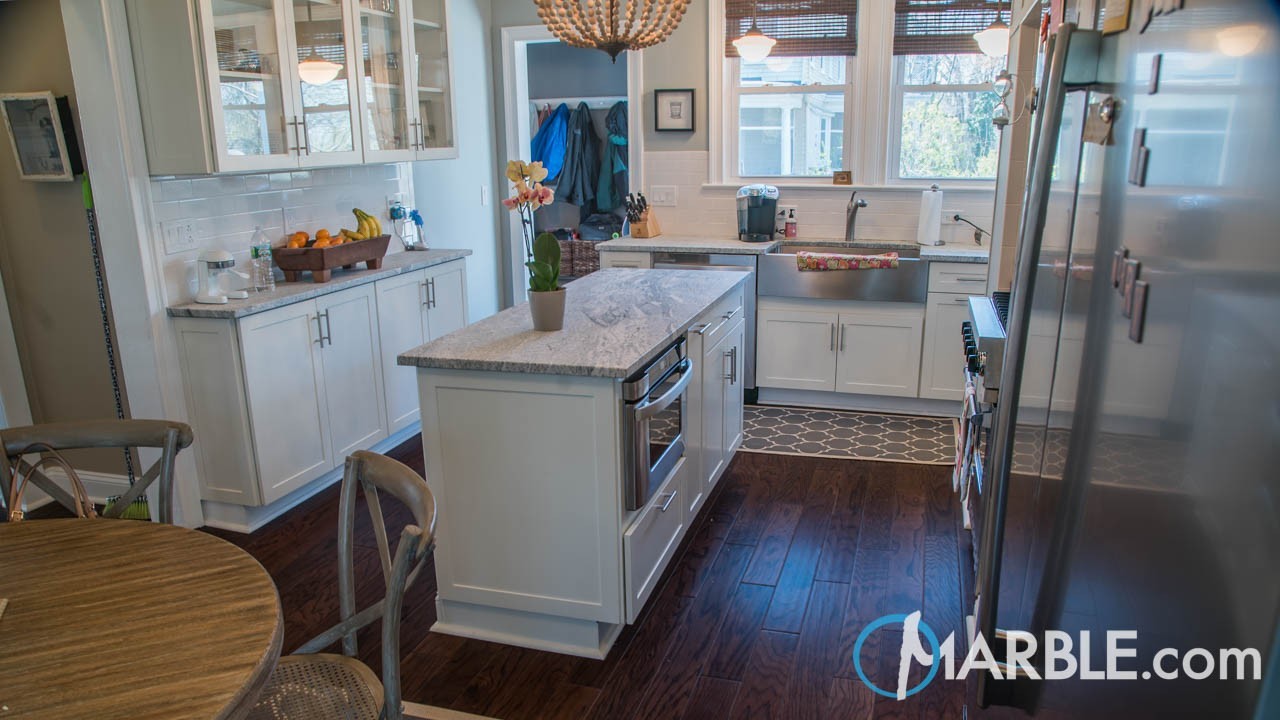 Granite remains one of the most sought-after countertop materials. Found in locations around the world, granite is an abundant and naturally occurring rock, formed when liquid magma cools and solidifies. One of the hardest materials on earth, granite can be used for a wide array of applications because of its unmatched durability, and Viscont White granite is no exception.
Resistant to scratches and heat, Viscont White granite serves as a great countertop, especially for busy kitchens.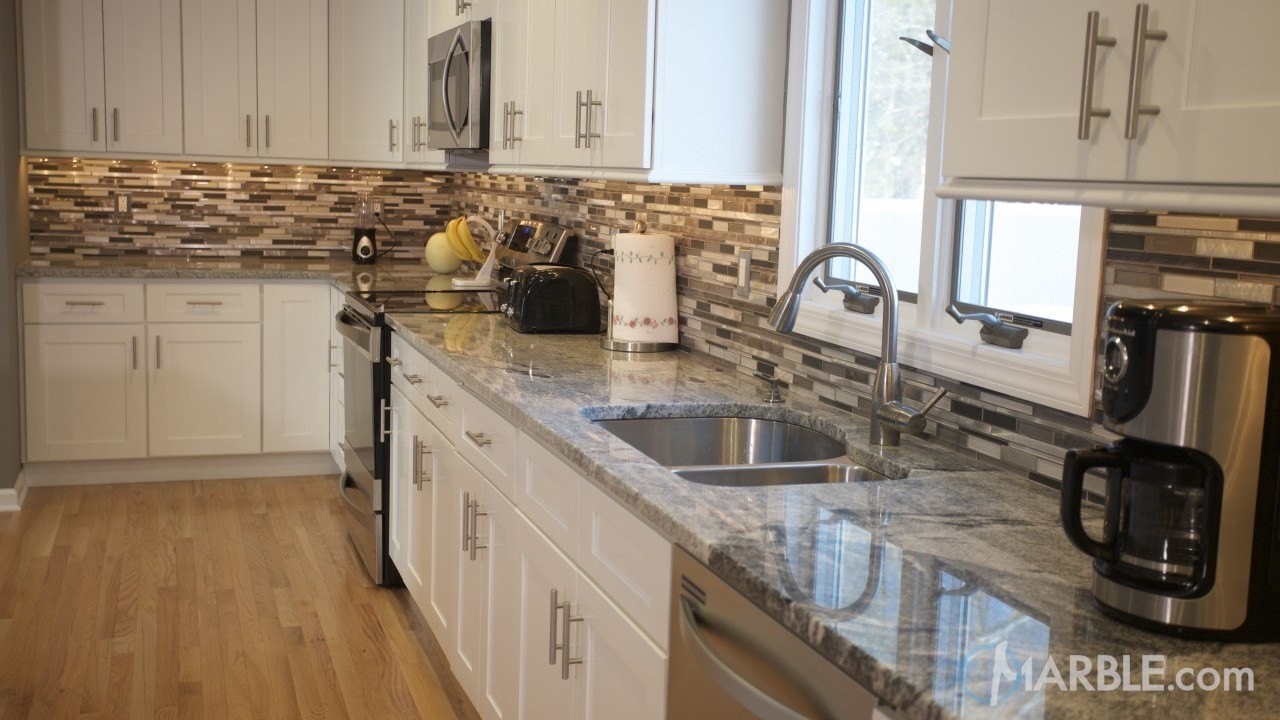 Not to be outdone, Viscont White granite is also a beautiful addition to any bathroom as a vanity top or shower or bathtub surround. In the living room as a fireplace surround, Viscont White granite is unbeatable.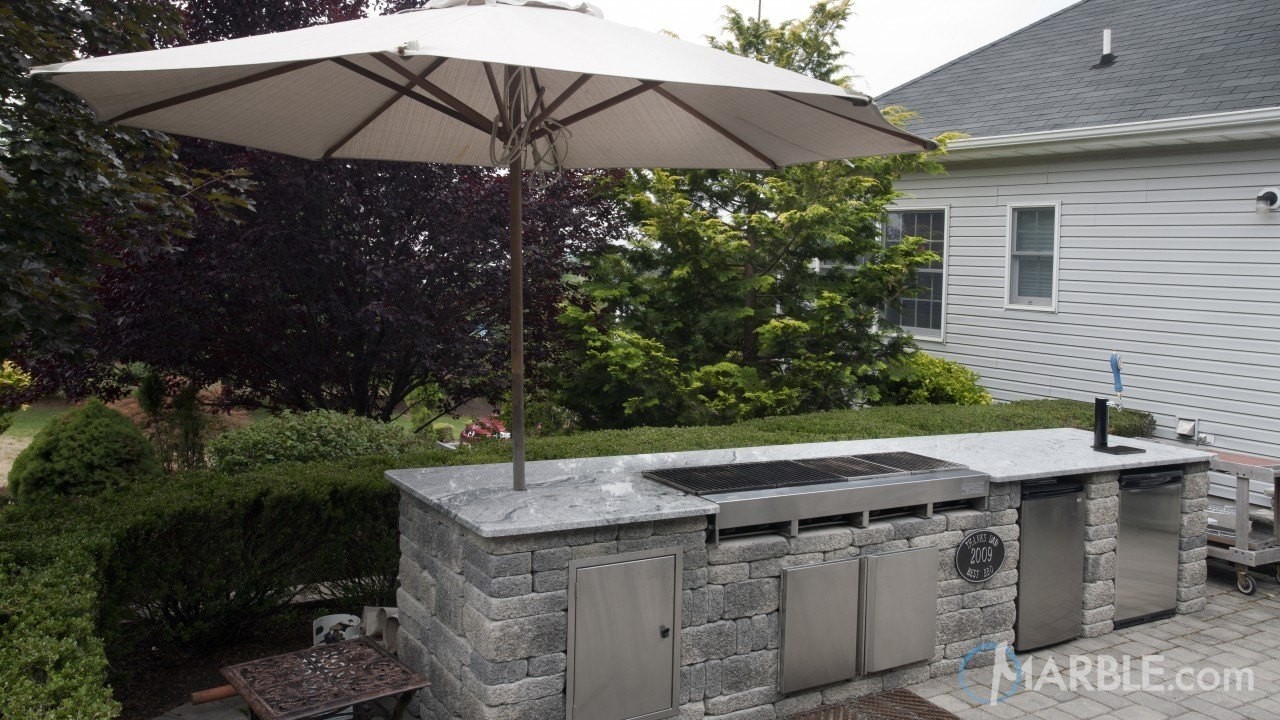 Viscont White Granite also provides beauty and elegance to any outdoor entertainment space. In the picture above, the outdoor kitchen area appears connected to the house with white and grey veins flowing through the stone. All-weather, stainless steel appliances, a large grill top, plus the built-in beer tap combine to make this an excellent space for entertaining.