Quartzite of The Week: Super White Quartzite
by Ann Kent
Posted on December 14, 2017 12:00:00 PM
Tweet
---
Quartzite is a popular stone in the natural stone countertop industry. Like granite, it is extremely durable, heat and stain resistant, and relatively easy to maintain, requiring sealing only 1-2 times a year compared to the 4 times required of marble. Quartzite is suitable for both kitchen countertops and bathrooms vanities and is frequently installed as an alternative to marble counters.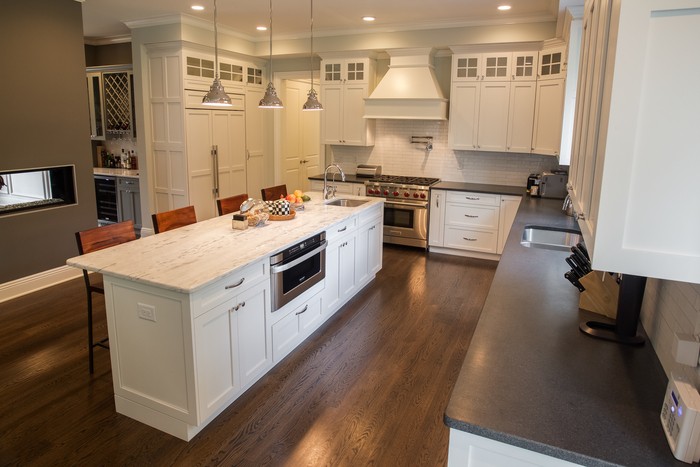 Look at this gorgeous Super White quartzite topped kitchen island
While granite is available in a wide range of colors, quartzite countertops and vanities are mostly sourced in light white to gray colors. Super white quartzite is a popular type of quartzite because it provides the look of marble without the effort. Quartzite is a dolomitic marble that is a hard, non-foliated metamorphic rock. Originally quartzite was in the form of pure quartz sandstone, but over time it changed to quartzite as a result of heating and pressures related to tectonic compression. It is extremely hard with characteristic light veining akin to those found in marble. The color of Super White quartzite can vary from bright white to a bit grayer and like all natural stones, it is the imperfections or differences that make each slab unique and beautiful.
Quartzite, like granite, is stain resistant, strong, and will not etch like marble when exposed to water or acids.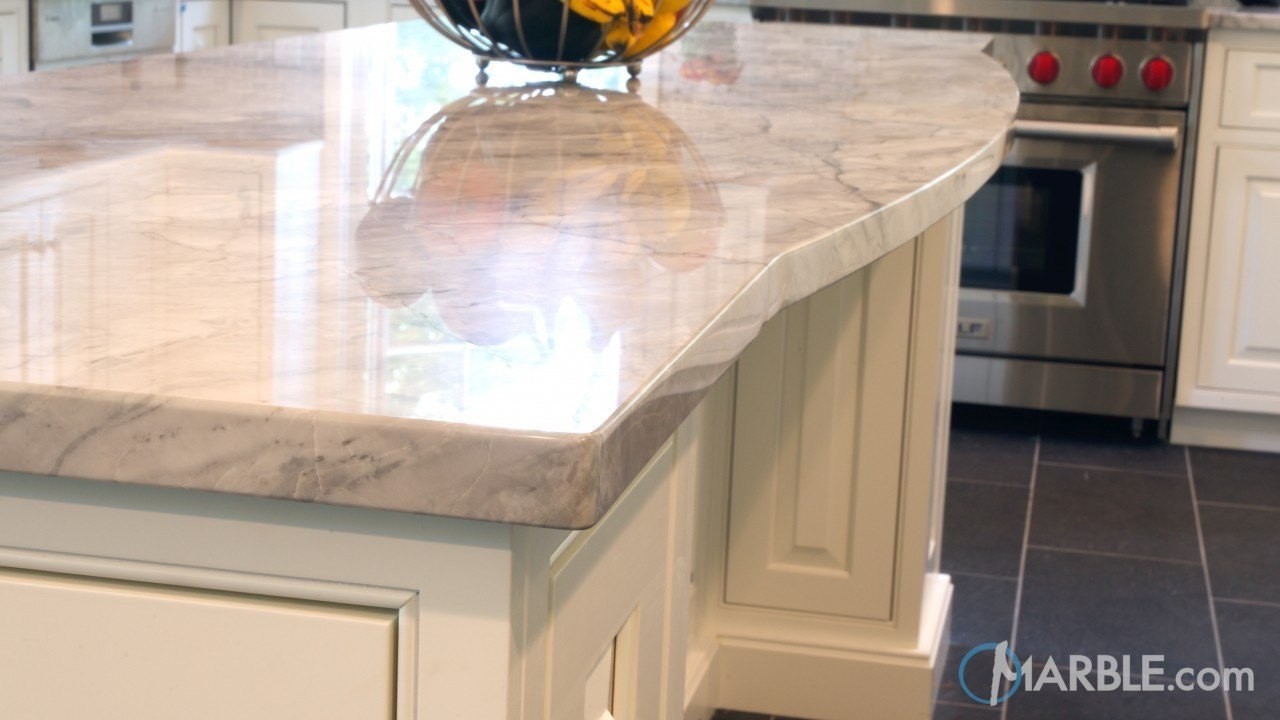 Super White quartzite has veins similar to marble
When purchasing your quartzite, you want to make sure to purchase from a reputable slab yard to ensure that you are buying high-quality stone. If it i of not 100% quartzite, it will not behave the same way.
More and more homeowners gravitate toward quartzite for their kitchen countertops and vanities because our kitchens are busy and not necessarily suited for the maintenance that marble counters require. Quartzite provides the perfect alternative that mimics the rich veiny look of marble without the fuss. It is resistant to scratches and can withstand heat without scorching. Light colored stones continue to be in demand for both bathroom and kitchen installations as they create an open and bright feeling within a space and create a clean look that can match any homeowner's design.
Super White Quartzite provides a perfect complement to dark and light cabinetries and works with almost every kitchen design from ultra-modern to coastal and beachy and an installation of quartzite will be sure to add value to your home when it comes time to sell. Further, you won't have to spend time repairing the chips and etches that are commonly seen with marble installations.