Popular Layouts for your Kitchen Remodel
by Dean Gemmell
Posted on October 10, 2017 12:00:00 PM
Tweet
---
When it's time to remodel your kitchen, the layout you choose will dictate many of your design choices as the project moves forward. Think about the dimensions of the space, the shape of it, the location of the plumbing — yes, it can be moved but not without added expense — and how you see the people in your life using this essential room. A smart layout, with areas for cooking, storage, and entertaining, is critical. Once you consider all the elements within it, you can start to think about ways to make your kitchen a personal statement, whether that means granite countertops, unique cabinetry, or bold appliance choices.
Classic Kitchen Layouts
But back to that layout. You may have more options than you realize and it's a good idea to consider all of them. In a smaller space, a one-wall or simple galley approach might be the most efficient — and it definitely won't be boring if you finish with high-quality materials such as Classic White quartzite on the counters. A U-shaped kitchen is essentially a wider version of a galley and works well if one person handles most of the cooking in the home. A traditional L-shaped design can open up the room and keep the cook from feeling sequestered — if space permits, an island makes this approach even more welcoming. More involved is a G-shaped layout, a plan that is often chosen because it efficiently uses all the space — it is essentially an L-shape but adds a peninsula or an additional wall of cabinets.
Granite? Marble? Quartzite?
After careful thought on the layout of your new kitchen, it's time to turn your attention to materials and colors. For many people, a smaller kitchen dictates bright stone colors, whether they are inclined to choose either granite, marble or quartzite countertops. The aforementioned Classic White quartzite is a brilliant choice, echoing marble with its grey highlights and veining while being extremely durable and easier to maintain. Viscont White granite leans more towards grey, but this Indian stone also works well in a space that isn't especially expansive.
In a larger kitchen, your stone color choices really open up. But even when space is bigger, many chefs' still love the cool qualities and timeless appeal of white marble, despite the fact that it does require more diligence to maintain its beauty. The beautiful veining and tactical qualities of marble slabs can be impossible to resist.
If your overall kitchen design has a more modern or contemporary appeal, there are all kinds of options if you choose granite countertops. Granite has, of course, enduring popularity, due to its natural beauty and remarkable durability. The best natural stone fabricators always keep a large number of granite slabs in their inventory, in a wide range of colors, to be sure they have a selection in their container that will meet the needs and the design sensibilities of their customers. Consider granite countertop choices such as Peregrine C or Butterfly Green if you want to inject something bold into your new kitchen layout.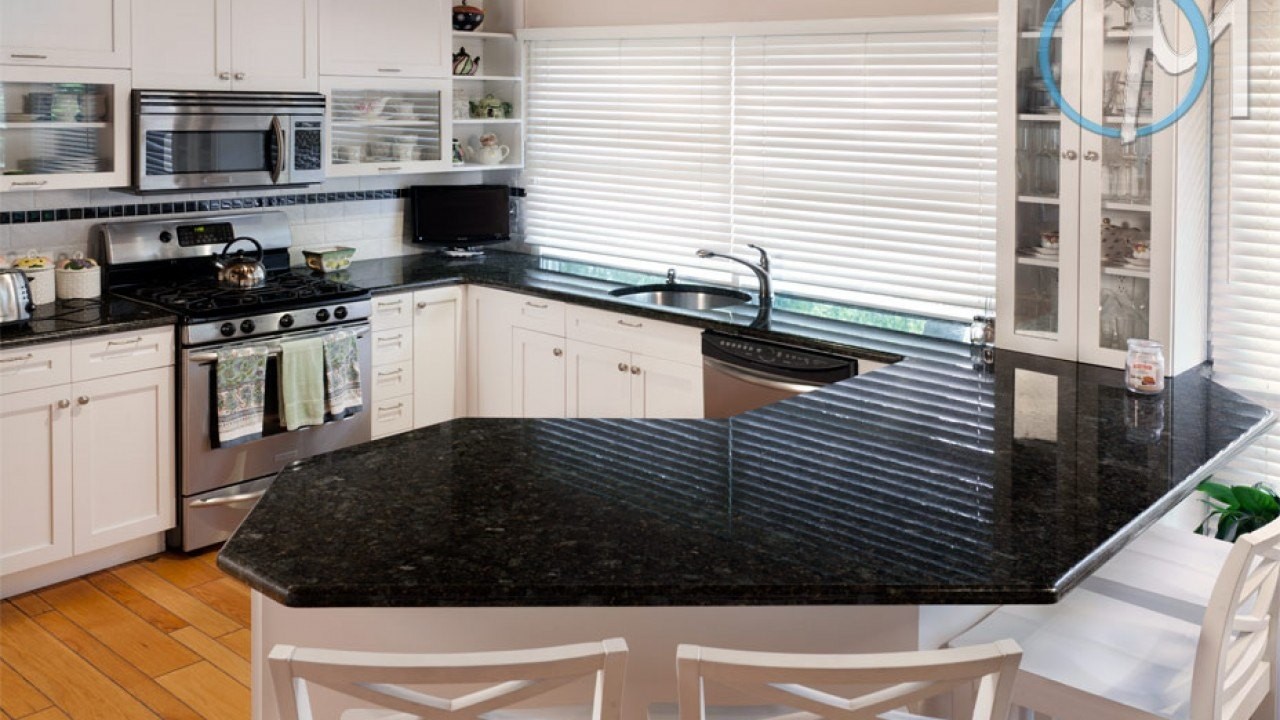 Butterfly Green Granite Kitchen countertops in a U-shaped kitchen layout
Choosing a Natural Stone Fabricator
The natural stone industry continues to evolve, adapting to changes in consumer tastes and trends in kitchen design. Offering a wide variety of stone colors in a range of materials — granite, marble, quartzite — makes adding these elements to the countertops in your new kitchen layout an exciting part of the remodeling or new construction process. Natural stone fabricators with a large inventory of slabs ensure that you can take your kitchen design as far as your imagination and that no matter which layout you choose, the materials within it make an impressive statement.