Picking the right wood for your kitchen cabinets
by Ann Kent
Posted on January 08, 2018 07:00:00 AM
Tweet
---
Your kitchen is a place that you will be spending a lot of time, so you need to make sure that every decision you make is important to the overall feeling of the kitchen. While at marble.com, we would say that your countertop decision is the most important design aspect in a kitchen, your cabinetry finish is a close second. Your countertops and cabinetry need to work together to create a kitchen that is cohesive and aesthetically appealing.
Before committing to any cabinet choice, you should always take time to view how that material looks against your selection of granite, marble, quartzite or quartz. Take various cabinet doors that have different stains to the slab yard and place them directly next to your slab to see how the colors will complement each other. You may find that a cabinet color that looked perfect in the design showroom is not the right choice when viewed next to your stone choice. The natural stone industry sees a high demand for all countertops colors as there is always a stone to perfectly match each type of wood, but more often than not, homeowners will replace or resurface their cabinets over the course of a lifetime or a change in homeownership without changing the countertops. For this reason, you should always place more emphasis on your countertop choice when designing a visually appealing kitchen.
White
White and off-white cabinetry are extremely popular because like white countertops, the light colors on the cabinets make the kitchen appear larger and less confining. White cabinetry looks great with almost every stone color making it an easy selection for all kitchens. Designers often pair light Viscont White granite with a darker Silver Pearl granite or UbaTuba granite on the perimeters to create a feeling of depth in the space.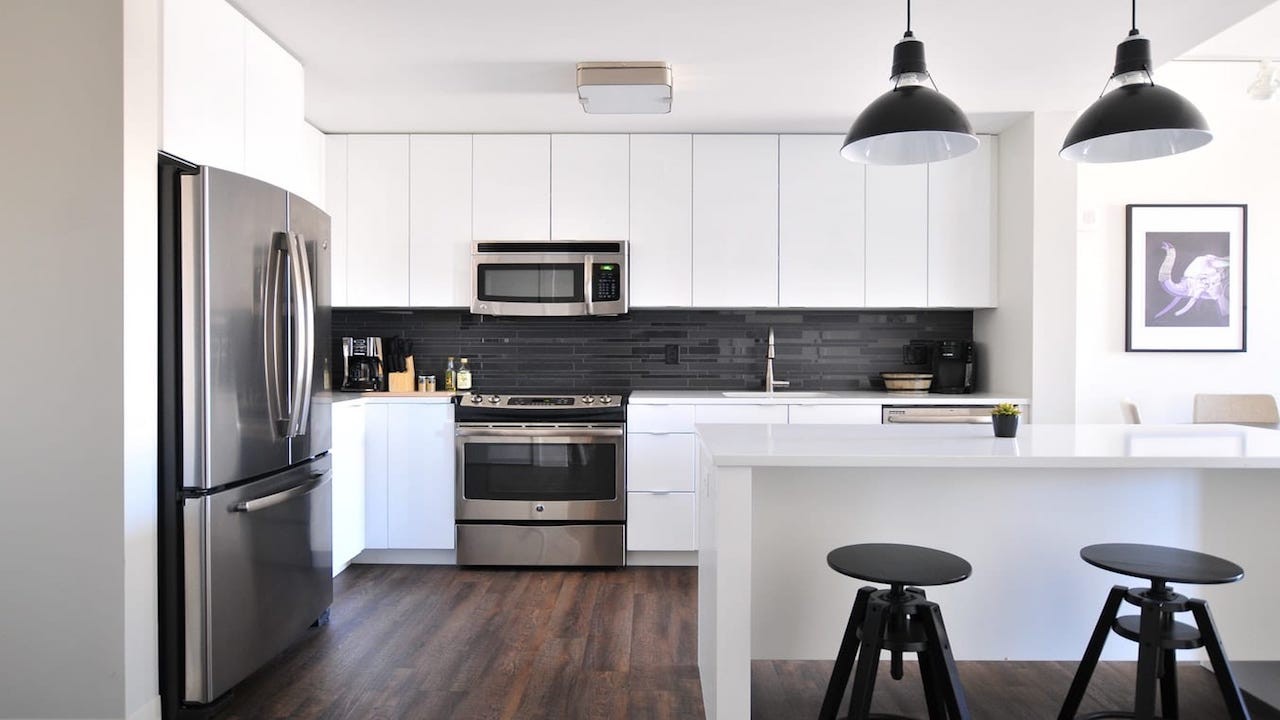 White on white kitchens continue to win over the hearts of homeowners for the bright and open feeling that they create, so the natural stone industry sees a great demand for all white countertops paired with white cabinetry.Venastone quartz is a great alternative for homeowners looking for the look and feel of marble without the upkeep. Marble, which requires sealing up to 4 times a year and still is prone to etching, is a stark contrast to the virtual maintenance free engineered Venastone quartz. It is designed to mimic the look and feel of marble without the maintenance. Venastone quartz is available in many light colored stones that look great in a white on white kitchen. Viscont white granite or Super White quartzite is also other great alternatives to marble that require more maintenance than quartz, but significantly less than marble. Granite and quartzite should be sealed 1-2 times a year, and are strong, heat-resistant stones.
Maple
Maple is a warm colored wood that ranges from a light caramel color to a darker brown color. The lighter colored maple cabinets can look terrific when paired with a darker stone like UbaTuba granite, Silver Pearl granite, or even Butterfly Green granite. Maple gives off a fairly traditional feel, so I would not recommend installing any exotic stones within a kitchen, but instead to rely on traditional granite colors.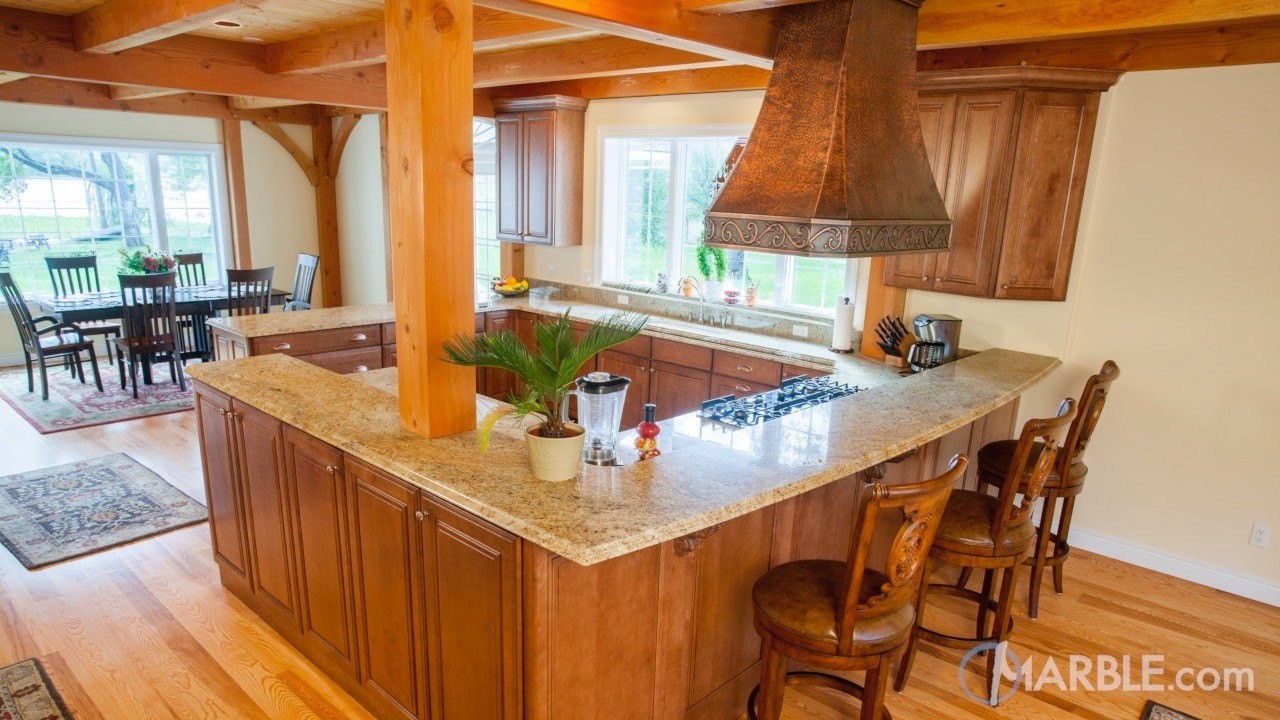 Cherrywood
If you like a darker look within your kitchen, you may gravitate toward stones like Fantasy Brown granite or beige colors like Colonial Gold granite which look great with Cherrywood cabinetry and provide a bit of a contrast. Cherrywood is a fairly neutral and warm cabinet color that provides a rich and inviting feel within a kitchen and looks appealing when combined with light and dark cabinetry. Darker granites like UbaTuba granite and Silver Pearl granite also work well within a kitchen outfitted with cherry cabinetry.
Hickory
Hickory countertops tend to be light or blonde in their coloring and look visually pleasing contrasted with dark granite countertops. There are many dark stone colors available in the natural stone industry that would look great with Hickory cabinets. Lighter countertops like Super White quartzite tend to wash out the richness of hickory wood, but a rich stone like Ubatuba granite can bring out the richness of the cabinet.
Pecan
Pecan is a richly colored wood that ranges from blonde or white to a more reddish or mahogany brown color. There is often a nice contrast within the wood inclusive of knots and unique identifying marks that can give off a more rustic look in a space. The warm look of pecan works best in a traditional, transitional or craftsman style kitchen and pairs best with a mid-range beige or dark colored granite.
Once you select the appropriate countertop for your style, it can help direct you to find the best cabinet finish to complete your look. There are so many choices one must make when it comes to kitchen design, it can be overwhelming, but it might help to decide what countertop material you will be working with first.