On a Budget? Quick Bathroom Upgrades
by Ann Kent
Posted on October 16, 2017 12:00:00 PM
Tweet
---
Kitchens and bathrooms tend to be the home improvement projects that keep getting put off. We often think we couldn't possibly afford a new kitchen or bathroom, but, in reality, there are many ways that we can improve the overall look of a kitchen or bathroom without breaking the bank. You do not need to completely gut your existing master bathroom or powder room to see great results.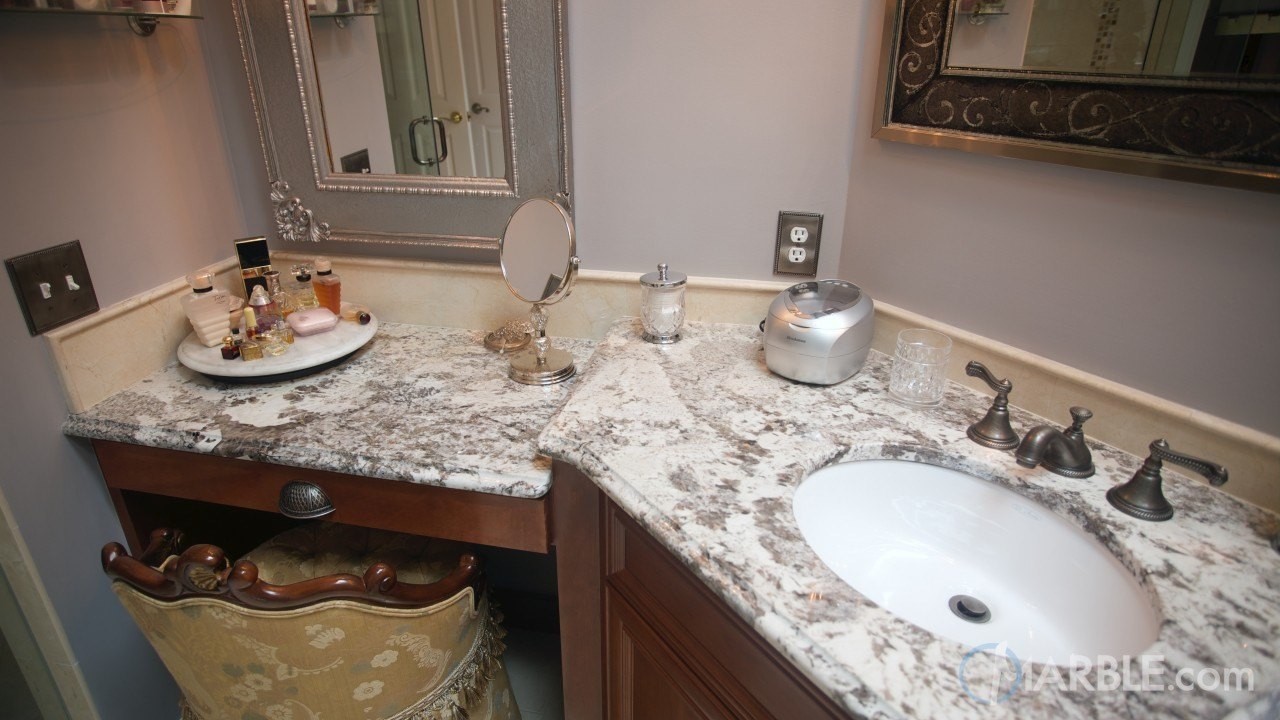 Bianco Antico Granite Vanity Top
In many cases, your flooring is fine, but your vanity top might be a dated material. A new veiny marble or granite vanity top can drastically change the overall feel of a bathroom. The veiny and rich look of Statuario marble can instantly make a bathroom feel more luxurious without having to change anything else within the bathroom.
Once you have updated your vanity top with a marble, granite or travertine top, you may not need to do anything else to your bathroom, but, in many cases, the new vanity top can be complemented by a new paint color on the wall. Even neutral colors change depending on the design trends, and current designs favor light to dark grays over the previously favored beigey colors. Painting is one of the cheapest and easiest ways to update a room and create a clean and crisp result. Similarly, you may consider painting the cabinetry underneath the vanity or changing out the hardware for more contemporary options.
If you change the vanity top, you should consider updating the faucets and fixtures. Over time, faucets tend to leak, so when investing in new countertops, it might be a good idea to invest in new fixtures. If you have brass fixtures, you can have a fresh and modern new look by swapping them out for silver or chrome fixtures. What might have appealed to you a decade ago regarding fixtures may not be as desirable today.
Other updates to consider are changing in a bathroom is the lighting. Particularly in a master bathroom, a pretty chandelier or overhead light can create a stark difference to the overall feel of a room. You will find that depending on the lighting, your granite, travertine, or marble will look drastically different.
A major thing to consider in bathroom upgrades is a proper storage reevaluation. Bathrooms, like kitchens, should aim to be as clutter-free as possible. Particularly if you invest in quality vanity tops, it is important to minimize the products left on the vanity top. A granite vanity will be far less porous than marble or travertine, but you should be careful with keeping products off of all countertops. A quick trip to the store for bins and organizational devices for within the cabinetry and drawers will lead to a more visually pleasing bathroom. There is no question that we need a lot of products in our bathroom, but a bathroom will be more functional if there is a dedicated area for each product. Bins and other storage devices can create and enforce order within a bathroom.
Lastly, you can always upgrade your dish soap container and toothbrush holder. These get grimy over time and a quick trip to the store for a more attractive soap dispenser will help the beauty of your new vanity top stand out. Bathrooms need to be functional, but there is no reason that they cannot be visually appealing too.