Stone Spotlight: The Charming River White Granite
by Marissa Sese
Posted on November 14, 2018 04:13:52 PM
Tweet
---
Granite is one of the most popular natural stones when it comes to home remodeling. This material is known for its durability and its many stone colors, making it the perfect choice to fit any design style or personal preference. One granite stone worth mentioning is the beautiful River White granite. It's a granite stone that looks great in any room, especially your kitchen.
Granite
Granite is an igneous rock, meaning it was created through the natural process of cooling and solidification of lava. The colors within the stone vary because some stones have more or less mica and feldspar. There are many quarries around the world where this stone type is mined, including Brazil, India, and China. The United States also produces this material and the largest American granite quarry is located in Vermont.
River White granite
River White granite is a lovely stone with subtle patterns that will compliment your space rather than overwhelm it. The creamy white background is covered in gray speckles and some maroon and brown spots. It has a neutral coloring to it but is far from boring. It will fit any style and won't clash with the more dramatic elements in your space. It will proudly stand as a beautiful piece without stealing the spotlight. So, you can showcase more unique or bold elements in your room if you choose to.
Cabinets
River White granite goes well with any cabinet color. White cabinets will pair well with this stone because of its light background. The white background is an off-white, creamy color, so when combined with white cabinets, your room will look pleasantly classy and not institutional. Instead, you will have created a light and bright kitchen design that has a laid back feeling to it. The beige and brown speckles in this stone are reminiscent of sand, which can give your white kitchen a coastal vibe.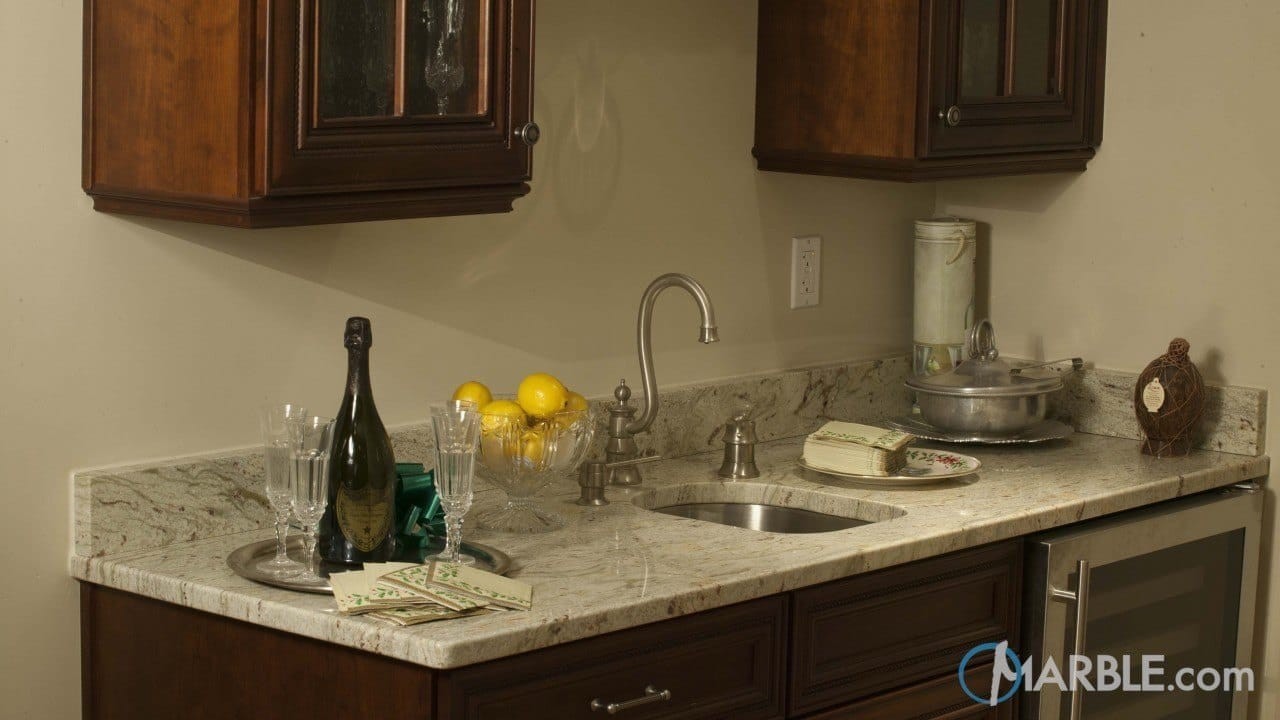 When you pair this stone with dark cabinets, the room will instantly feel cozier. The dark cabinets will pick up the dark spots in the stone and everything will come together perfectly while creating a modern look that many people adore.
Wall Color
This natural stone paired with any wall color will be a look that thrives in your kitchen. Imagine light blue walls and River White granite countertops in the perimeter of your kitchen and kitchen island. The light blue walls add to that coastal vibe I mentioned above. But, if you aren't a fan of the coastal style, then any light colored wall paint will be a great accompaniment to this natural stone. If you choose to paint your walls a light beige and have this stone installed, your kitchen will be delightfully neutral-toned, which will make it brighter and feel larger. You can add a few pops of color with bold colored appliances and décor elements, like the photo below.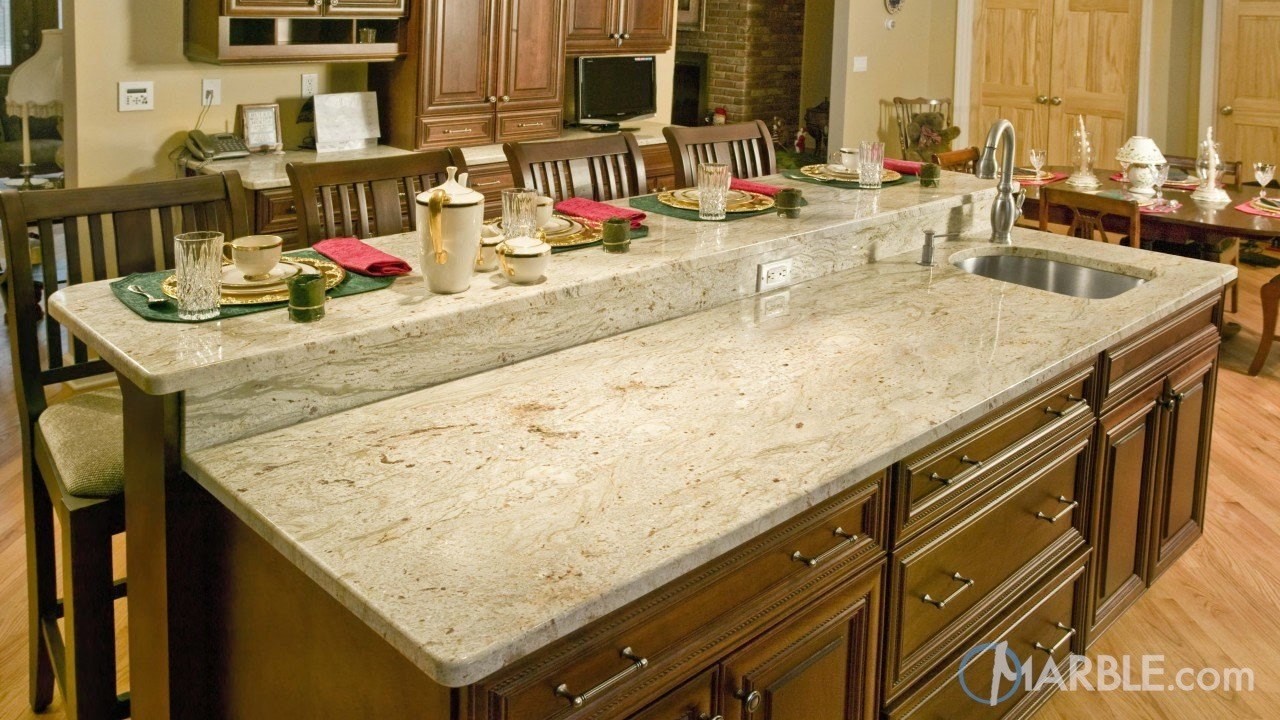 All white kitchens are trending right now and for good reason. A white or off-white wall color will make your kitchen feel more open while highlighting those newly installed River White granite countertops. Either color you choose for your walls, your River White granite countertops will look amazing near them. And, if you add some gorgeous bronze hardware, you will create a high-end look in your kitchen that will make you feel like you are living in luxury.
River White granite is one of the many granite stone colors available in the natural stone industry. Its popularity is due to its durability and its ability to fit any style or preference. This stone will last you many years to come and, if you find yourself making changes to the overall look of your kitchen there is no need to change these countertops, as it will work with any look you choose.