Great Ideas for Mixing Up Kitchen Countertop Colors
by Dean Gemmell
Posted on July 24, 2017 12:00:00 PM
Tweet
---
One of the biggest decisions to make when designing a kitchen is the color of the countertop. With so many choices, it can seem impossible to settle on one.
Here's an idea: don't.
Well, you'll have to choose some colors for your countertops, but you don't have to choose just one. Mixing up different countertop colors is an all-too-often overlooked way to add unique appeal and personal character to your kitchen. It's especially valuable in a large kitchen, where vast space can create a sea of sameness and turn what should be a dynamic place into something that's almost bland.
Just look at the brilliant Calcatta Gold marble on the island in this kitchen, perfectly offset by the black granite countertops in the rest of the space. With the pendant lights to illuminate it from above, the white helps turn the island into the centerpiece that it should be.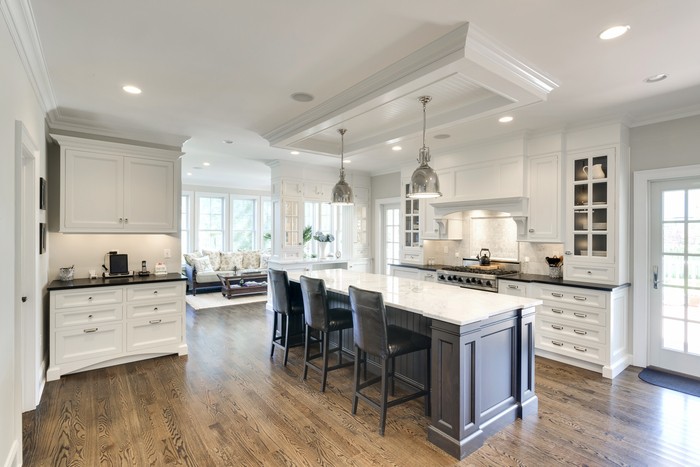 Calcatta Gold Marble Kitchen Island Top with offsetting Dark Granite Countertops
Going with white for the island in this sleek, contemporary kitchen also makes it a focal point and separates it from the dark colored countertops. With the prep sink located at one end — imagine it filled with ice and cold beverages — it's clear this space will be used a hub for entertaining and casual dining.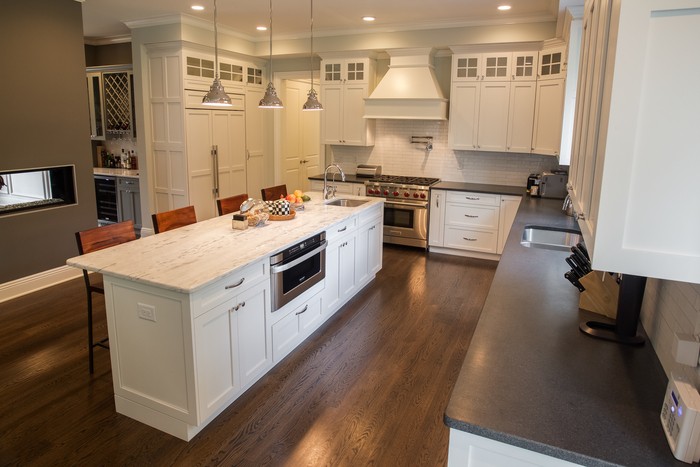 Super White Quartzite Kitchen Island Countertop with Dark Granite Countertops
The veined Calcatta Extra marble countertop used for the island in this rustic kitchen brings old-world charm to space. Here, the designer chose contrasting black for not only the granite countertops in the rest of the space but also for the farmhouse sink, the heritage range, and some of the plumbing fixtures. The brilliant white marble makes the island a focal point and prevents the entire space from feeling too dark or gloomy.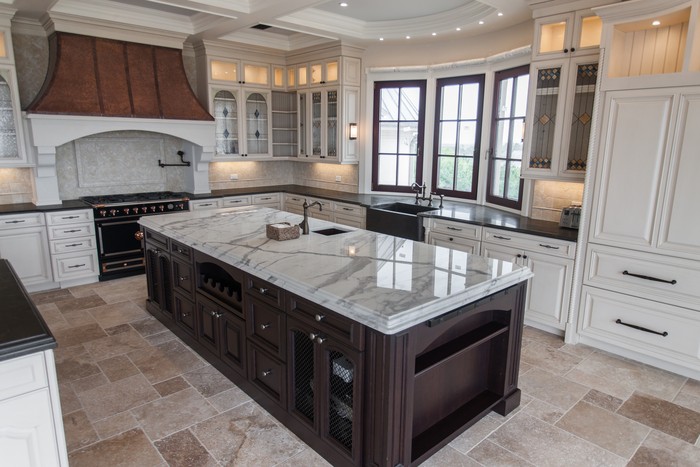 Calcatta Extra Marble Kitchen Island Countertop with Contrasting Dark Granite Countertops
Here are four reasons to mix countertop colors in a large kitchen.
• Create visual interest
Whether your design is clean and contemporary or something more traditional, some variations in color will add the real pop to your kitchen. Think about colors that complement each other and you'll be well on your way to creating a scene that is vibrant and engaging whenever you enter the room. Quartzite countertops, with their seemingly endless color palette, allow you to stretch your creativity and put your stamp on your new kitchen.
• Define workspaces
Whether you're a practical home cook or someone with aspirations to replicate the dishes of your favorite chefs, mixing up colors will allow you to establish food preparation areas. Not only does this help keep people out of your way when you're busy, but it also maintains separation between areas intended for conversation or dining and the actual business of getting food ready for the table.
• Establish entertaining spots
In the same way that a different color can clearly delineate areas that are intended for food preparation, a hue that is unlike others in the space can mark a spot intended for entertaining. If you have a bar height countertop you intend to use as a place to serve appetizers or enjoy cocktails when guests arrive, a different color will help guide them to it.
• Use different materials
If you're not committed to a single color when it comes to your countertops, you're also free to consider materials that might not otherwise be available to you. Imagine a beautiful thick marble island surrounded by countertops of quartzite in a contrasting dark color. Or a deep color in granite offset by bright white quartzite with a brilliant sheen. Without the constraints of using the same color for all your countertops, you're free to choose the material that is most appropriate for the area where it is installed.