Kitchens that are Light, Bright and Not White
Tweet
---
The clean and classic look of white kitchens has become one of the most popular and enduring kitchen design trends. All white kitchens seem to be loved by many homeowners. However, this look is not for everyone. If you like the appearance of a light and bright kitchen, but want to avoid the all-white look, here are a few ideas.
Light colors in the kitchen brighten the space and create a comfortable and welcoming atmosphere. Light, neutral colors can be used to create a warmer alternative to the sometimes stark and institutional feeling of all white kitchens. Some colors to consider include light beige, light gray and warm light gold shades.
To create this style in your own home, choose light cabinets, lighter shades for wall colors, and neutral kitchen countertops. There are hundreds of neutral color options in natural stone countertops such as Fantasy Brown quartzite, Classic White quartzite, Bianco Romano granite, or Atlantis granite.
Here are a few light kitchens that are pure and clean without being blindingly white.
Shown below, this bright, attractive kitchen features light cabinets, stainless steel appliances, and Fantasy Brown quartzite countertops. A colorful tiled wall space above the stove brings a touch of color and interest to the room. The pattern of Fantasy Brown quartzite features swirling white, brown, and gray veins with black spots running throughout the surface of the stone. The countertop creates an exquisite focal point while keeping with the light, neutral color palette.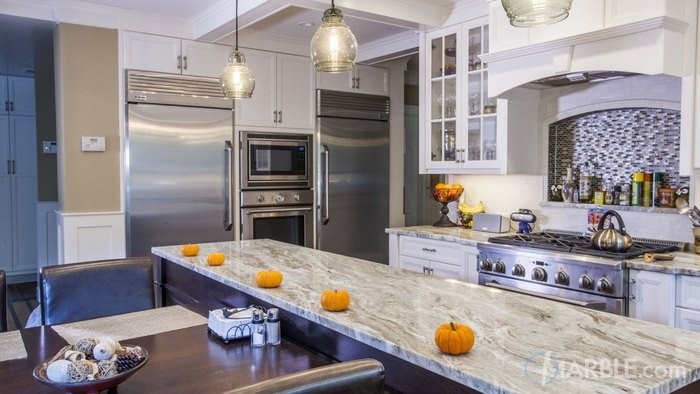 You can still use plenty of white in a light kitchen without resorting to all-white. The kitchen below features white kitchen cabinets and Classic White quartzite kitchen island countertops with a darker perimeter countertop and a dark wood kitchen table. Classic White quartzite provides the classic look of marble but in a more durable countertop option. Pops of color in the stools around the kitchen island, tiled wall, and decorative objects enhance the aesthetic of the room.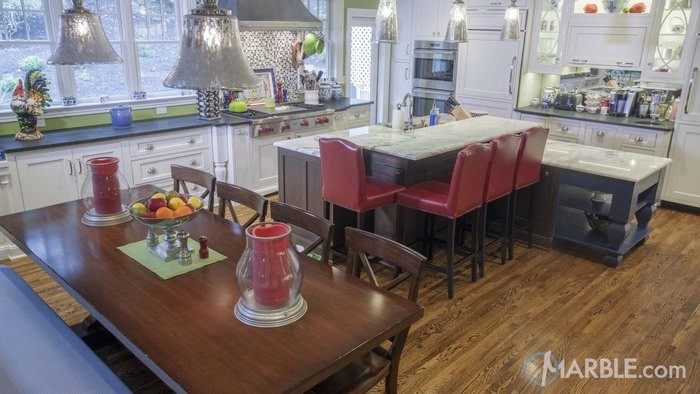 The light, neutral colors in this beautiful kitchen, pictured below, create a cozy and welcoming space. A light, neutral wall color and Bianco Romano granite countertops create a light and bright space. Bianco Romano granite is a gorgeous white and gray natural stone has intricate patterns and burgundy deposits that bring a bit of color into the neutral background.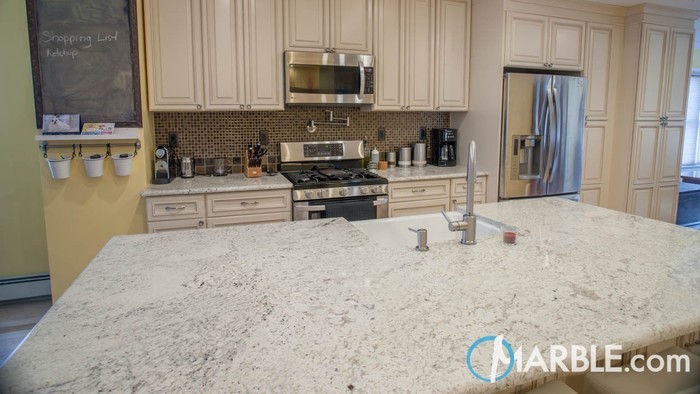 This kitchen design shows that you can create a light and bright kitchen without using any white at all. The design pairs light wood kitchen cabinets with Atlantis granite countertops. Atlantis Brown granite has a light base color with a busy pattern of gold, orange, and grey veins while there are some darker brown speckling throughout the stone. The black appliances and darker colors in the stools and light fixtures add contrast to the light color palette.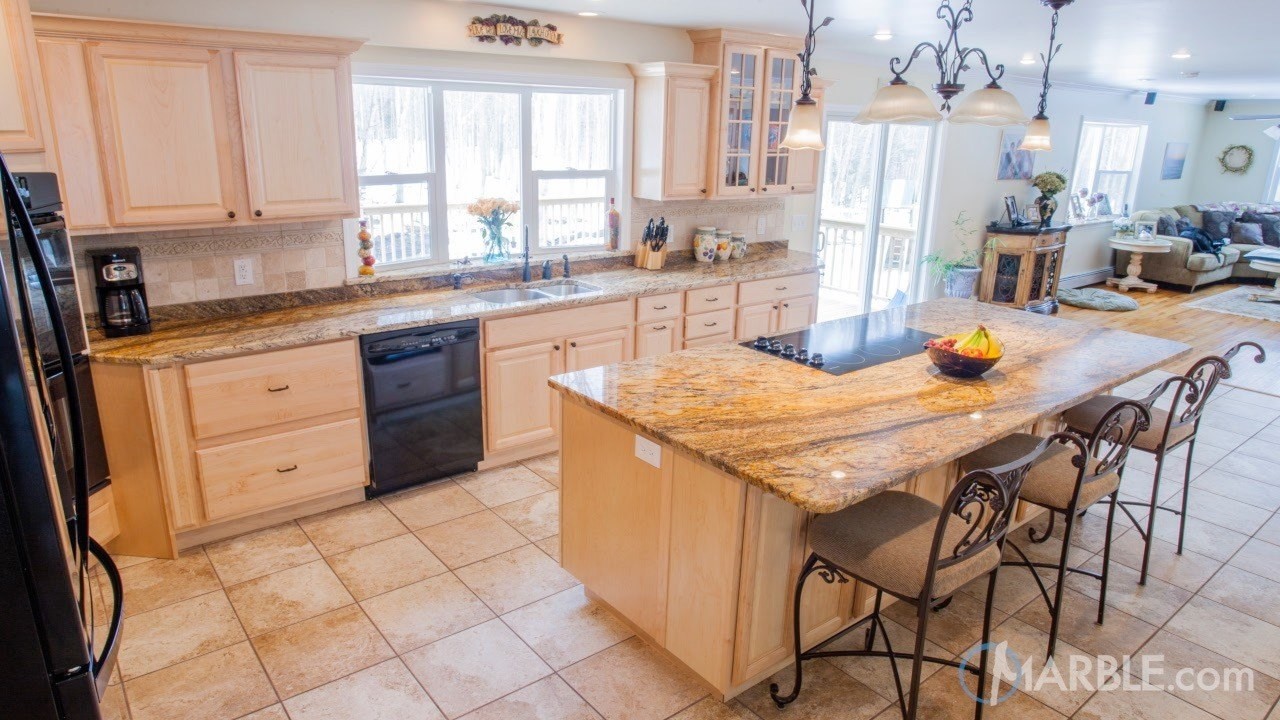 If you love light colors in the kitchen but want to avoid all-white, there are many options to help you accomplish this goal. Select light, neutral colors, install beautiful natural stone countertops and enhance the light color scheme with colorful stools and decorative accessories to create the look you want for your kitchen.