Kitchen of the Week: Gorgeous Granite with Cherry Wood
by Ann Kent
Posted on February 21, 2018 07:00:00 AM
Tweet
---
As shown in this Kitchen of the Week, Santa Cecilia granite is the perfect granite choice for a high traffic kitchen with busy parents and messy children. This light granite stone is one of the most popular types of granite. It has beautiful variations in it but, most importantly, it's darker color with hints of black, reddish, and ivory mixed with a white stone background, provide a great color choice to hide dirt and crumbs. White countertops, while visually striking, are not always the best choice for busy households and will often end up creating more stress as they do not hide dirt and grime.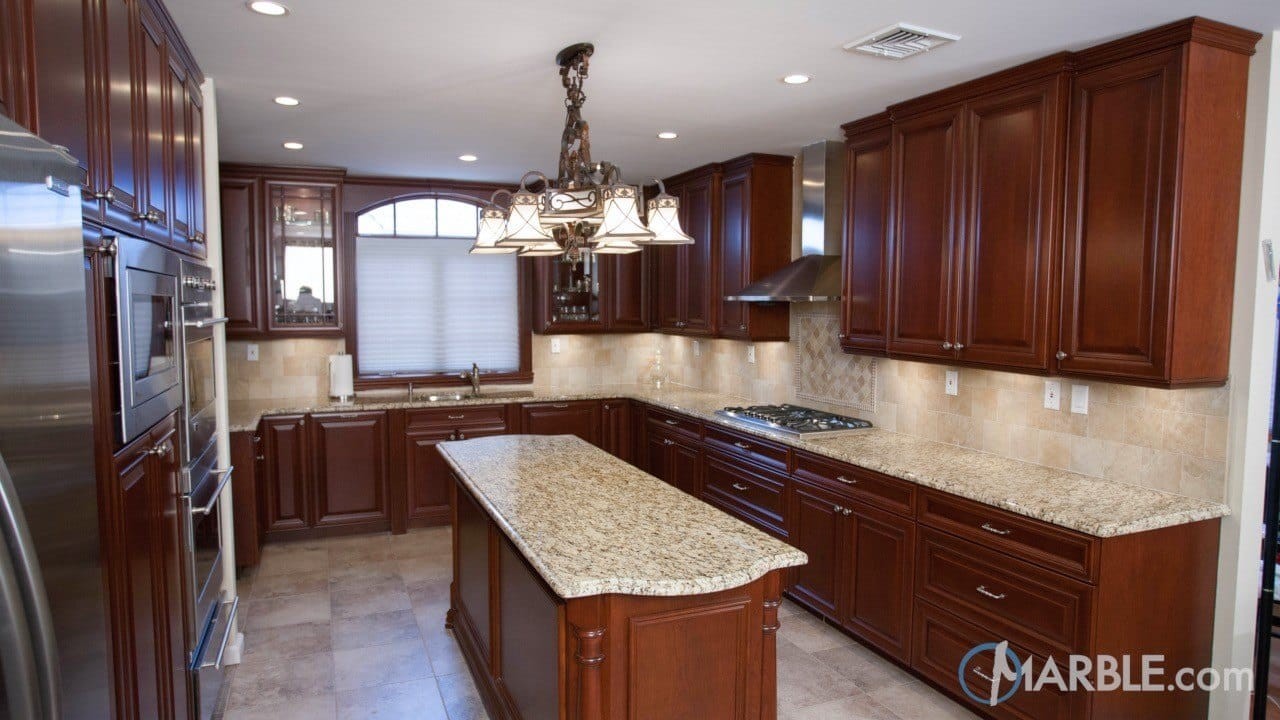 Granite continues to be one of the most popular choices for kitchen countertop installations because it is durable, heat resistant, and stain resistant. Granite is one of the strongest natural stones available and can be sourced in the widest variety of colors from light to dark and mid-range colors like Santa Cecilia granite. In stark contrast to marble, which requires sealing up to 4 times a year, granite only requires sealing 1-2 times a year. You can clean granite countertops with a simple mix of water and mild soap or you can use a Countertop Cleaner. It is a non-toxic cleaner that will not give off any harmful fumes, but as you clean your stone, you will be sealing it also since the formulation contains a small amount of sealant.
Santa Cecilia granite comes from Brazil and maybe honed or polished. It is a neutral tone that will work with most cabinetry This kitchen of the week has cherry red cabinets but this stone will be striking with light cabinets as well. There is not as much variation found in this granite stone as in others, so you can expect fairly consistent patterns with black, red, yellow and ivory mixed with white.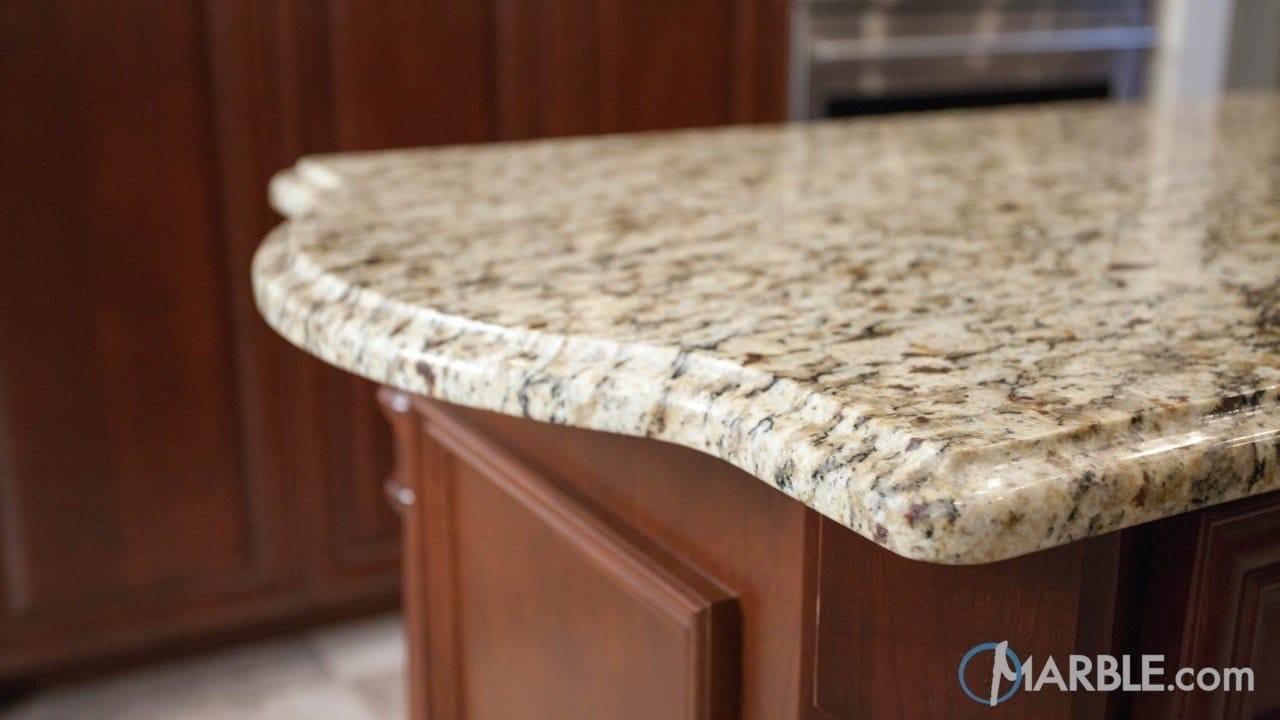 When properly maintained, granite countertops can last up to 100 years, but over time you may need to repair your stone along with your routine sealing. This does not require the help of a professional, but instead, you can fix any small chips in your stone yourself by using Mr. Stone's Chip Repair Kit. It is incredibly easy to use and you can simply apply the epoxy mix to your stone's chip and as it self-levels and dries, you will not be able to detect the previous chip.
This kitchen of the week is striking because of the brilliant combination of the rich cherry wood cabinets with the Santa Cecelia granite. The cherry-red color of the cabinetry gets pulled out of the stone and creates a cohesive and well-designed space. Similarly, the backsplash draws out the more beigey undertones of the granite to bring out some light to counterbalance the darker cabinetry. The stainless-steel appliances and sinks further break up and balance the dark cabinets. Ultimately, the kitchen creates a warm and inviting space to gather and prepare meals.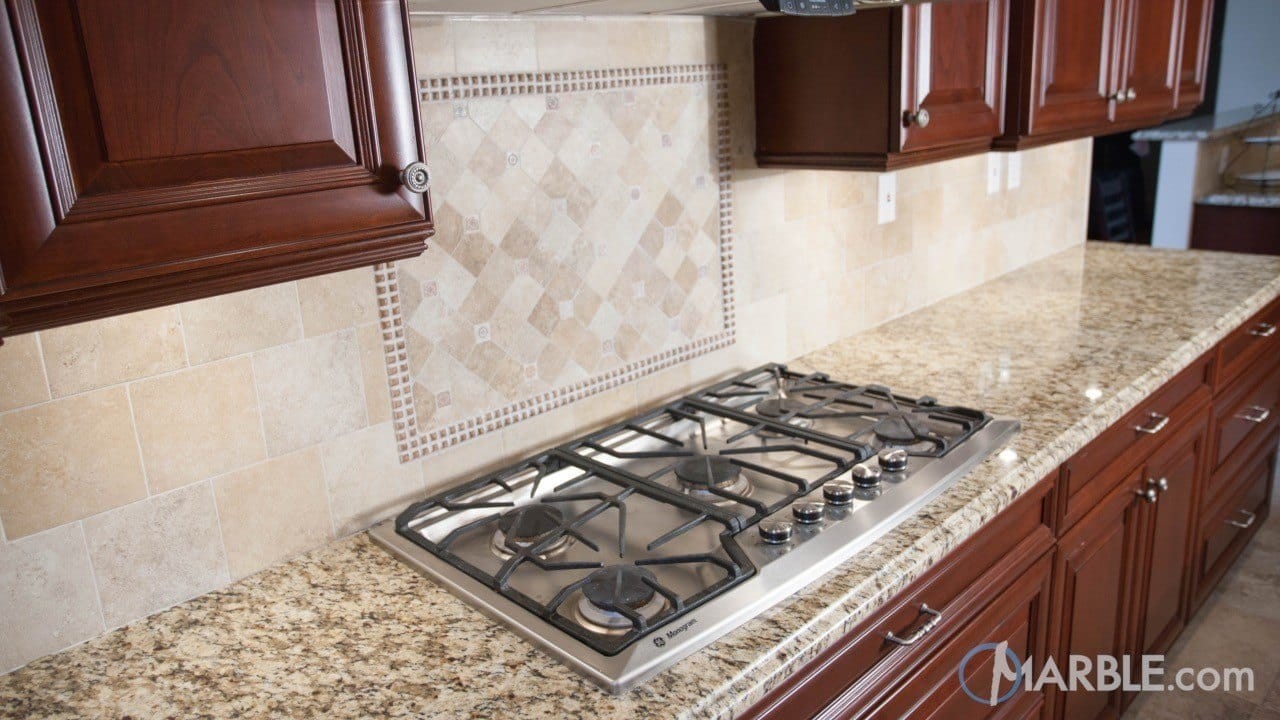 This kitchen would be sure to please any homeowner. Other aspects to note in the kitchen are the double ovens and separate stovetop, making it ideal for entertaining and feeding a large crowd. This kitchen uses a beautiful and gracious edge to the stone that adds one last element of design and character throughout the kitchen's design.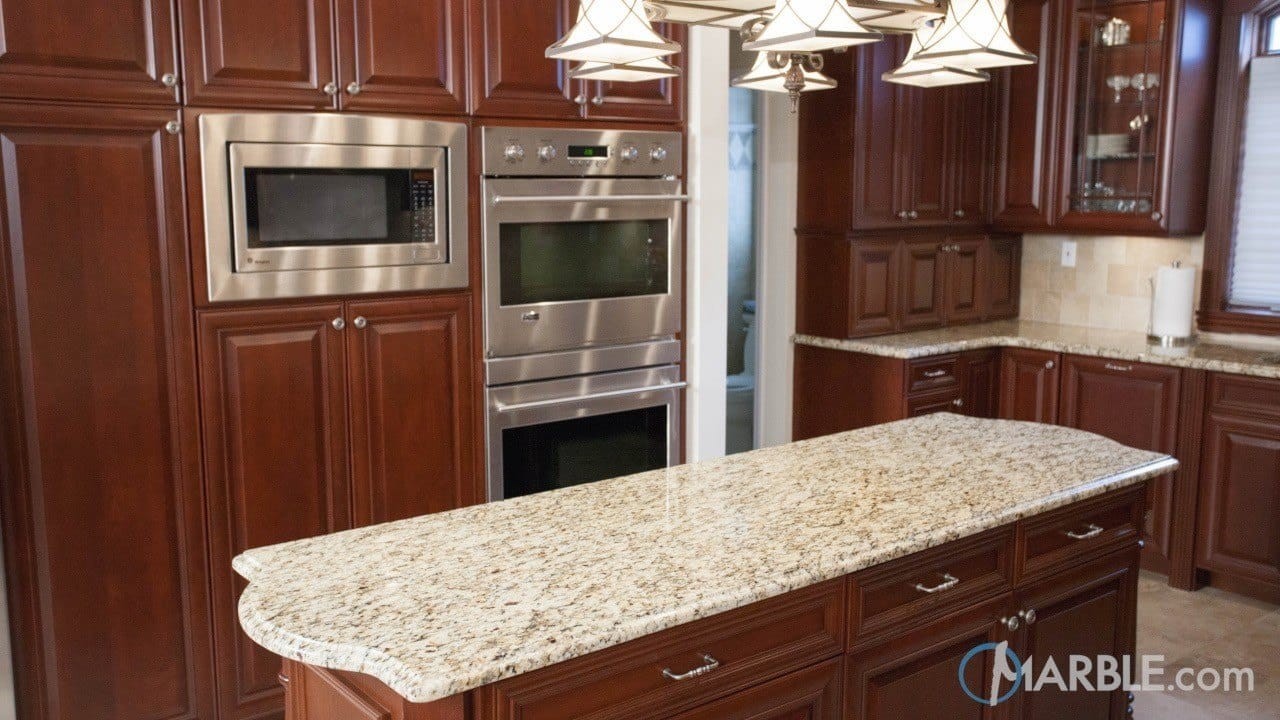 Stainless steel sinks as opposed to porcelain are also excellent at hiding dirt and are extremely easy to clean and relatively scratch resistant. The kitchen of the week incorporates a prep sink in addition to the larger washing sink. Larger kitchens can add this to increase the flow and efficiency of a space. Every aspect of a kitchen's design should be laid out before starting construction to ensure the greatest possible use of a space. When looking at this kitchen of the week, it is easy to see the amount of planning and thought that went into the design.