Kitchen of the Day: We Got the Blues!
by Dean Gemmell
Posted on September 20, 2017 07:00:00 AM
Tweet
---
Cool blue is hardly a traditional choice as a color scheme in kitchen design. But as this renovation proves, it should not be discounted and, indeed, it has plenty of merits.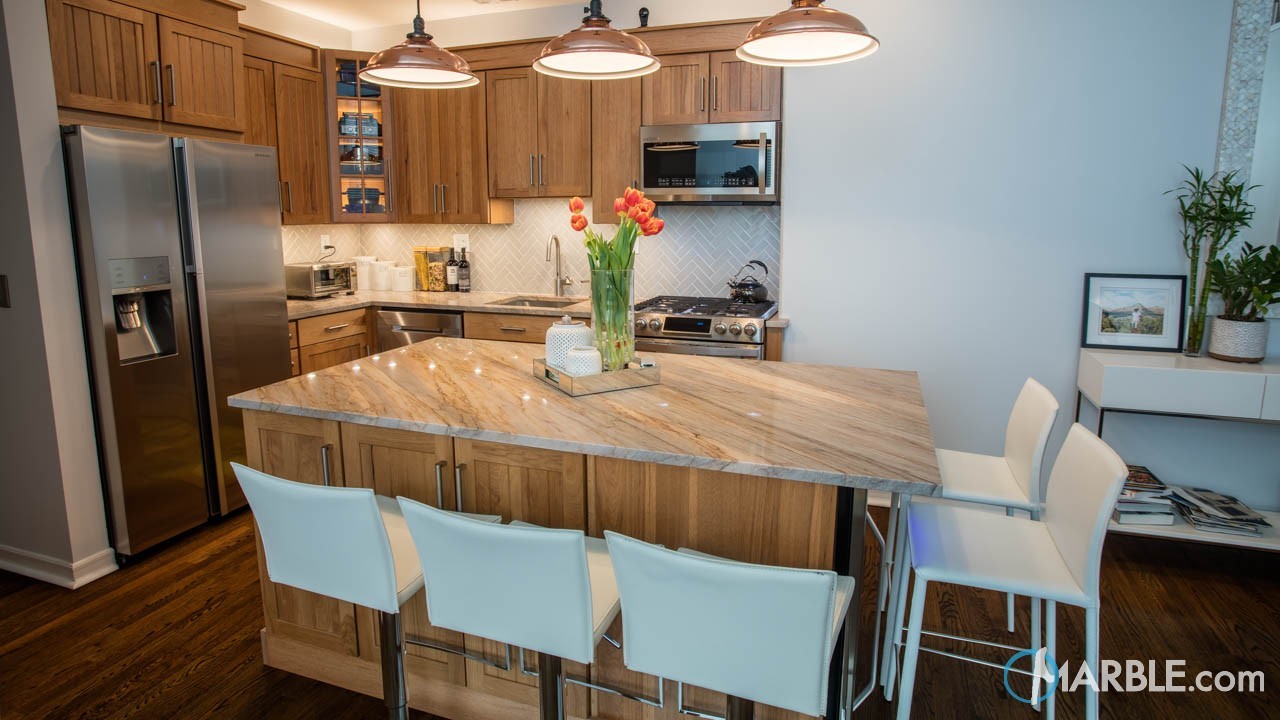 In fact, if you want a kitchen with unique appeal, embrace the blue color scheme. It marries well with light colored wood and has soothing qualities that can make the room a place of calm even during the hectic morning rush or weeknight meal preparation.
Blue prompts positive associations in our minds — jazz and blues music, the Greek isles, expansive skies, and open spaces. In fact, blue is always the top pick when people are asked to choose a favorite color. Considering all that, it's surprising that so many people eschew it when it comes to designing a brand-new kitchen or overhauling an old, tired one.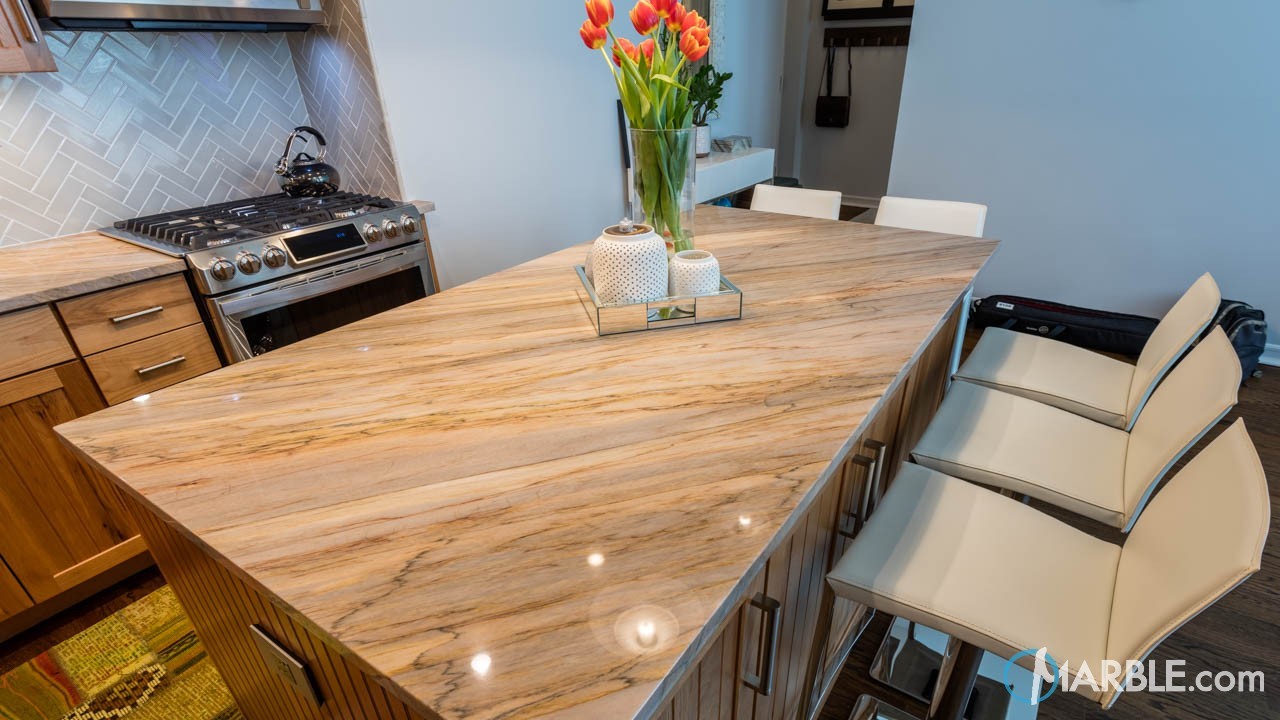 To see how well the color can work in kitchen design, look at the room we're featuring this week. While blue is present throughout, it doesn't overwhelm the room and isn't the first thing you notice upon entering.
The feature that has an immediate impact is that vast quartzite kitchen island. This is an especially stunning kitchen island topped with Aurora Blue quartzite countertops, and proof that even in a kitchen that isn't expansive, a large island is something to consider for both functionality and visual impact. Quartzite countertops are always a great choice in the kitchen, as this stone is both extremely durable and stain-resistant, with a remarkable natural beauty. Look at the rich veining in these quartzite countertops, and the subtle blue hue — present but not dominant — that make this a truly inspired choice.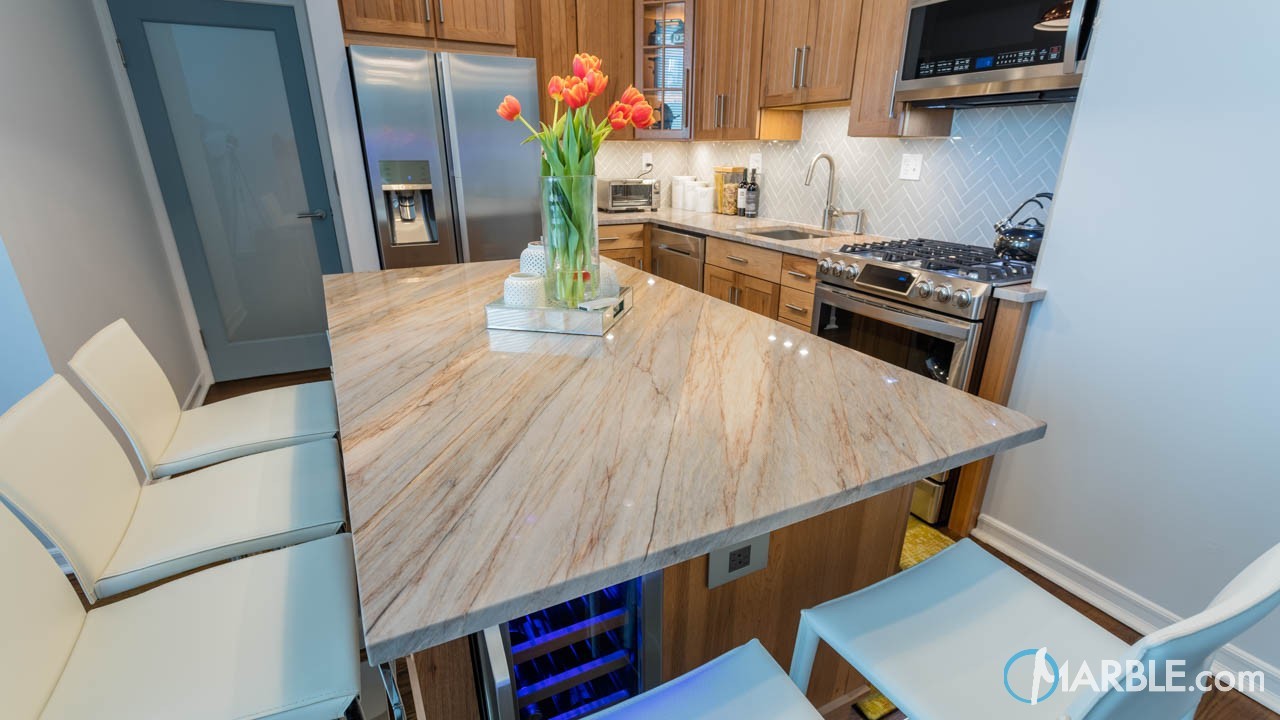 Throughout the rest of this kitchen, blue is a wonderful choice, setting off the stainless steel appliances, complementing the tile backsplash, and offering great contrast to the wood cabinetry. Extending the Aurora Blue quartzite used in the island to the kitchen countertops creates a visual flow that makes space feel more substantial — it's a thoughtful interior design solution that should not be overlooked when you're aiming to maximize a space. Most of us would probably like every room in our home to be larger, so think about the number of materials you introduce. Less is usually more — one material for countertops, one surface for appliances, one color for cabinetry —because it reduces the optical clutter that can make a small space feel cramped.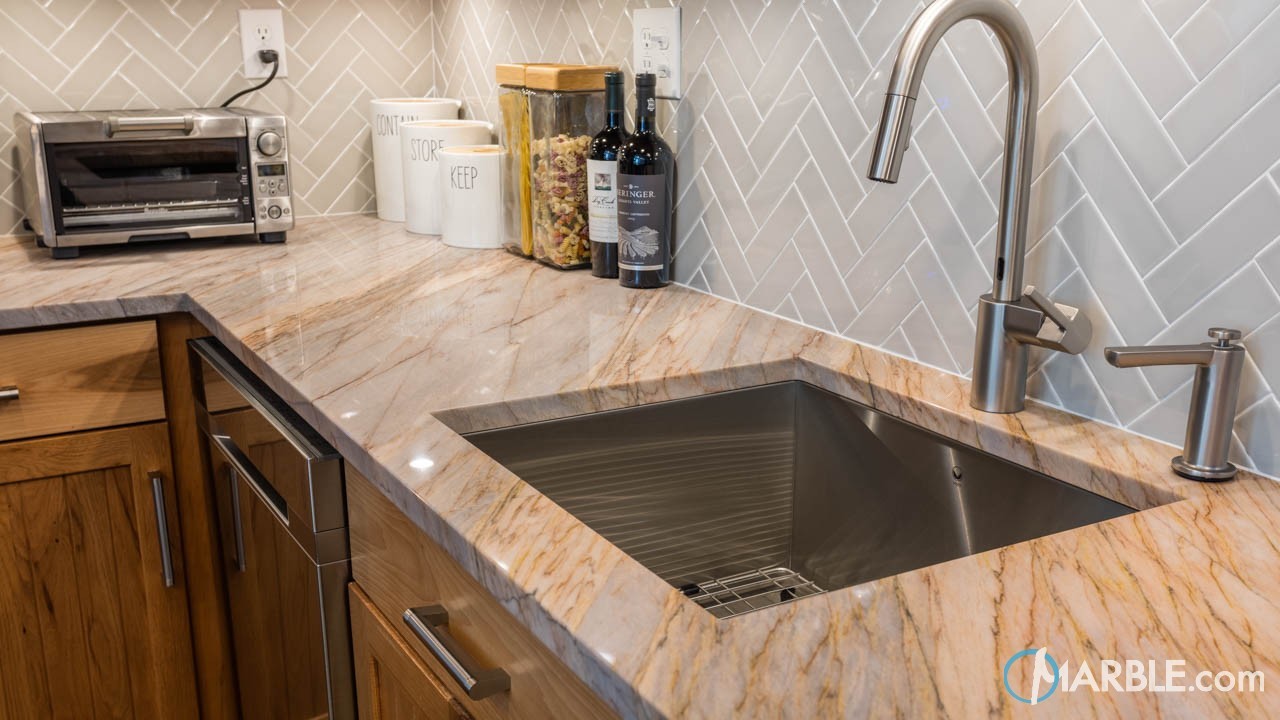 Of course, blue is a color with all kinds of shades. The light powder blue used in this kitchen creates a sense of light and bright, but darker shades can also work well. Moving closer to a navy blue will shift a kitchen towards sophisticated elegance — just make sure that you have enough natural light or a thoughtful plan for illumination throughout the space. If you make the walls a darker shade of blue, you may want to contrast them with a bright white quartzite or a marble countertop. A supplier with a large inventory will have a wide variety of slabs to meet your needs, ensuring you can find the piece that works for you. Trust your instincts and remember that your kitchen design is personal — the most important person to please is yourself.
Be thoughtful about how you use blue — kitchen countertops, paint, backsplash — and choose a hue that won't overwhelm. And, of course, select the right materials, remembering that granite, quartzite, quartz or marble countertops all have different qualities — part of your decision-making process should include thinking about how your kitchen will be used.
But if you're feeling blue — not depressed, but enamored of a color scheme that will make your kitchen stand out — go for it. It can be just the ingredient you need to make it feel like a special and personal space.