Kitchen Islands: A Range of Options
by Ann Kent
Posted on October 02, 2017 12:30:27 PM
Tweet
---
Planning a kitchen that perfectly suits your family takes a lot of time and consideration. If you have space to incorporate a kitchen island, it will greatly enhance the overall functionality of your kitchen space. There are many options for kitchen set-ups from large expansive kitchen islands, two separate kitchen islands, and a multi-tiered kitchen island. Each design adds a sense of structure to the kitchen space.
Kitchen islands not only add additional kitchen countertop space, but they also increase the available storage in a kitchen while dictating a proper flow to a kitchen. Small appliances like microwaves and toasters can be stored within a granite or stone kitchen island to eliminate excess clutter on the countertops. It creates clean lines across an expansive countertop. When you install a quality stone like veiny white marble, white granite, or super white quartzite in the center of a kitchen island, it creates a dramatic contrast against a beautiful vase or something less functional, but more attractive. The kitchen island itself can also feature pull out drawers and shelves to ensure that there is a good spot for everything in the kitchen. Even garbage bins and recycling bins can be tucked into the center island and hidden with pull out drawers.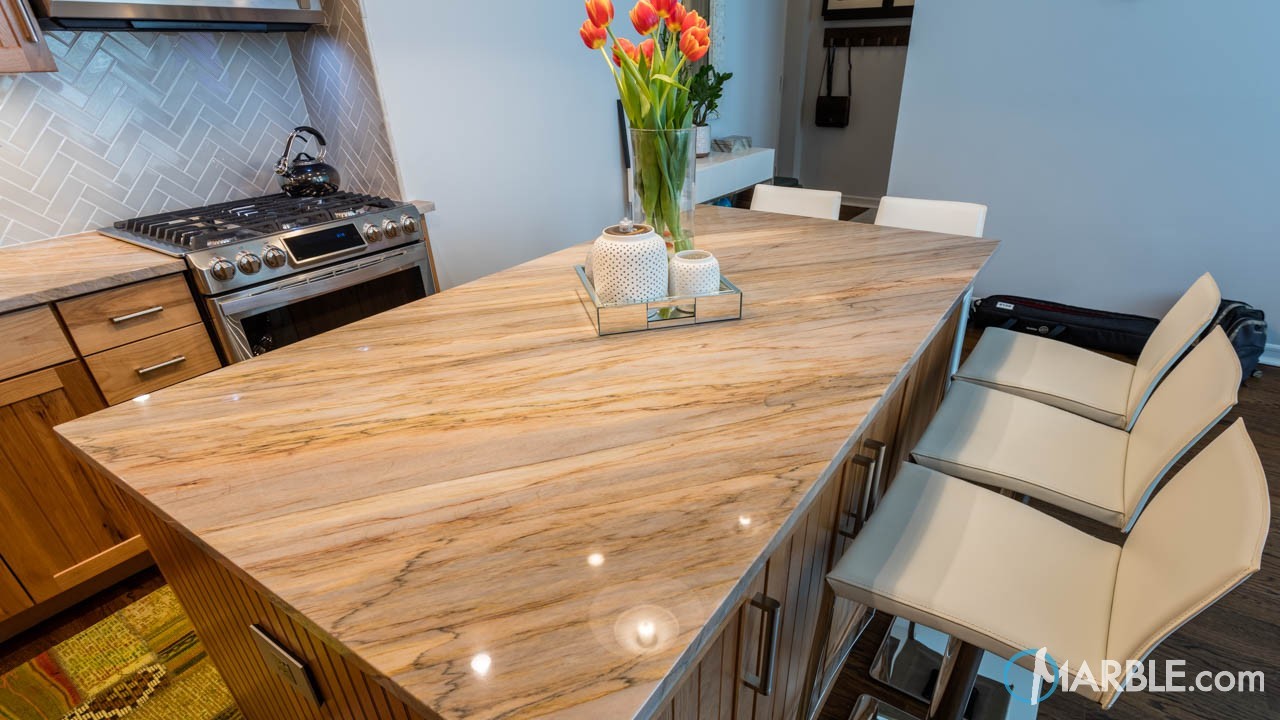 This kitchen island features Aurora Blue quartzite
In addition to providing extra storage, a beautiful focal point, and establishing a sense of order, kitchen islands can also be incredibly useful as a breakfast area or place that guests can sit and relax while you prepare a meal. The island creates a division, but with the addition of seats, it transforms into an inviting place for a guest. Regarding safety, the kitchen island also keeps children and guests away from the hot stove.
Larger kitchen islands often incorporate a preparation sink, a stovetop range, or a warming rack. Similarly, it is not uncommon to see a butcher-block chopping area next to a brilliant white piece of marble, granite or quartzite. The juxtaposition of the earthy nature of butcher block with the luxurious look of white veiny marble is not only visually appealing, but it is also practical, especially when it is next to a prep sink. Your entire kitchen countertops can be the same granite, marble, or quartzite, or you can use your kitchen island as a pop of contrast using a different type of countertop. Similarly, a common kitchen design trend is to paint or stain the island a different color or use a different stain of wood than the rest of the cabinetry.
When considering the type of kitchen countertop to install, it is important to note the varying amount of maintenance required with each stone. Granite and quartzite are extremely sturdy and heat resistant but do require sealing 1-2 times a year. Marble is a more porous material and will etch over time when exposed to acids like lemon juice or wine. It is necessary to seal marble up to 4 times a year, and even with that care, you will likely have to repair the stone as time passes. All natural stone countertops can last hundreds of years with proper care. A kitchen island typically receives a lot of traffic, so many experts recommend granite or quartzite over marble for the kitchen.
Double kitchen islands are another possibility that work tremendously well in a large kitchen. Typically, one island would be devoted to preparation and one would be more of a functional entertaining space with stools.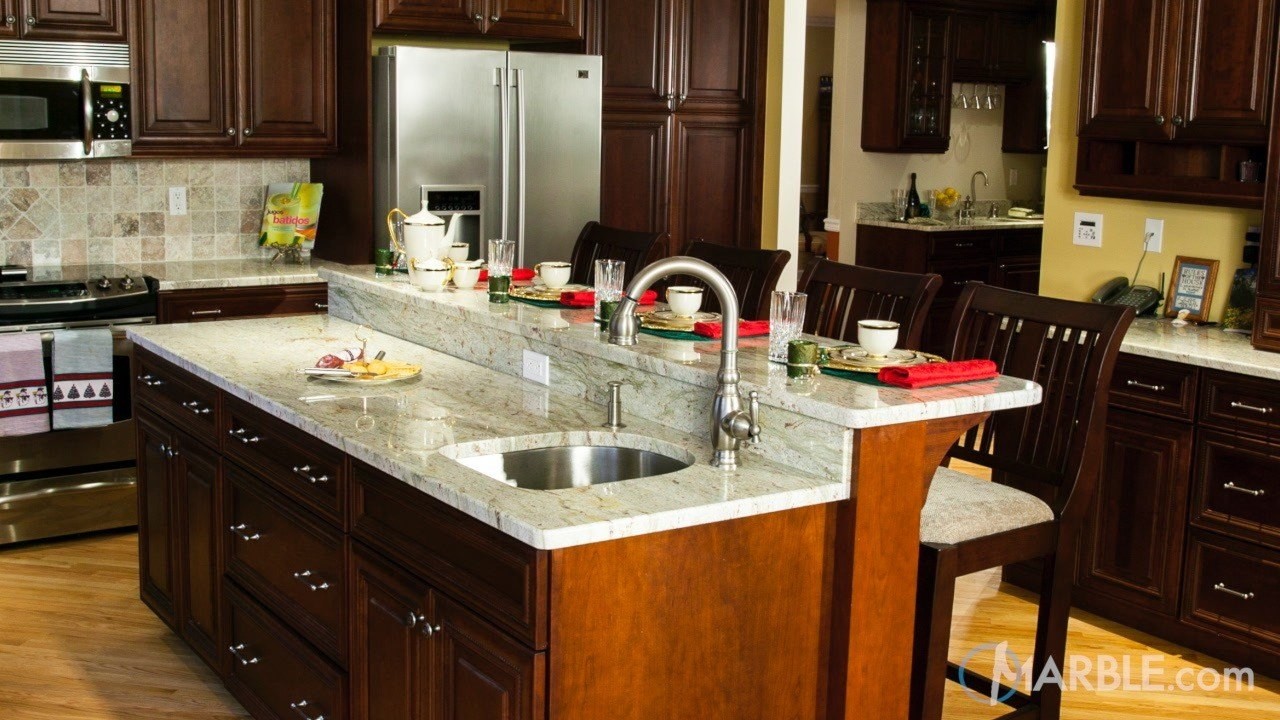 Ambrosia White granite tops this double-tired kitchen island
If you don't have space for a center island, you can always consider a floating island that can be wheeled back and forth. Even if you need to store it in the living room, an added preparation area can take the level of functionality in a kitchen to a new level.
The final decision that should be considered when designing your kitchen island is a double or single-tiered island. Many designers would say that a two-tiered island detracts from the clean and crisp lines that a rich, veiny slab of marble achieves in a kitchen, but many homeowners prefer the division that a double-tiered island creates. There is no risk of splashing hot food on eating area when there is a double-tiered island. However, a single-tiered kitchen island achieves a greater feeling of openness and space than a double-tiered island. A large, expansive piece of white granite or white quartzite is significantly easier to clean and also can achieve multi purposes as the countertop can be used for virtually anything.
It is best to consult an expert to properly plan your dream kitchen.