Kitchen Cabinet Design Options
by Ann Kent
Posted on September 26, 2017 07:00:00 AM
Tweet
---
Kitchen design depends on a lot of different factors and styles from kitchen countertop choices, to cabinetry, floor choices, and paint colors, to name a few. A homeowner typically has an idea of the style of the space that they would like to create in a kitchen from the start, and this can narrow down what sometimes seems to be an endless series of decisions to make.
Unless you pick a more dramatic stone like gemstone for your kitchen countertops, the good news is that all marble countertops, granite countertops, and other natural stone kitchen countertops will work with most kitchen styles. Whether you are aiming for a contemporary, traditional, craftsman, vintage, or beachy kitchen, you have many suitable stone options, from the often-picked veiny look of white marble counters to the sleek look of soapstone.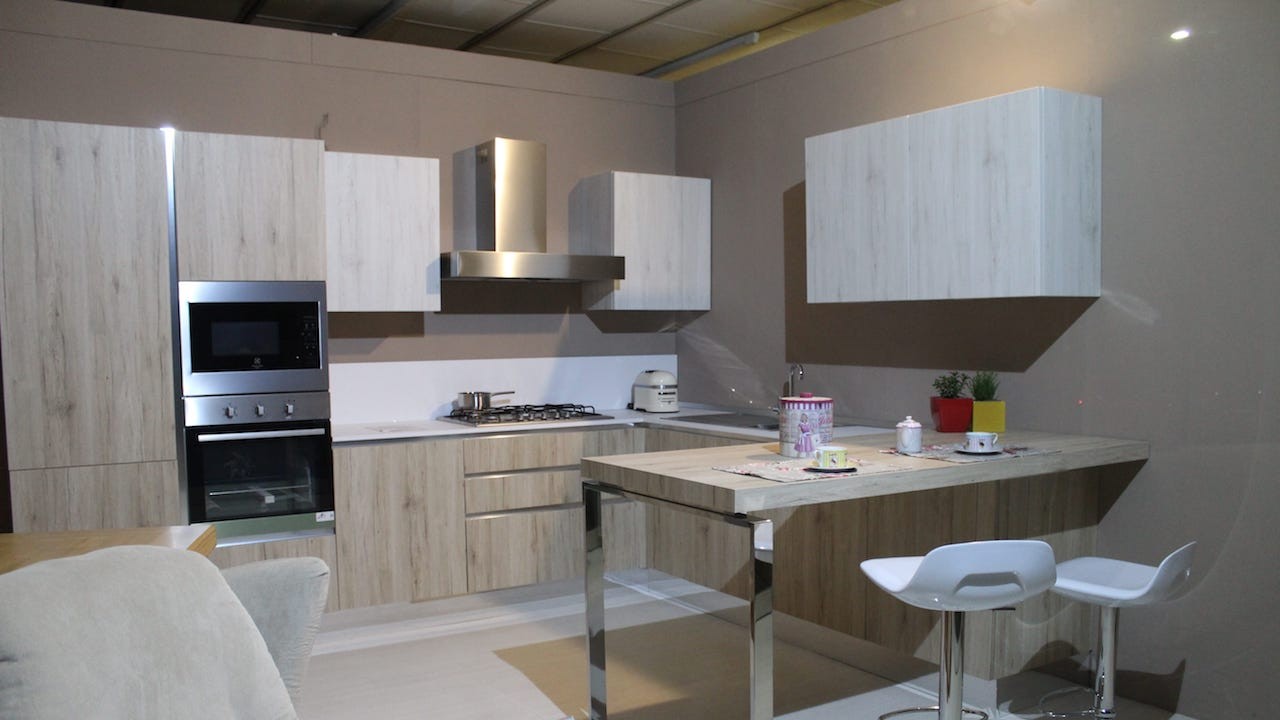 Flat panels without any hardware adds to the modern style of this kitchen
Modern kitchen cabinetry like the cabinets in the kitchen shown above tends to have flat surfaces with limited ornamentation like crown molding, decorative trim, or faux finishes. The flat surfaces typical of a contemporary kitchen cabinetry can be the perfect choice for a smaller kitchen. The hardware for modern kitchen cabinetry tends to be polished silver and very sleek in design. Modern kitchen countertops similarly tend to often feature butcher block, steel, concrete, or natural stone counters lacking a lot a lot of veins or details.
Traditional kitchen cabinetry departs greatly from modern kitchen cabinetry and tends to be much more formal and elegant than contemporary designs. The styles can range from shaker style cabinetry to raised panels, to those characterized by the cathedral and arched cabinets. Flat panels are never used in traditional kitchens. Glass doors can also be incorporated into these traditional styles to showcase glassware and other ornamental items. Despite the characteristic formality typical of traditional kitchens, they are always warm and inviting and can appeal to many homeowners. The hardware with traditional cabinetry is similarly more ornate and often a characteristic gold tone that can add another element of formality to a kitchen. Traditional kitchen cabinetry is found in all colors from white to dark ebony and all granite colors work within this type of kitchen design. It is not uncommon to see a bit of butcher block side by side a brilliant piece of veiny marble in a traditional kitchen.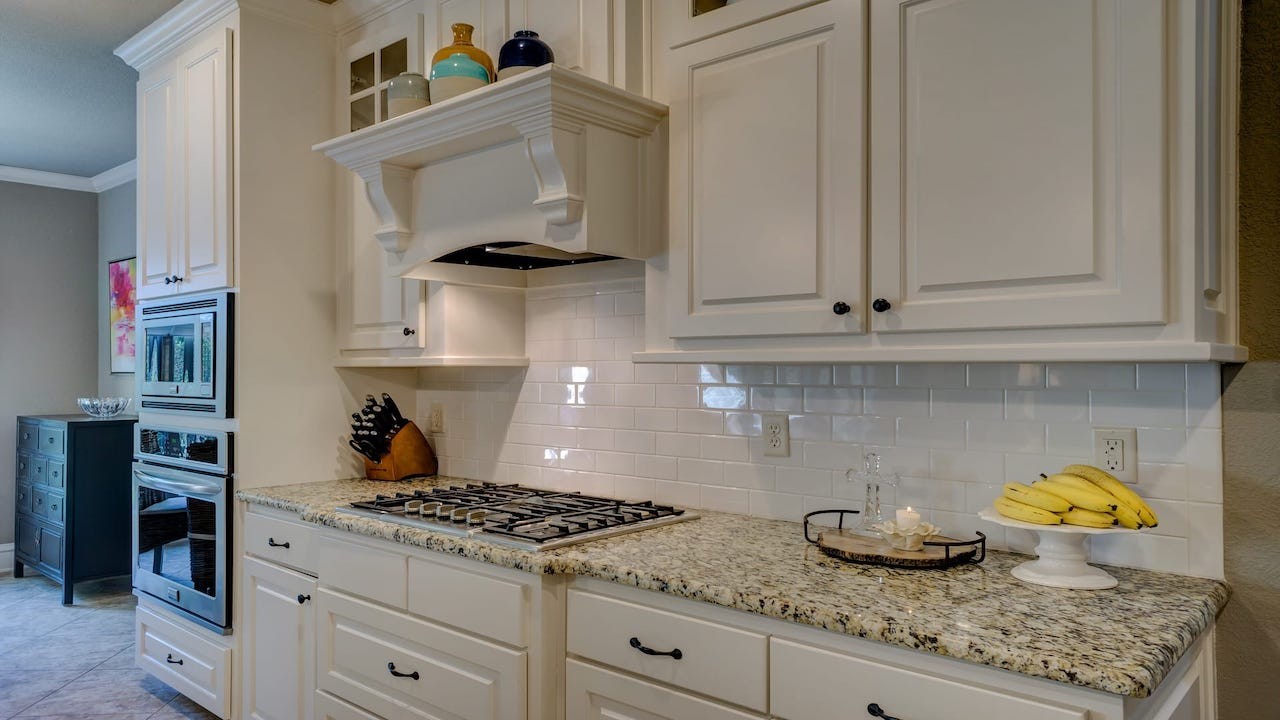 The raised panels with granite countertops add an updated traditional look in this kitchen
It is quite common to see two different colors within a kitchen's cabinetry, like the kitchen below. Often designers will use a bright white for a kitchen island while leaving the perimeter a darker cabinet or they will do the reverse. The contrast adds a nice layer of depth to a kitchen and can be further emphasized when two separate stone countertops are used. Often a veiny marble baking station might be juxtaposed with another granite color.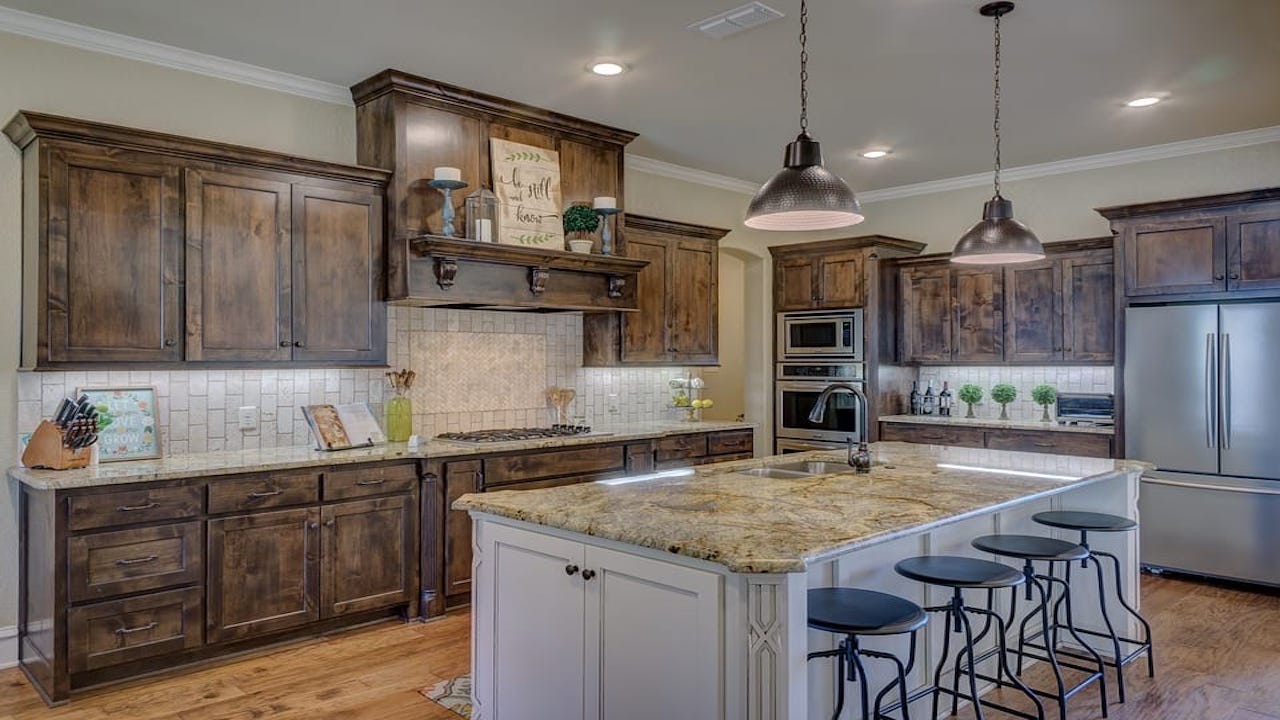 Distressed cabinets add a rustic touch to this kitchen
Craftsman-style kitchen cabinets are often defined by simple straight lines, quality construction, and minimal ornamentation. This design movement came about in the early 1900s as a reacts against the ornamental nature of the Victorian time period. Craftsman-style kitchens often have darker, natural colored woods like oak, maple, or pine. The panels on the cabinetry tends to be flat and simple, as it emphasizes the beauty of the wood itself over ornamentation. A craftsman-style kitchen typically uses natural stone countertops like granite countertops or soapstone countertops.
A Vintage kitchen typically uses beadboard throughout and the cabinetry might be a mix of glass fronted or open upper cabinets and beadboard doors. This is characteristic of a 50s-style kitchen. While natural stone was not typically used in this time period, it is not uncommon to find marble and granite used in today's vintage kitchen. This represents an interesting mixture of old and new and the bright white of a marble countertop can pop against a painted beadboard cabinet. Many homeowners who live in older homes will create a stylish vintage kitchen that brings together the comforts of the past with the modern style of granite or marble countertops. Butcher block countertops are also often used in vintage kitchens.
Beadboard style cabinetry is also commonly found in cottage, beachy-designed kitchens. White or distressed cabinets add a bit of comfort and charm to a kitchen that becomes incredibly inviting. The cottage style works best with a lot of white, so white marble, white colored granite, white quartzite, or white quartz can complement white or distressed white cabinetry. Open shelving is commonly found in cottage kitchens, as are flat panels.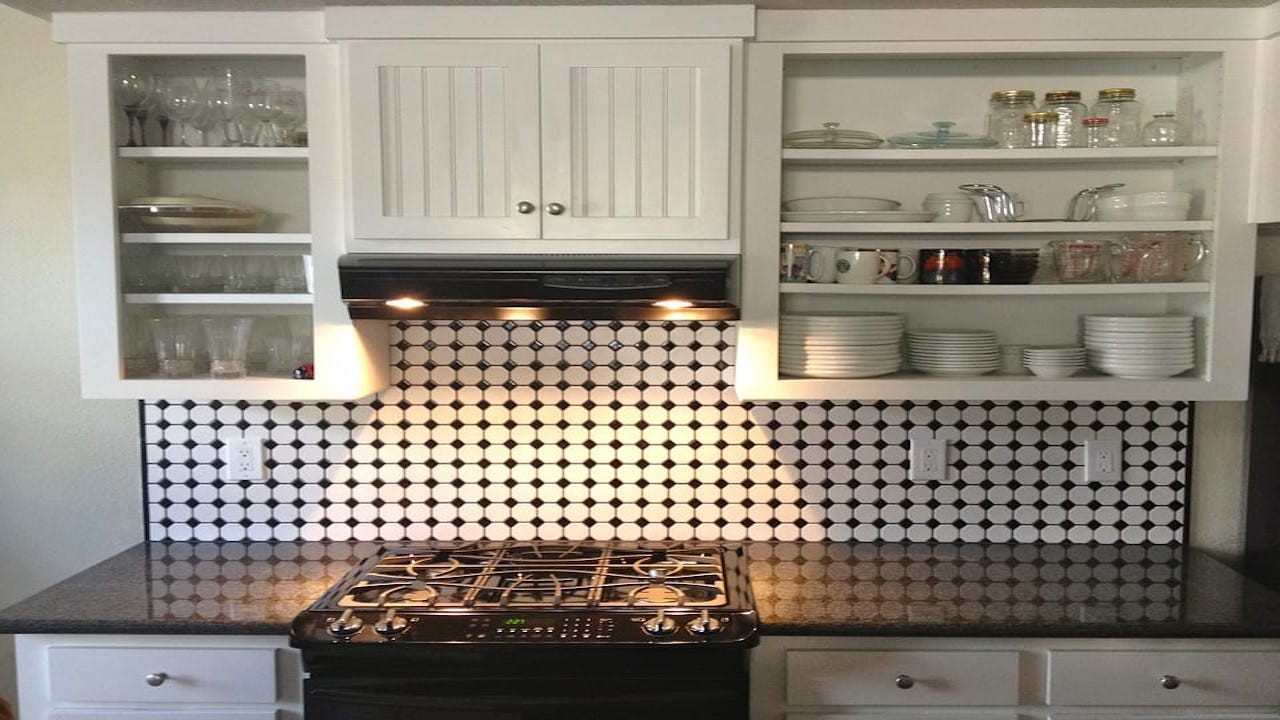 This kitchen features open shelving cabinets and beadboard panel cabinets
With all the stone colors that we have available, there is sure to be a countertop to fit your design style. And no matter what your style is, there are great natural stone countertops and cabinetry for the kitchen of your dreams.