How to Hide Your Appliances In The Kitchen
by Chanel Adams
Posted on December 07, 2017 07:00:00 AM
Tweet
---
The kitchen is one of the busiest and most-used rooms in your house, other than your bathroom. If you're someone who owns a lot of appliances, you don't want them to distract from the look of your kitchen countertops. Having too many appliances on your countertops can make your kitchen appear small and cluttered. Cut the clutter and consider some or all these ways to hide your appliances.
Install Pullout Drawers That Hide Your Small Appliances
Get creative by installing a pullout drawer in your kitchen. These nifty little drawers can hold your pots and pans, air pressure cooker, fryer, and microwave oven. Plus, it looks a bit futuristic every time you open the cabinet door. You'll find pullout drawers addicting to use. Use these pullout doors to hide anything from your mixer, toaster oven, and/or your waffle iron.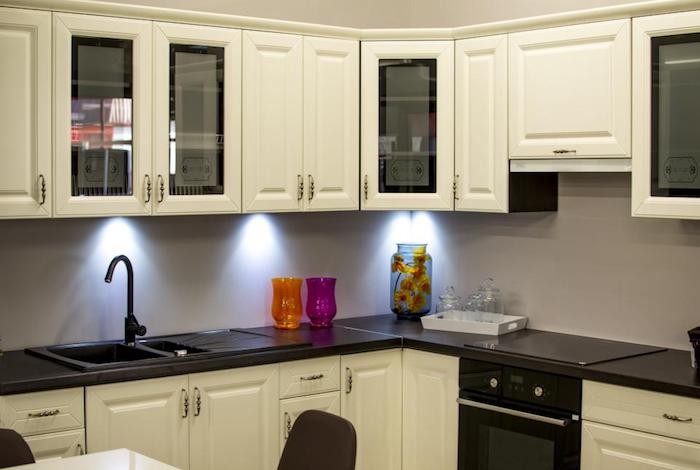 The dishwasher in this kitchen blends in well with the black countertops.
Hide Your Refrigerator In An Elegant Cabinet
Have a built-in fridge and freezer installed in your kitchen. Your entire unit will blend in with the matching floor-to-ceiling cabinets and drawers. Meanwhile, the built-in bin-style drawers will conceal your pullout freezer. Get one that has rustic hardware and old-school wood that draws attention away from your appliances.
Or, you can get a pullout refrigerator in a drawer. This is a great idea if you live alone or you don't buy a lot of food. Several appliance manufacturers offer pullout refrigerators and freezer units. They can be easily hidden behind your matching drawers.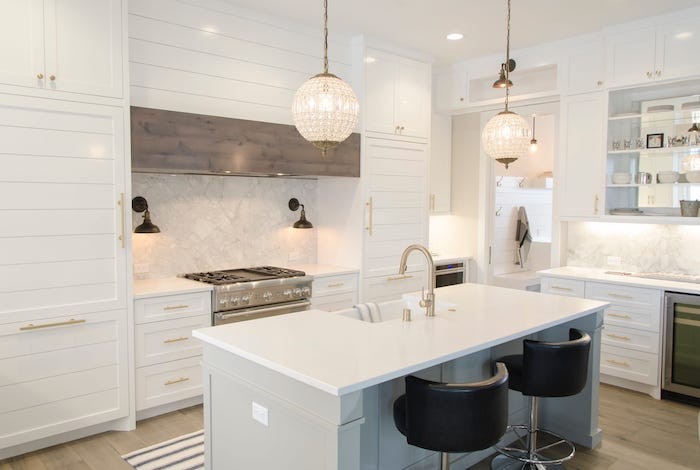 The refrigerator in this kitchen is hidden behind cabinetry that matches the rest of the kitchen cabinets
Paint Your Walls The Same Color As Your Appliances
Have your kitchen match both your cabinets and appliances, especially if they're all the same color. This idea works if you're a simple person who loves black and white, or you love buying appliances in your favorite color. But, if your kitchen appliances are white, cream, or black, chances are you're going to have limited color options for your walls.
Get Appliances That Match Your Kitchen
There are appliance manufacturers who offer appliances in different colors other than the typical white, black, and stainless steel. Having an appliance in a different color is desirable if you don't want yours to stick out like a sore thumb.
Consider the theme and style of your kitchen, including its color palette. For example, do you want your appliance to match your drawers and cabinets, or do you want it to match your granite countertop colors?
While choosing your granite color is important, you should also consider the granite edge profile, which is the shape your edge takes. You can choose from Full Bullnose to Cove Ogee to Dupont and more. These can all be seen on our Countertop Edges tool.
Work An Appliance Garage Into Your Kitchen
If none of these options work, you could also try to incorporate an appliance garage into your kitchen. It might still take up counter space, but it's still hiding the actual appliances. Choose a small cabinet that matches your wood, flooring, or stone colors and install it on your counter as an appliance garage.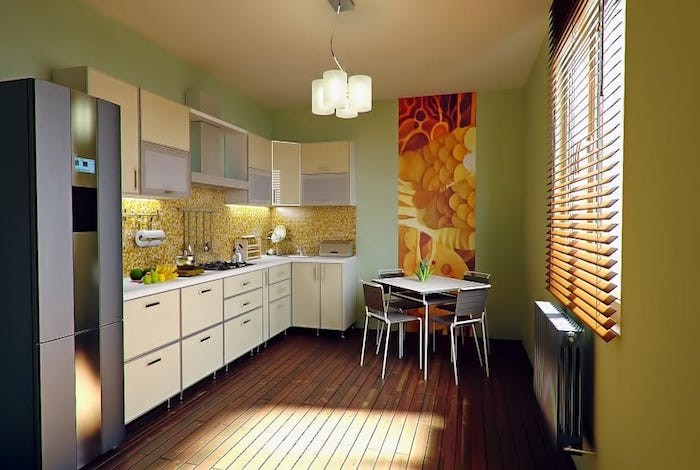 All smaller appliances should be hidden from plain site
It seems as though appliances stack up over the years, yet there are many that are useful and that we use on a daily basis. However, we all know how cluttered they all make your counters look when all are exposed. With these helpful tips, we hope that your new countertops will be free of clutter so everyone who comes into your home can enjoy the beauty of the stone and not be distracted by everything else.