How to Go Bold in your Bathroom Design
Tweet
---
Neutral colors are a safe choice in home design, but can quickly become boring. If you want to invigorate the style of your bathroom, bold colors breathe new life into space. There are many ways to use color to create interest in bathroom design, from quick and inexpensive updates to a complete bathroom renovation project.
If you have taken the safe road in your home décor, but find bolder colors intriguing, the bathroom is the perfect place to try it out. Bold colors work well in small spaces and the bathroom is a good place to try out brighter colors before committing to a larger redecoration. In addition, a small space is easier and less expensive to redecorate than larger spaces.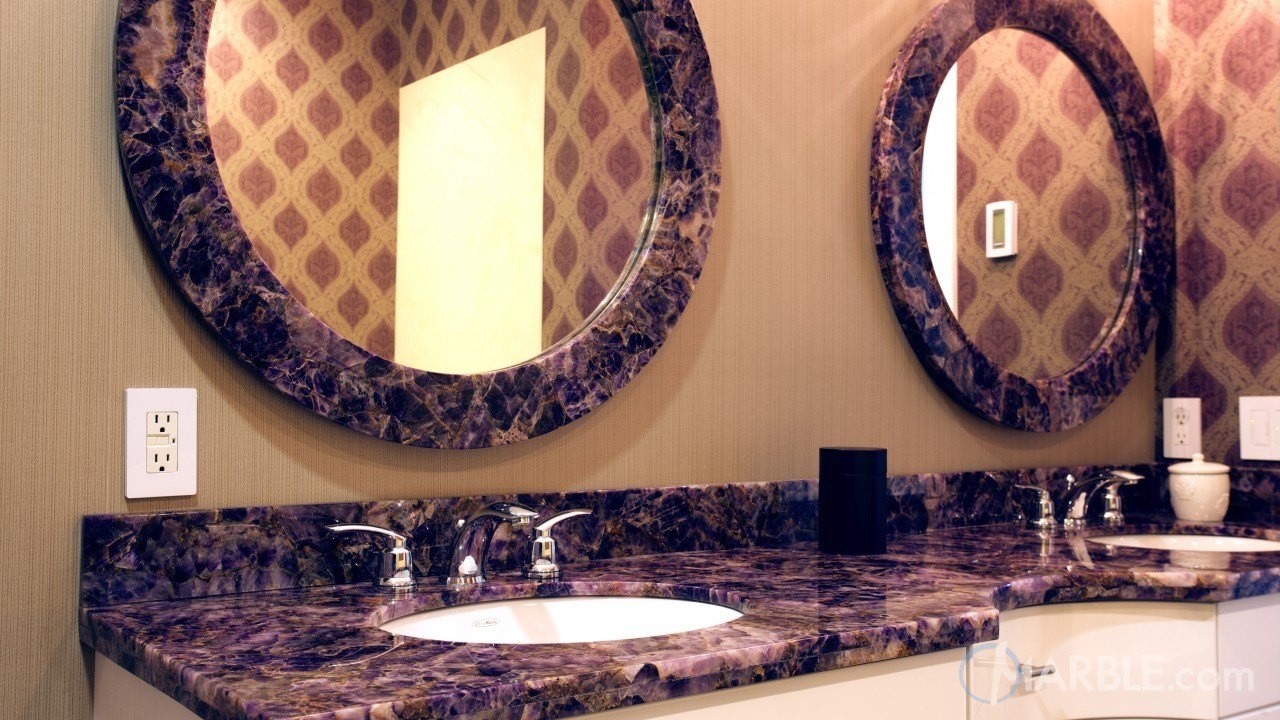 A gemstone vanity top is beautiful and unique
Easy, Inexpensive Design Updates
One of the easiest changes to make in the bathroom is the color of the walls. Unleash your creativity with bold colors, vivid jewel tones, stripes, patterns, or textures. While bold is beautiful, you don't want to carry this idea too far or it will be too bright or even tacky. Try a bold wall color with white or black to create balance in the room. For example, lime green and white, bright pink with black and white in flooring and shower tiles, or navy with gold. The possible combinations are endless.
A fun and detailed mirror or an interesting piece of wall art provide a unique focal point, especially in a small space. Bathroom mirrors don't have to be plain or boring. Some ideas include a unique mirror in a bright shade or metallic finishes, such as bronze, gold, or silver. Choose something that will contrast with your wall color. When choosing wall art, consider a colorful painting in a neutral frame or a bright frame with a soothing natural landscape to avoid too much color.
If you prefer more neutral walls or have tiled walls in the bathroom, you can go bold with accessories, such as a colorful area rug or bathmat. You could also use decorative objects, candles, or colors from nature, such as a plant or a container of flowers to bring color into the bathroom. On the other hand, if your walls are colorful, use black, white, or another neutral color for decorative objects.
Light fixtures are easy to change and you can find interesting fixtures in a range of prices to fit your budget. Some ideas to consider include an antique hanging light, pendant light in a bold color, small chandelier, or wall sconces. The home lighting industry offers endless options for light fixtures in bold colors or uses black fixtures to tone down the color in the room and create contrast.
Bold Bathroom Renovations
When you are ready to commit to a bigger, more lasting change, you can use color in areas that are not as easy to replace, such as tile, flooring, and vanity tops. Get creative with colorful tile in the shower. You can use tiles in one color, stripes of a contrasting color, or interesting patterns for shower, wall, or floor tile. Create a feature wall with mosaic tile and carry one color from the mosaic over to the paint color on the other walls, towels, or bathroom accessories.
If you are planning a major bathroom renovation, the natural stone industry offers stone colors that range from neutral to bold. Consider a striking stone in a bold color in quartzite tops or granite vanity tops, such as Black Thunder granite or a gemstone vanity top. A vanity top, bathtub surround, or shower surround isn't something that will be changed often, so if you aren't sure that you are ready to commit to a bold color for the long term, consider a more neutral vanity top or marble shower surround that will continue to work, even if you get tired of your bold bathroom.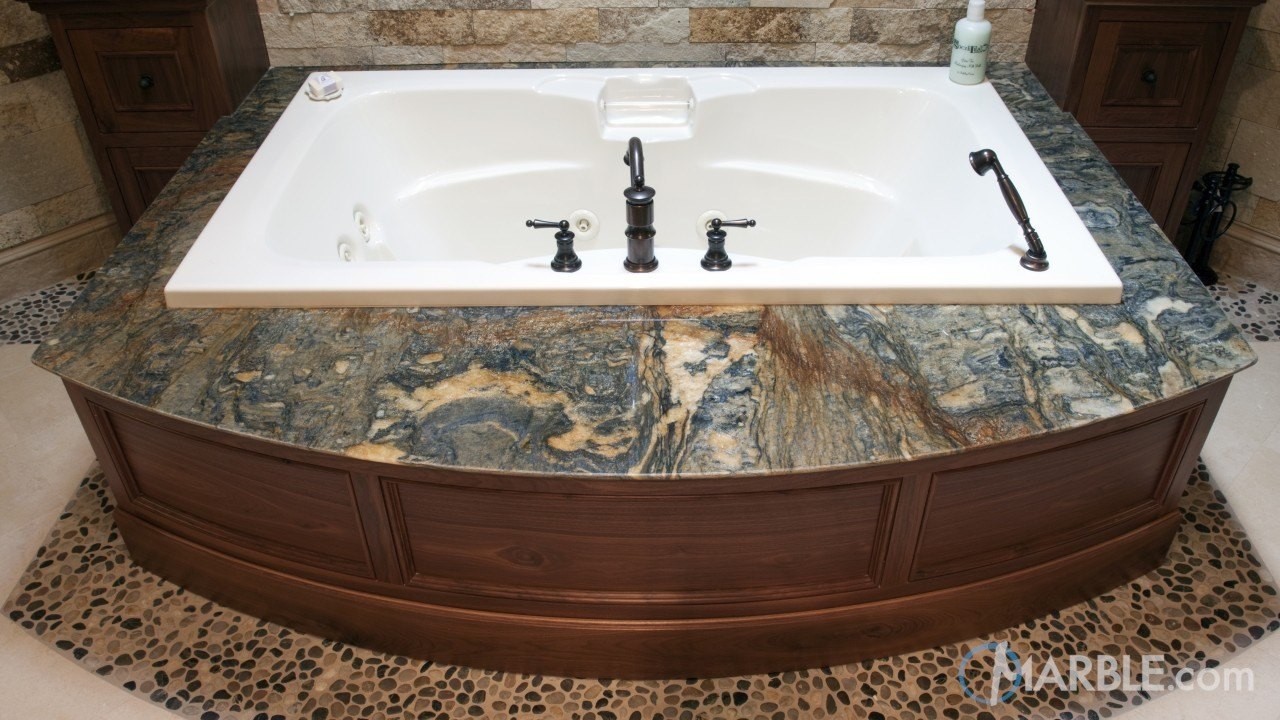 This Blue fire Granite is definitely a bold addition to this bathroom
Don't be afraid to go bold in the bathroom. This is one room you will spend much time in and you want to make it look nice, inviting and even fun. Depending on you style you can go very bold or subtle. It's your space. Take some of these ideas and make it your own!