How to Color-Block your Kitchen
by Chanel Adams
Posted on November 30, 2017 07:00:00 AM
Tweet
---
Color-block is a huge trend that has taken over kitchen design. This type of technique is popular in both the fashion industry and in-home design even though it's taken some time to hit the interior and natural stone industries. It's a great way to dress up a monochromatic or a neutral theme by incorporating some of your personality. Here are some ways that you can introduce color blocking into your kitchen, big or small.
Dip Your Toe In Colored Accents
If you want to experiment with the color-block trend, but you don't want to fully commit then start small. Add splashes of color to your kitchen with different colored chairs surrounding a glass table, showing off your colorful kitchenware, or bold artistic expressions. It'll make it easier to switch it up and remove if you don't like the look of it.
Countertops With a Contrasting Color
Want to create some drama in your kitchen? Then, start out with a dark base color such as black or midnight blue to create a moody theme. Absolute black granite is an excellent choice for this. Further switch it up by color blocking with a sunny yellow or a blood red accent wall, if you want added drama. Of course, a luxe black-on-black kitchen looks chic and elegant, but adding color-block gives your dark kitchen some much-needed energy.
Granite countertops come in a variety of colors such as burgundy, red, and pink. Don't be afraid to switch it up and stray from the usual white natural stone and black natural stone that is taking over the natural stone industry.
Slabmarket.com has a number of stones available for slab yards. It is the number one source for countertop fabricators since it offers a wide array of stone colors. Once you sign up, you can get a container to fill with various stone colors such as white natural stone and black natural stone. It's a great way to check out the different types of slabs on the market.
Incorporate a Backsplash or Island
If you have a lot of space in your kitchen, introduce color by adding a backsplash or an island in a solid color or geometric pattern. If you have a large and lavish kitchen, make both of them the focal point of your room.

One Brightly Toned Accent Wall
This is an easy way to introduce some color into your kitchen if it's a little drab. An all-white or all-black kitchen may look nice, but it can get a little boring sometimes. One way to color-block your kitchen is to paint one wall in your favorite color.
Use the same color for your accents to help bring the theme together. This will introduce light into your kitchen and highlight the features you want to show off such as your fruit bowls.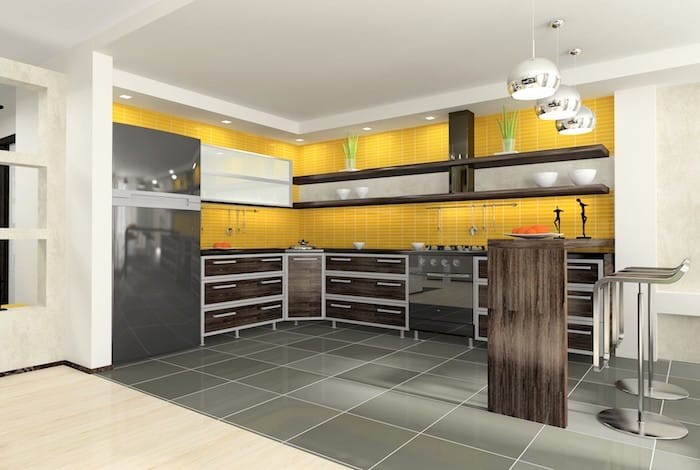 Bright Colored Walls With White Or Black
A popular way to color-block an all-white or all-black kitchen is to paint your wall in your favorite color. If you want to add some attitude, paint the walls deep Gothic purple or fire engine red.
This look is especially striking with natural quartzite countertops, black granite countertops, and white quartz countertops, if you don't want a tone-on-tone look. Again, you should choose accents that match the color of your walls so it's a complete look.
Different Colored Cabinet Doors
It's your kitchen; you should express yourself however you want. A great way to experiment with color is to paint your cabinet doors and drawers in different colors. This style looks especially good if you have a geometric wall (as explained below).

Want to go mod? Use bright colors such as royal blue, orange, cherry red, hot pink, and white. This DIY kitchen design project can give you a whole new kitchen in just a few short days. Not to mention, it's pretty simple to do with just a few buckets of paint.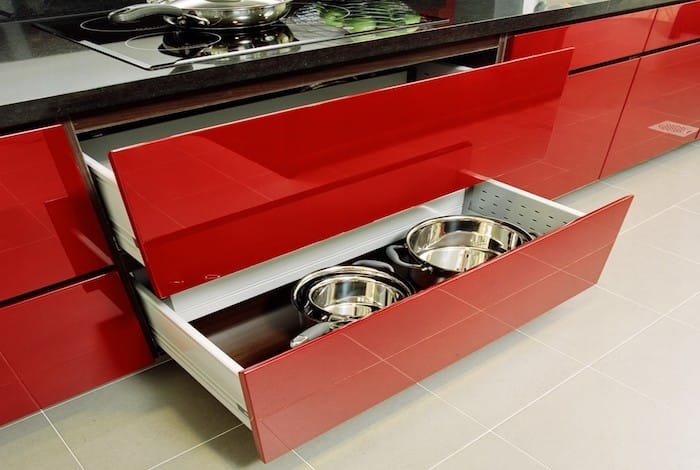 Pair Different Colored Woods
Another way to do the color-block trend is to use two different kinds of wood on your cabinet doors and drawers. Choose two types of wood that grain going in the same direction, so it doesn't look so busy. If you have a small kitchen, use contrasting panels with a horizontal grain that creates the illusion of more space.

One Geometric Patterned Wall
Don't have a favorite color? That's okay. Paint a feature wall in a geometric pattern or a color-blocked motif. You can also introduce splashes of color on all of your walls at once. Your kitchen will come to life and become a room that you and your family will want to hang out in. It'll also make for a great conversation whenever you entertain.
Colored Appliances
Go bold with different colored appliances. Yes, they do sell appliances in other colors than the typical stainless steel. Choose a color that you won't see yourself getting sick of a year later. Make the appliance the focal point of your kitchen, and dress up the rest of your cooking space with neutral tones. Or, you can go all the way and add contrasting colors that will make your appliances stand out.
Conclusion
Don't be afraid to use some or all these rules for color-blocking your kitchen. Your kitchen is one of the most used rooms in your home and should reflect your personality. If you have enjoyed these tips and maybe want to go even further with the thought of having a rainbow-toned kitchen or a mod 60s kitchen, then go crazy!