How to Add Asian Style to Your Bathroom
by Dean Gemmell
Posted on December 17, 2017 12:00:00 PM
Tweet
---
Zen-like. Serene. Harmonious. Asian-inspired décor has a calming effect that is unique and unmatched by other styles. Spare, with clean lines, it eschews clutter in favor of careful, focused attention on making the essentials beautiful. Minimalist, to be sure, yet it is not without bold choices such as the use of deep reds or bamboo pieces.
Another hallmark of Asian design is its affinity for natural materials. To create a sense of harmony and balance, rooms bring the earth into the home. And if you're looking to imbue your bathroom with Asian style, natural stone countertops and surrounds are certainly a great place to start.
Granite vanities, quartzite vanities, travertine vanities — any of these natural stone choices in neutral colors will feel just right in a bathroom that is designed to soothe and calm. When it comes to granite, some choices that will fit well are Astoria Granite, Giallo Napole Granite, Giallo Napoleone Granite, Bianco Antico Granite, and Butterfly Green Granite for their beautiful, but no overwhelming, look.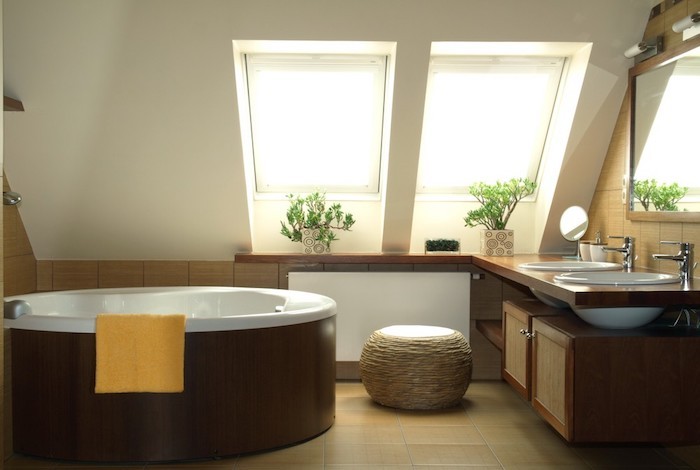 If you think names like Giallo Napoleone Granite, Giallo Napole Granite, and Bianco Antico Granite don't sound like they are great choices to deliver Asian style, think again. Fact is, much of the best granite hails from Italy, but it's the neutral colors and patterns of these natural stone choices that impart the feeling of calm you're seeking.
Metallic tones can also be vital when aiming to create Asian style, and a choice like Butterfly Green Granite has color flecks that deliver that. What's more, it complements natural wood, a material we often associate with Asian elements like Japanese baths.
A travertine vanity top is another way to instantly add Asian style to your bathroom. The neutral colors — White, Tan, Cream — and striking texture of travertine, a form of limestone, match this kind of décor perfectly, and it's a go-to choice for designers tasked with turning a master suite into a tranquil getaway. If you're worried about the impact of heavy use on a travertine vanity, consider cladding the walls in this natural stone or using it as an accent around the bath instead of a vanity top.
And don't forget to put some careful thought into that bathtub as well. In Japan, baths are an important ritual, and soaking tubs are common. Even if you don't embrace the soaking tub, try choosing a tub in an uncommon shape. Consider a bowl shape versus a traditional oval, for instance, and add a bathtub surround in one of those granites that deliver Asian style — Astoria Granite, Giallo Napole Granite, Giallo Napoleon Granite, Bianco Antico Granite or Butterfly Green Granite.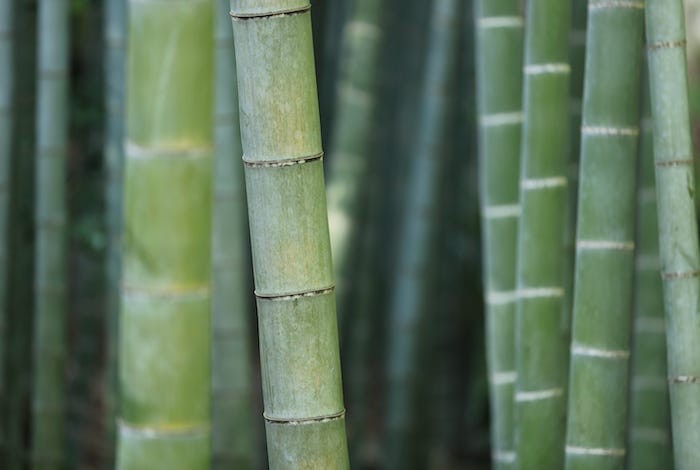 What do people find so inspiring about Asian design? Well, in a world that can seem complicated and overwhelming, the appeal of the pared-down, minimalist style that we associate with countries like Japan is powerful. Most of us see the home as a retreat from the hustle and bustle of the everyday world, and a thoughtfully designed master bath can be the most calming room in a house. With Asian accents, that feeling of serenity is compounded.
It's not difficult to create. Think about materials — granite, quartzite, or travertine can play an important role. Add a sampling of colors like deep red and bring in well-made accent pieces crafted from materials like bamboo. Before long, you'll have the Asian style — and the feeling of peace — that you want in your bathroom.