How Do I Modernize My Outdated Kitchen?
by Ann Kent
Posted on November 28, 2017 12:00:00 PM
Tweet
---
Your kitchen sets the tone for the rest of your home, and if it is old and outdated, the rest of your home will feel the same. You do not have to do a complete kitchen overhaul to make your kitchen feel modern and fresh. Depending on the state of your kitchen, the easiest way to update your kitchen is by installing new stone countertops. Replacing older kitchen countertops with classic granite, veiny white marble, or light-colored quartzite countertops is the fastest way to give your kitchen a makeover.
When determining which type of natural stone countertops to install in your kitchen, the first step should be consulting online design magazines and online virtual design tools to get a sense of what is trending in the natural stone industry. Virtual design is an incredible way to plan out a design process perfectly before even purchasing any of the supplies. Visualizer+2D and 360° is a great program that lets you design your room on your home computer in 2d space. It will allow you to better map out your kitchen for efficiency and maximize the space to its full potential.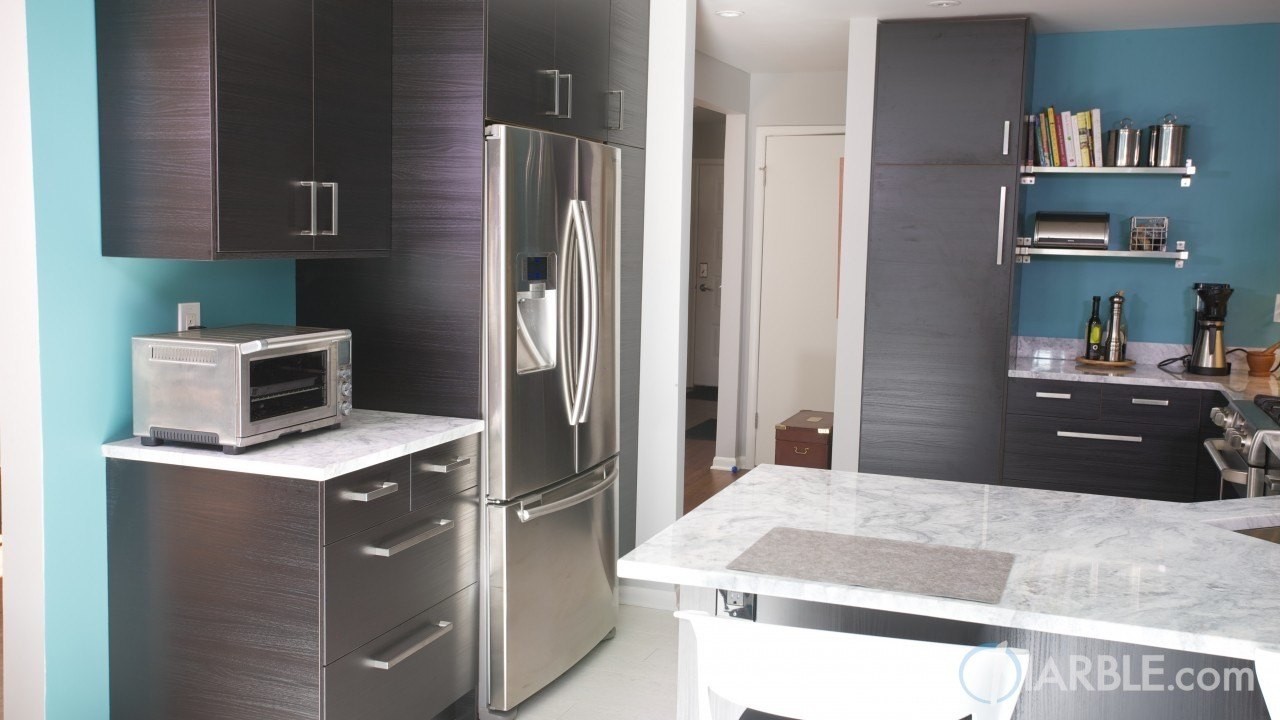 Classic White quartzite countertops on dark brown cabinets add a nice modern touch to this room
Granite and quartzite continue to dominate the natural stone industry for use in kitchen countertops because of their overall durability. Granite and quartzite countertops are heat and stain resistant and only require sealing 1-2 times a year. This is a stark contrast to the maintenance that marble demands. Marble countertops are porous and prone to etching when exposed to acids or vinegar. It is recommended that homeowners seal marble up to 4 times a year. This can be too much maintenance for the average homeowner. Quartz is another option that requires practically no maintenance at all. Since it is an engineered stone composed of quartz crystals and resin, quartz is solid and does not require any annual sealing. There are quartz stone slabs that can mimic the look of marble without the maintenance. Quartz, granite and quartzite are all excellent options for a high traffic kitchen.
There are many options for stone countertop colors depending upon your stone selection. Granite offers the widest range of colors and variations, whereas quartzite and marble tend to be mostly light in color. Since quartz is engineered, it also has a wide variation in pigment colors. If you have a smaller space, lighter colored kitchen countertops can open up a space and make it appear larger.
After consulting the Visualizer+2D and 360° tool, you may determine that you can install a kitchen island or a countertop peninsula within your space. The ability to map out the design online prevents making huge design mistakes and often allows you to better see the reality of your space. The addition of a kitchen peninsula or center island will instantly transform the functionality and flow of your space.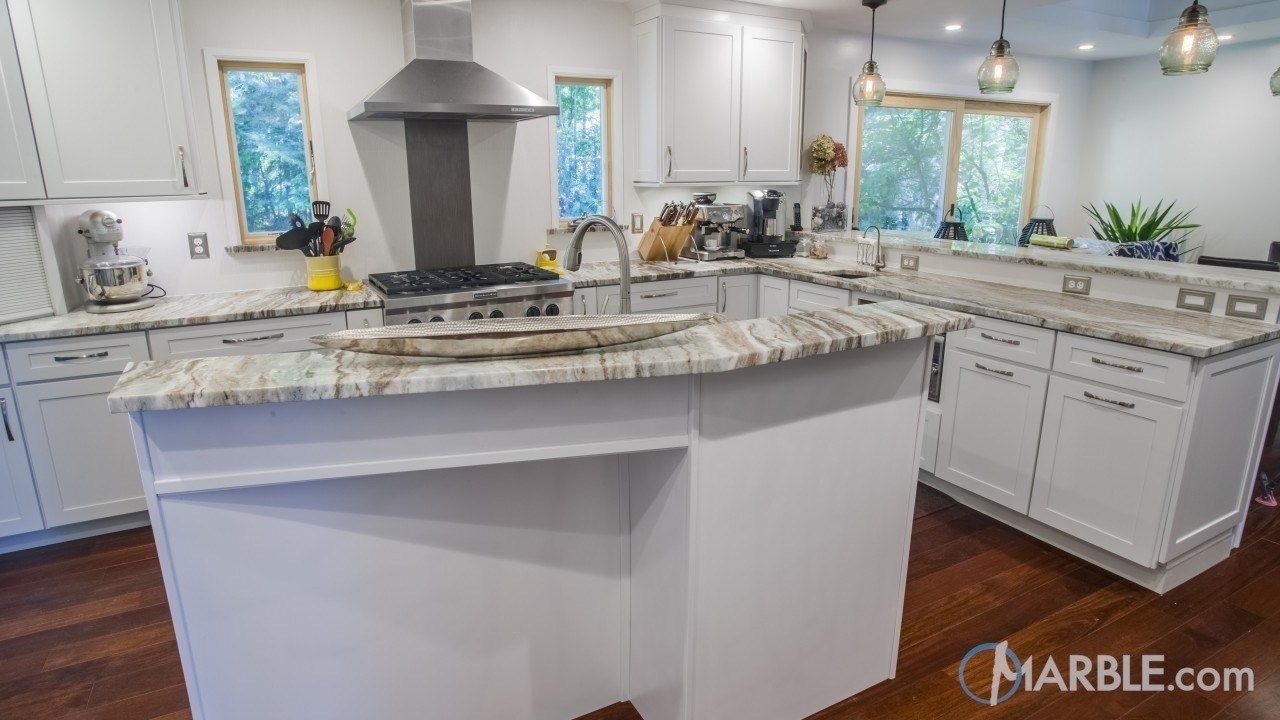 The light cabinets, light Fantasy brown quartzite, and the stainless steel appliances all give this kitchen a modern look
A simple way to update your kitchen would be to paint your cabinets and invest in some new, modern hardware. This is a time-consuming project, but the average homeowner can do it with enough time. You must thoroughly clean the cabinets of all existing grime before preparing the cabinets to paint so that the paint will adhere properly. The next step detaching all of the cabinet doors and properly sanding all of the frames and cabinets before applying a layer of primer. The paint that you use should be high-quality self-leveling paint. There are many options available depending on the brand of paint that you prefer. You will need to leave adequate time for drying between coats of paint and before you flip the cabinet doors to paint the other side. Painter's tripods can be an excellent tool to help ensure that you paint an even coat on all sides. When considering colors for your paint, white and gray are popular choices, but sometimes using two tones can help to add a modern feel to your kitchen. A center island can be painted gray with the perimeter cabinets remaining white or vice versa to create a nice, updated contrast within a kitchen design.
If painting is not a job you're willing to consider, you might think about removing the doors to create an open kitchen. The doors can be replaced by glass or left open. Keep in mind, if you are not a neat person, you might want to keep the doors on the cabinet because the point of this is so that your exposed dishes and glassware will become a design element within the room.
After the cabinets and countertops have been updated, the final step is to install stainless steel appliances. When they replace outdated white appliances, the stainless-steel finish creates a drastic clean line that instantly modernizes the space.
Countertop fabricators need to always provide enough options for homeowners as they will want to be able to see a full range of slabs and stone options before making a decision. Slabmarket.com has one of the largest inventories of slabs and should be one of the first places that countertop fabricators consult when looking to stock their slab yard. You can fill a container with a range of slab choices from granite, to marble, and quartzite and restock as needed.
An older and outdated kitchen can be updated in steps or all at once to create a more modern kitchen. Often times simply replacing the countertops is all you need to do to create the contemporary look you are aiming for.
Click here to see one of our favorite modern kitchen designs!