Granite of the Week: Viscont White Granite
by Dean Gemmell
Posted on August 08, 2017 07:00:00 AM
Tweet
---
If you love marble but are wary that it might not be able to withstand the heavy activity your kitchen countertops see, you should consider Viscont White granite.
This is a stone that delivers the qualities of marble — interesting veining, a similar visual appeal — with the properties that make granite such a popular choice. It's remarkably durable, lasting, not susceptible to scratching, non-porous, and heat-resistant.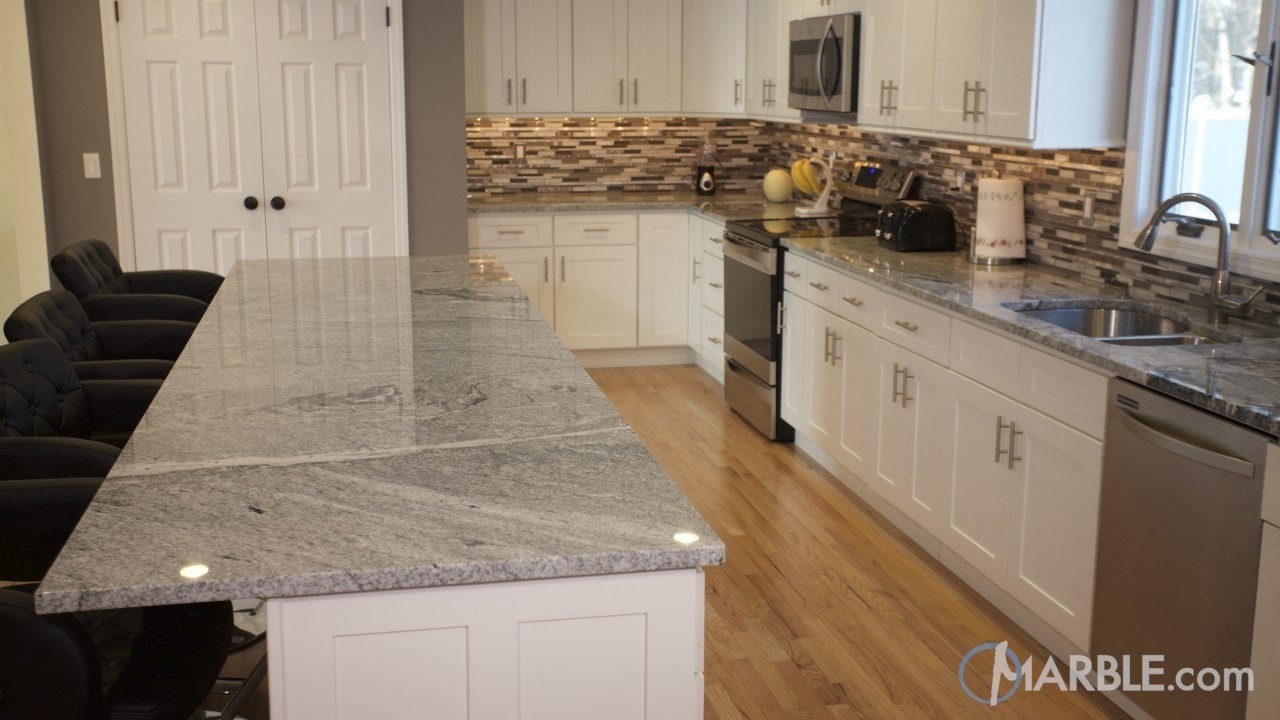 Viscont White Granite
Timeless Appeal
That said, marble has a timeless appeal and basically oozes elegance. Mainly white in composition, there is brightness to it, and pastry chefs favor it as a work surface since it's naturally cool. No wonder so many people love it.
A Viscont White granite countertop can deliver the esthetic appeal of marble without the issues of durability. Like almost all granite, Viscont White granite is as solid as, well, granite. It won't stain, it can handle the heat, and the look it has when it's installed will be the look it retains for years and years if you maintain it with sealing of course.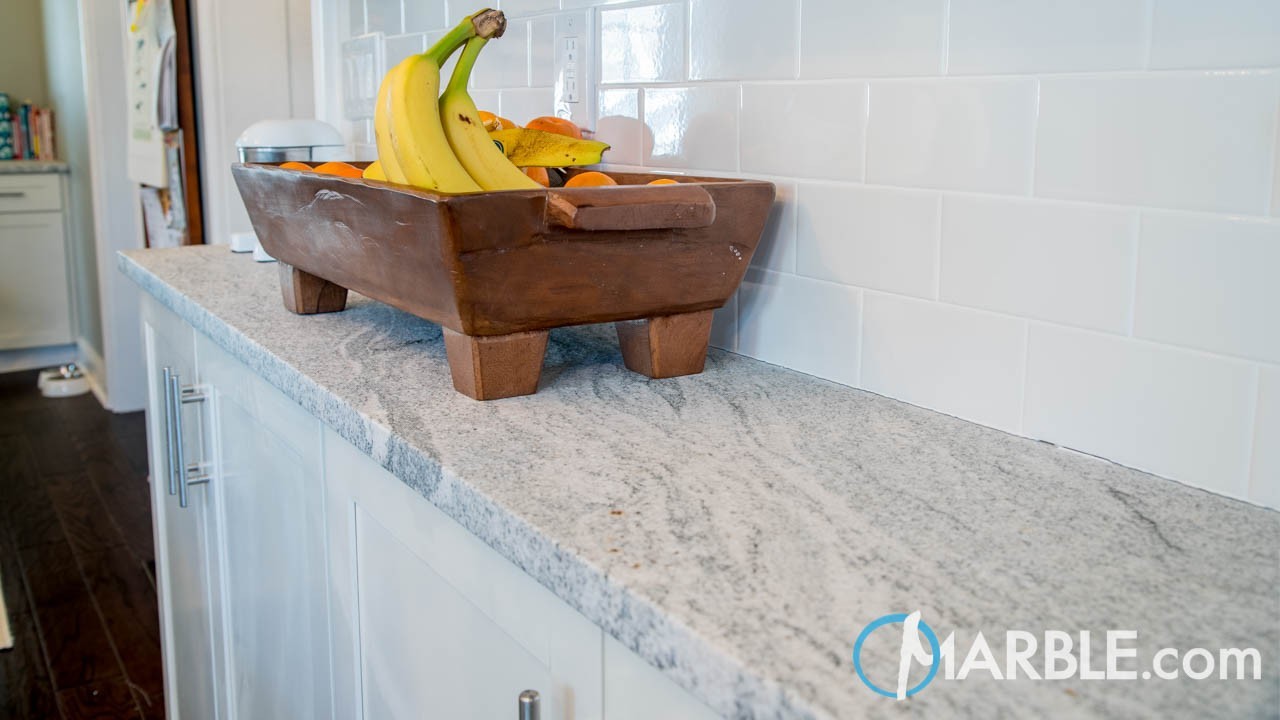 Viscont White Granite
The Properties of Viscont White
Of course, it is a natural material, so there will be variations between all slabs of Viscont White. The characteristics that are present in all Viscont White granite, however, include the dominance of bright white, with grey and white veins running throughout. It's that veining that makes it as aesthetically pleasing as marble, and an excellent choice for anyone seeking a timeless or slightly traditional look in their kitchen.

Viscont White granite is also a popular choice for the countertops in outdoor grill stations. It blends well with the brick or stone that is often used in these areas since its beauty lies in its subtle tones. This isn't a look-at-me granite but, instead, it's a stunning stone that complements and enhances everything around it. In a patio setting with a pool, it helps convey that soothing spa setting that can make a great backyard such a popular gathering spot. Don't be surprised if people gather around your island countertop of Viscont White granite and say, "This is beautiful. I just love marble."
The qualities of this granite are that similar. If you choose a brushed finish, this stone has a less glossy finish and becomes even more akin to marble.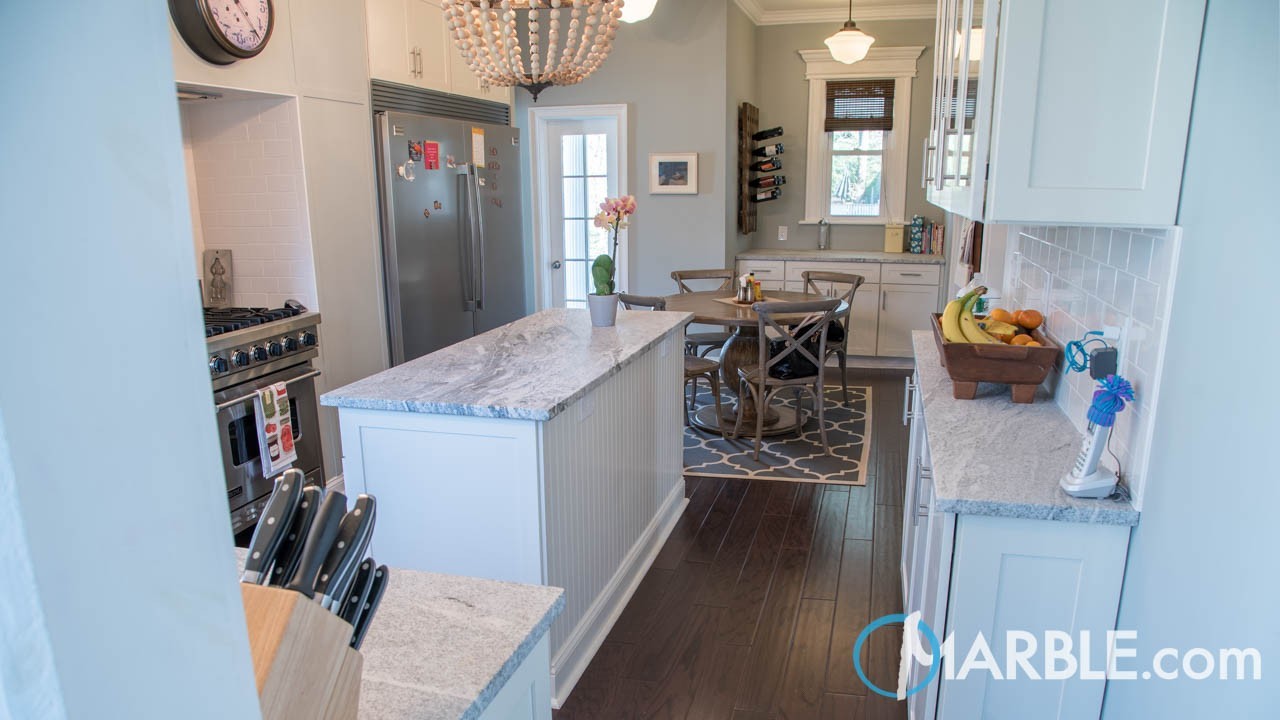 Viscont White Granite
A Beautiful Stone on its Own
Despite all the comparisons, Viscont White isn't merely a marble imposter. Truth is, it's a stunning stone when judged on its own merits. While predominantly white, the rich patterns and veining — depending upon the slab, can be extremely thin or slightly heavier and darker within it; This pattern helps conceal small crumbs so even after a night of entertaining, your kitchen will still have a crisp, clean look. Paired with a classic backsplash — subway tiles marry well with Viscont White — it will never seem dated.
For many of these same reasons, Viscont White Granite can be a good choice in commercial settings, too. If the atmosphere in your establishment is bright and open, adding Viscont White counters will reinforce it. What's more, you'll get that durability and low maintenance that makes granite popular — perfect for a spot that is busy with customers and humming with activity.
In the End, It's Personal
Choosing the right countertop for a new kitchen, bathroom, outdoor bar area or restaurant can be daunting. There is no shortage of choices, and you want to make sure your decision is one you won't regret.
Make sure you work with a supplier who has a large inventory so you can find just the right countertop. If you've settled on granite, you'll want a company that has enough slabs on hand to give you a complete picture of what's available.
If you're the kind of person who is partial to the timeless qualities of marble but worries that it will age in a way you don't like, make sure to ask about Viscont White granite.