Bold Countertop Colors will Make a Statement
by Dean Gemmell
Posted on July 11, 2017 07:00:00 AM
Tweet
---
You don't dream just in black and white. Or gray. Or beige.
So when you're choosing new countertops, why limit yourself to those colors?
Sure, we love the striking contrasts that black or white can provide. And a solid neutral shade of gray or beige can lend a subtle elegance. But sometimes, we all need to break out a bit and add some pop, kick things up a notch.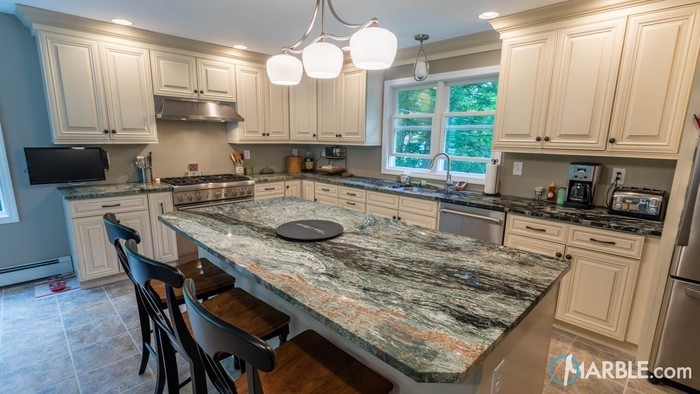 Green Jadeite Granite Countertops
That's what choosing a bold countertop can do. Virtually all countertop materials can deliver unexpected color, although the most striking choices will be found in granite, quartz, onyx, and gemstone. Whatever material you choose, moving beyond black, gray, and white will add an element of your personality to a room. And it can provide a feel of lux that the traditional hues simply can't.
A Bahama blue isn't a color many of us would ever consider for a kitchen island or counters. But just look at how it brings a fresh element to a kitchen that is otherwise traditional. Without it, this kitchen might fall directly into the category of boring or at least, unoriginal.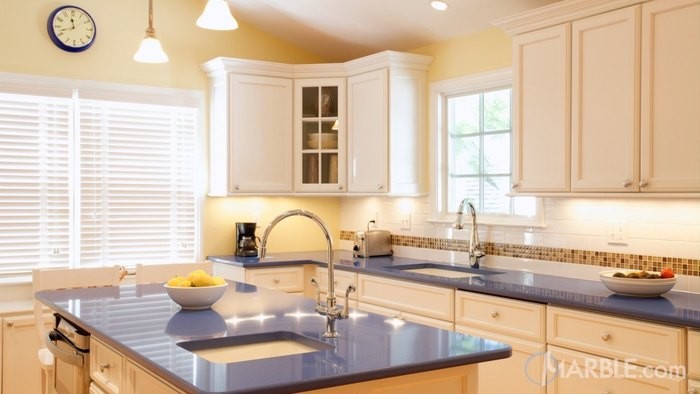 Bahama Blue Quartz Countertops
Color in countertops doesn't have to be overwhelming. Many granite slabs are laced with veins of color so don't shy away from them. Think of them as examples of the amazing way that nature works, producing something one-of-a-kind that becomes a centerpiece of your home. Rich in character, a countertop with this kind of color is striking and can become a focal point of the room.
If you really want to think outside the box when it comes to countertop color, engineered quartz is an amazing option. With this increasingly popular choice, the color pigment is added when it is manufactured. So while you're limited by the whims of Mother Nature when it comes to stone such as granite and marble, your color choices are virtually endless if you decide to choose quartz for a countertop. What's more, engineered quartz is extremely durable and has a sheen that will endure for years, so bold colors stand out.
Bold countertop colors are something you should always consider. But here are a few times when a departure from the typical whites, blacks, beiges and grays can be exactly what you need.
The kitchen in your home was updated shortly before you moved in. The appliances and cabinetry are new and high quality. It's not old enough for an overhaul but you find the design a bit, well, meh. Swapping out bland countertops for some that provide a burst of color will make a big difference and let you put your own personal stamp on the room.
You're designing your master suite and want to make it reflect your personality. And why not? This is the most private space in your home — it's not as though it's a place for visitors. So go a little crazy. Do you like hot pink? How about teal? If there is ever a room where you can reveal your own private Elvis side, this is it.
You're updating the countertops at your vacation home. Hey, isn't this the spot you go to get away from things? The place where you can let your hair down and be yourself? Maybe it's a beach house and you want to complement the ocean views with a bright, bold blue. Or it's a modern cabin tucked away in a forest and a rich green is just what the place needs. Wherever your getaway might be, don't be afraid to mark the countertops with color.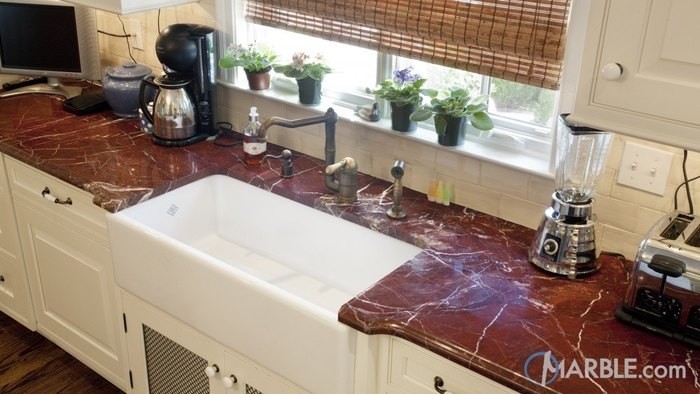 Red Ravel Granite Countertop
Whether it's a kitchen island or a bathroom vanity, don't be afraid to go bold instead of bland. Once you see it, you may never choose a traditional color tone again.