A New Year, A New Kitchen
by Kevin Fritz
Posted on December 21, 2017 07:00:00 AM
Tweet
---
A new year usually yearns for a new look and what better place to start than with the kitchen. Whether it's a simple redo or a full-blown re-creation, fusing natural stone into the project is a must. Marble's classic beauty, granite colors that run the spectrum and the wonders of slate, sandstone, and onyx will enhance any design you have in mind.
Because of its durability and hardiness, granite makes the most sense as the countertop stone of choice for busy kitchens. Granite countertop colors that range from Bianco Antico, a light granite with soft grays, pinks and classic dark blotches to the ever-popular UbaTuba Granite's tight blend of blacks, greens and browns create functionality and style in one fell swoop. Marble, a style that will always be chic and fashionable, lacks functionality in the kitchen because of its susceptibility to staining from foods and drinks containing acids, like wine and lemons.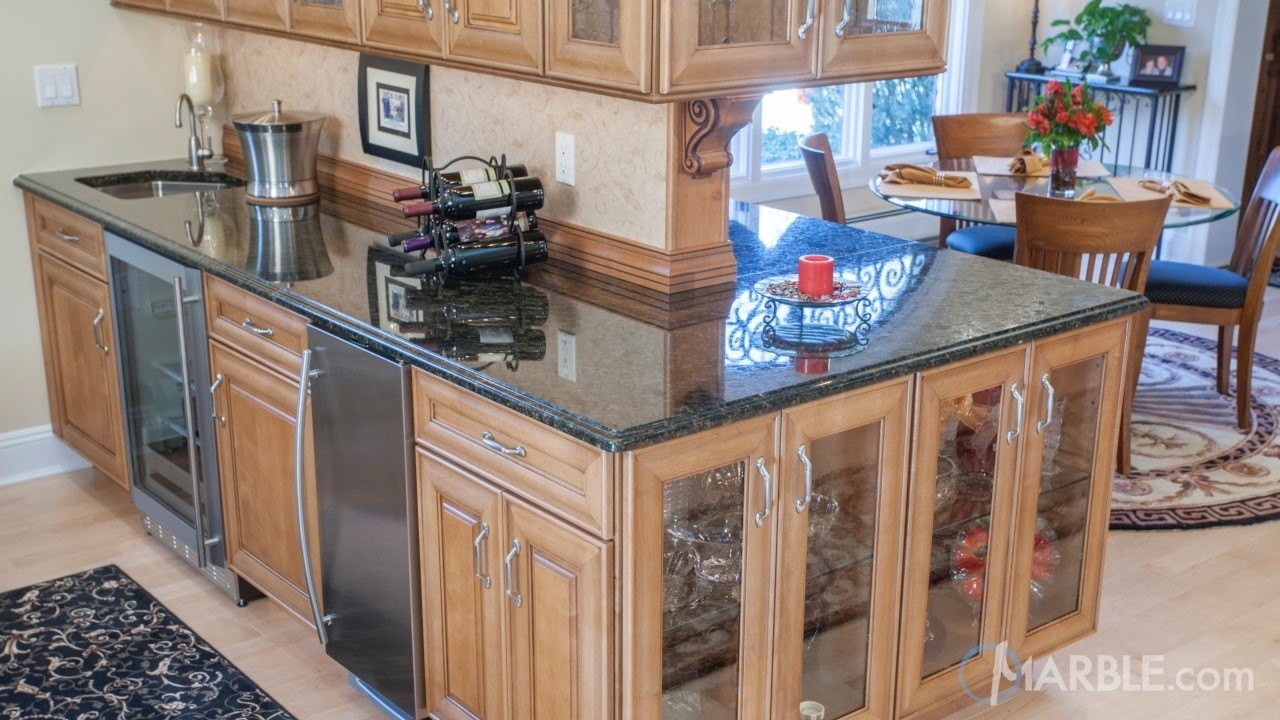 Dark and beautiful Ubatuba granite countertops
Beyond stone colors, particular slabs of granite gleam a keen sense of movement. The illusion of flowing sand within the soft grays of Viscont White Granite can be mesmerizing and quite a conversation starter. Ivory Fantasy Granite flows loosely from edge to edge embedded on an eggshell and vanilla bean canvas.
Other granite slabs present a tighter grain of stone colors. Some Silver Pearl granite slabs appear almost black from a distance, but a close-up view reveals its snug grays and purples.
The best plan of action when redesigning your new kitchen is to first choose a design. The layout of the kitchen is just as important as how it looks. Design the kitchen the way you like to cook and entertain. If you prefer one end open to the home so you can be part of the party, choose an L-Shape. If space is an issue, a Galley design may be right up your alley.
Once the layout is decided, don't be afraid to experiment with a different colored backsplash or even a different natural stone than your granite countertops. For a true classic statement, mix and match natural stone with wall and appliances colors with the help of the Visualizer+ on Marble.com.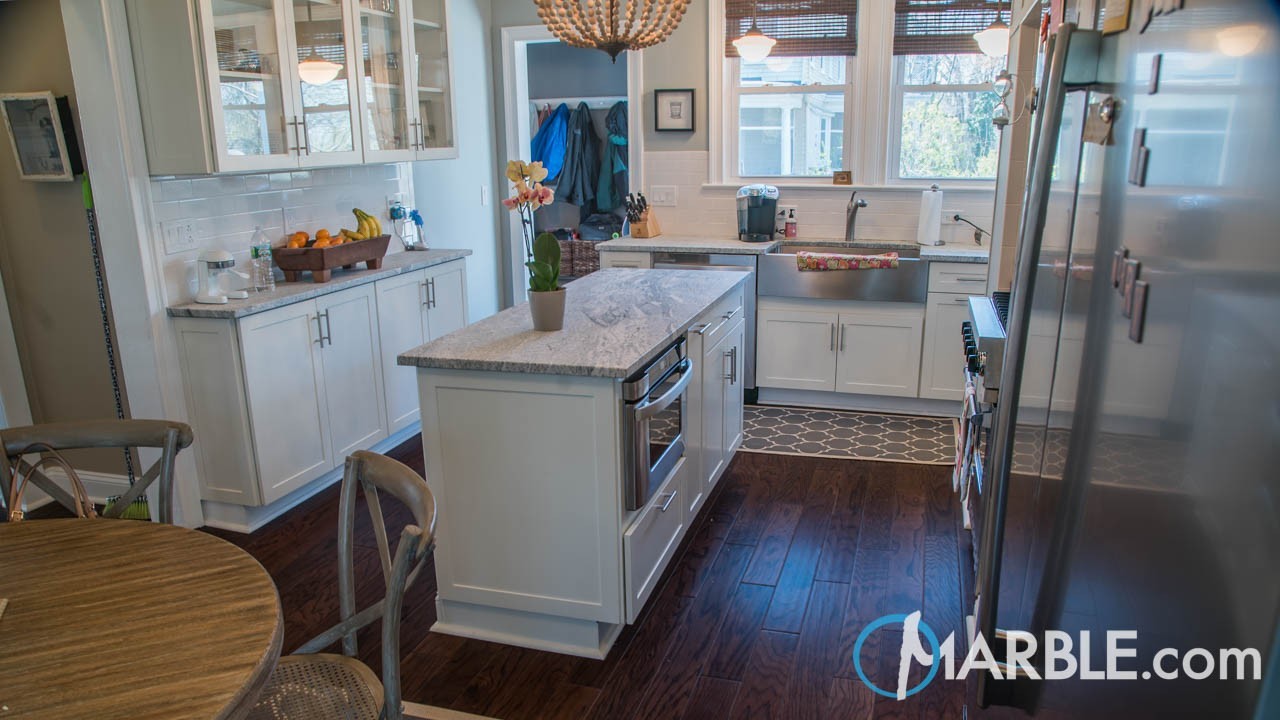 These light and airy Viscont White Granite Countertops are gorgeous
Cabinets are vital to any kitchen, both for storage and display by eliminating some doors. Blend the shades of your cabinets and hardware options with granite colors for a seamless style. The steel gray stone colors illuminating from Silver Pearl Granite are an excellent match with off-white cabinets and light silver hardware. Silver Pearl Granite's tight blend of blacks and grays with a tinge of purple is uniquely dramatic.
Don't become pigeon-holed or confused when it comes to granite colors. There are more possibilities than you can imagine gracing your kitchen. Granite countertop colors range from almost white to black and everything in between. Looking for a rose-colored granite? Maybe blue-based stone is your cup of tea? Discover the options available for granite colors. Remember, slabs cut from the same quarry may differ in color, so an in-person visit to a slab yard is a must.
Whether you crave the Bianco Antico, Viscont White, Ivory Fantasy, UbaTuba, Silver Pearl or any of the plethora of choices on the market, you can rest assured you are investing in to one of the most beautiful, reliable, classic natural stones created by Mother Nature.