A Few Essentials for a Luxury Bathroom
by Marissa Sese
Posted on November 14, 2018 04:14:14 PM
Tweet
---
A luxury bathroom has defining elements that make it the way it is. You can immediately tell the difference when comparing a normal bathroom to a luxury bathroom. Do you want to remodel one of the most important rooms in your home? Do you want that high-end look in your bathroom that makes you feel glamorous? If those were both answered with a "yes", there are essentials when it comes to creating a bathroom of pure luxury. Here are a few ideas.
Large Windows
Luxury rooms usually are known for their large spaces. If you don't have a large bathroom but still want that luxurious look, placing a large window opens up space and instantly creates a feeling of luxury.
Marble
Marble is a beautiful natural stone that creates an elegant feeling wherever it is installed. This stone is known to last for a very long time and the lighter varieties are known to add a feeling of luxury to any room it is placed. The white background and gray veins that run through the surface of the marble will create an elegant look in your bathroom especially when installed as a bathtub surround, shower surround or vanity top. You need to be careful with spilling toothpaste on this stone because it tends to stain. Its porosity makes marble a high-maintenance stone.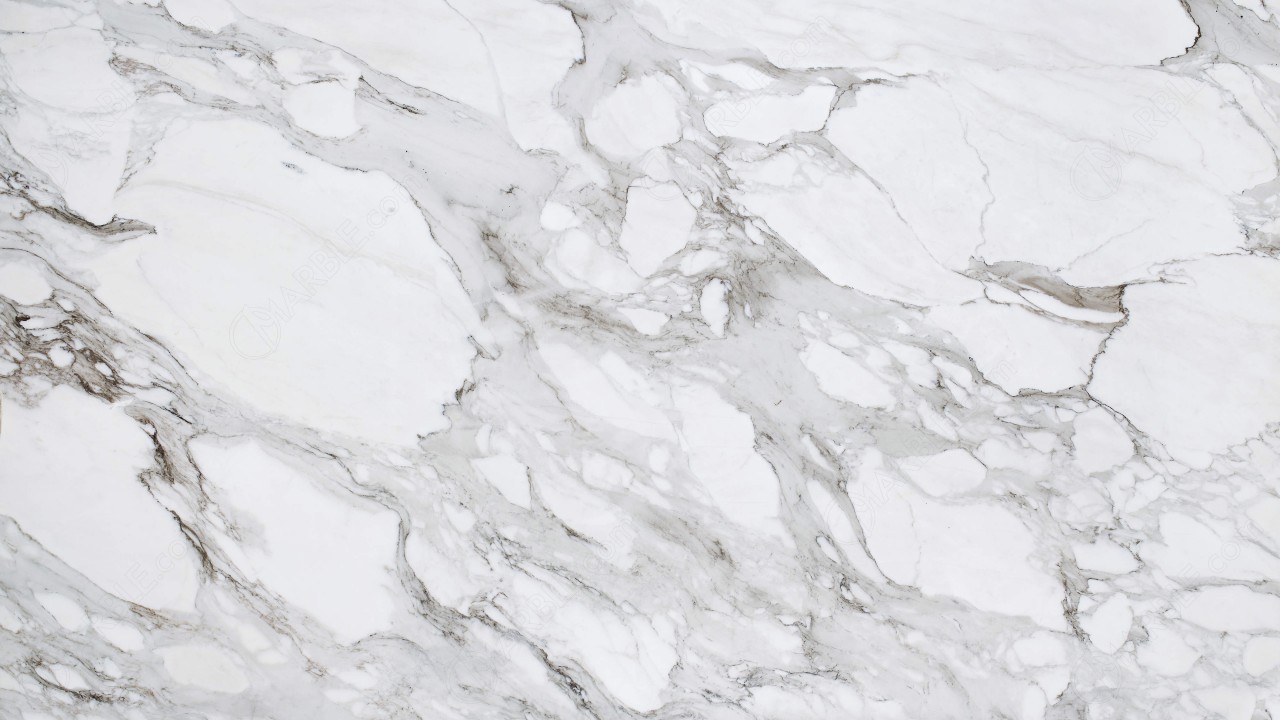 The beautiful Calacatta Borghini marble (Shown Above), for example, is one popular marble stone that many homeowners install in their homes for a feeling of grandeur. This marble is known for its lovely veiny patterns and will make an exquisite piece in your bathroom. Install this material as a vanity top, tub surround, shower surround or even a wall covering. If you install a stone like Calacatta Borghini marble in your bathroom, your bathroom will have that high-end look and you'll be living the gracious life.
Ornate Details
Sometimes it's all in the details and adding a few details with intricate patterns will surely create a luxurious space. A mirror with ornate detailing can be a simple addition to add that luxurious look while also creating the look of a larger space. Some other details you can add to create a luxury feel to space would be to add shiny brass or gold fixtures.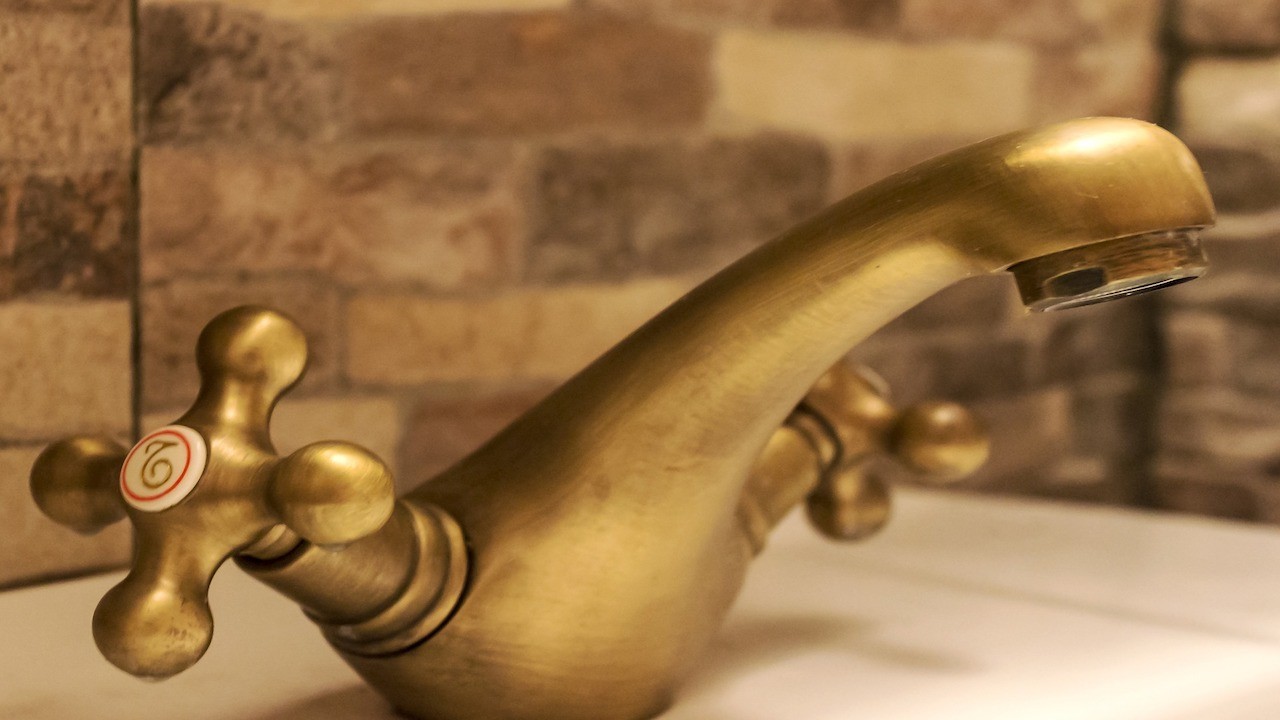 Accent lighting and stunning light features
Light fixtures will not only brighten up space but will also highlight all of the most beautiful components in your bathroom. For example, those marble vanity tops will stick out even more with a lighting fixture placed above them. Adding a beautiful crystal chandelier is a definite way to create a high-end look that will add sophistication to your bathroom.
If you have onyx installed as a vanity top, you can add lights to backlight the stone. Because onyx is transparent, this will create a stunning look, as the natural stone seems to glow. Metal light fixtures above the vanity mirror will also create a beautiful luxury feel to your bathroom. Remember, brass or golds are the perfect metal colors for this look.
Colors
When it comes to wall color, less is more. You want to focus more on the details of the materials and products in the room. The wall color should be white or light gray. Play with lighter neutral colors. Neutral colors work for any style you want to achieve.
Colors in other elements can be placed to add that luxurious look. Colors that are known for luxury are bold colors like black, gold, and purple. You want to use these sparingly so you do not overwhelm the space making it feel smaller. The point is to make the room feel larger and more open. Too many elements can make a room look cluttered and smaller.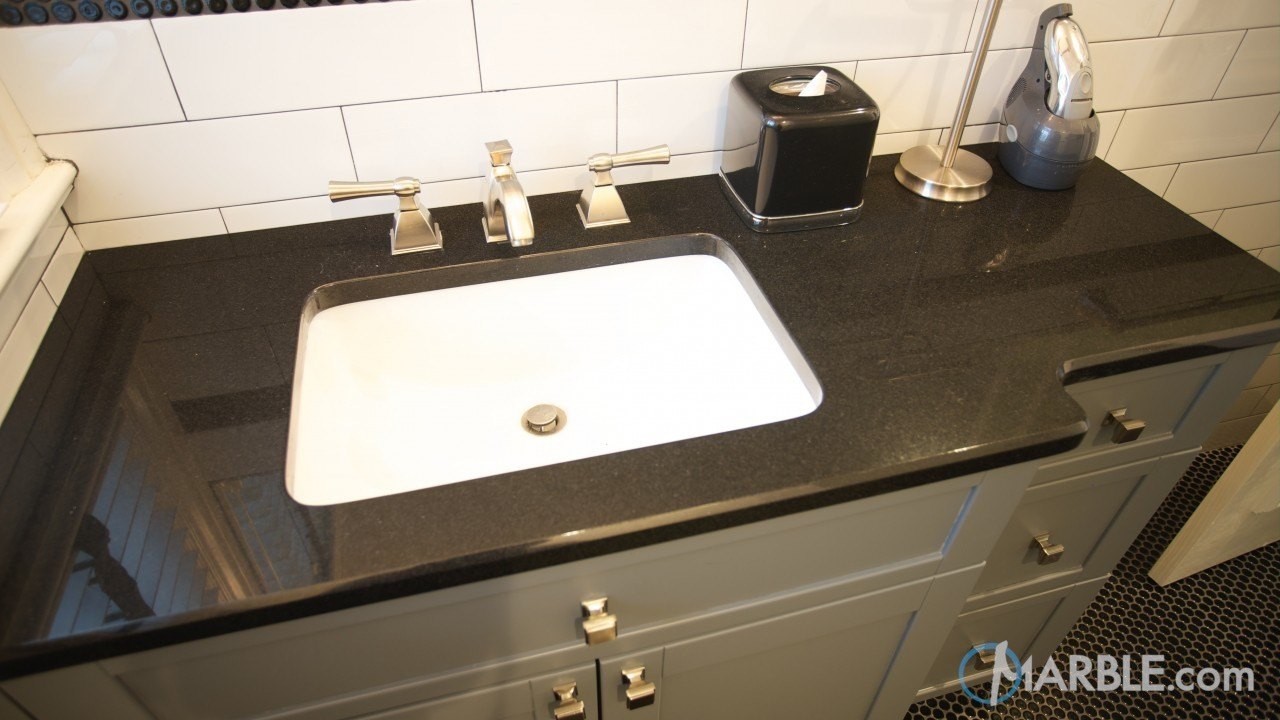 If you have space, how about adding a purple lounge chair? Purple is known to be the color of royalty and this deep color will add a striking addition to your bathroom. A black vanity top, like Absolute Black granite (Shown Above), is the perfect material to add that touch of black without overwhelming the space. It has a slight sparkle, which makes it even more glamorous. The color black is a mysterious and elegant color that will fit in all designs. It will truly make a statement.
As mentioned above, gold or bronze fixtures would really make the room stand out in a luxurious way. Décor pieces like gold toothbrush containers and other gold colored accessories.
Free standing tub
Nothing says luxury like a freestanding bathtub. Remember how we mentioned that ornate detailing adds to the look of luxury? There are freestanding clawfoot tubs that have detailed foot designs in brass, chrome, or gold colors. A tub like this will shoot your place of tranquility to the next level of elegance.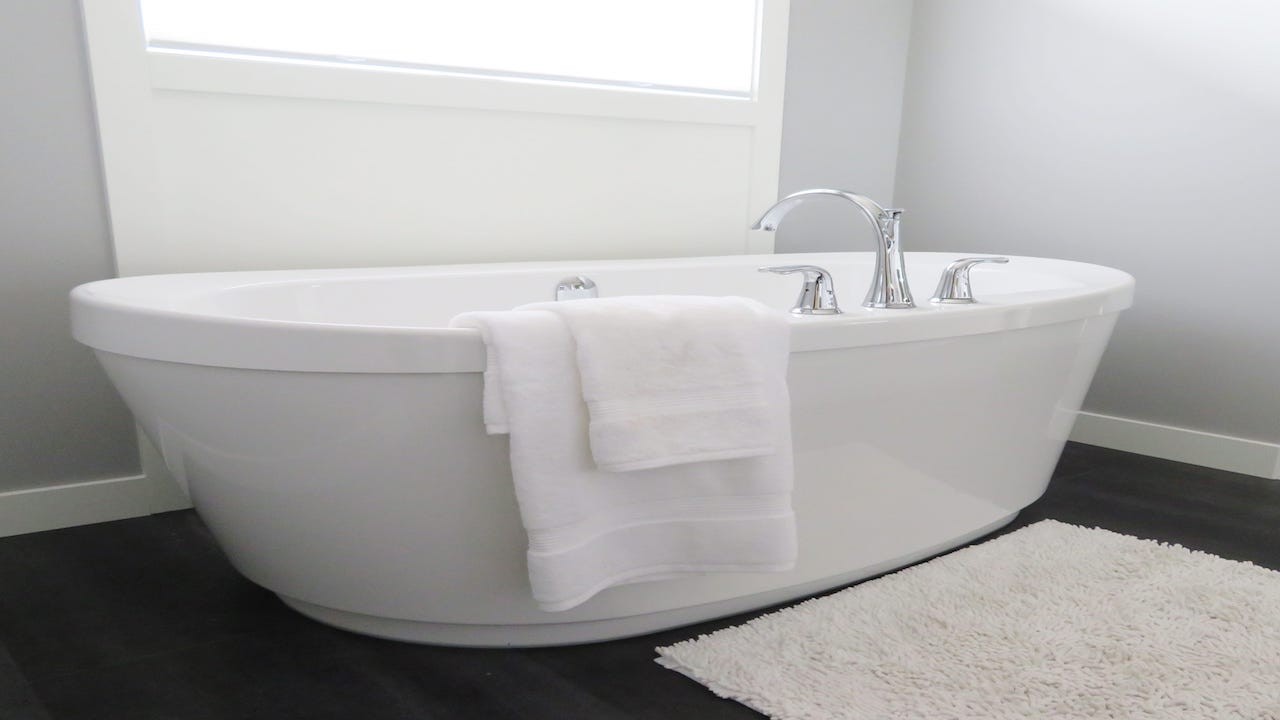 If you want to live in the lap of luxury, a few of these tips will take your bathroom from plain to fabulous. After a long day, you deserve to come home to relax and unwind in a room fit for a king, or queen. Get a taste of the fine life in one of the most important rooms in your home.