10 Stunning Kitchens for design inspiration
Tweet
---
When it's time to update or remodel the kitchen, there are a million resources. However, no one's vision of their perfect kitchen is going to be the same as yours. A great way to start is with the feature that's most important to you. For example, are cherry cabinets a must-have? Their natural color and warmth will narrow down the number of countertop materials and colors you look at (hint: granite, marble, and quartz countertops work perfectly with cherry cabinets). Find the object you want to feature the most then pick the colors and styles that accentuate it and you're practically guaranteed a stunning result. The 10 examples below will inspire your creative ability!
1. Traditional is always trendy.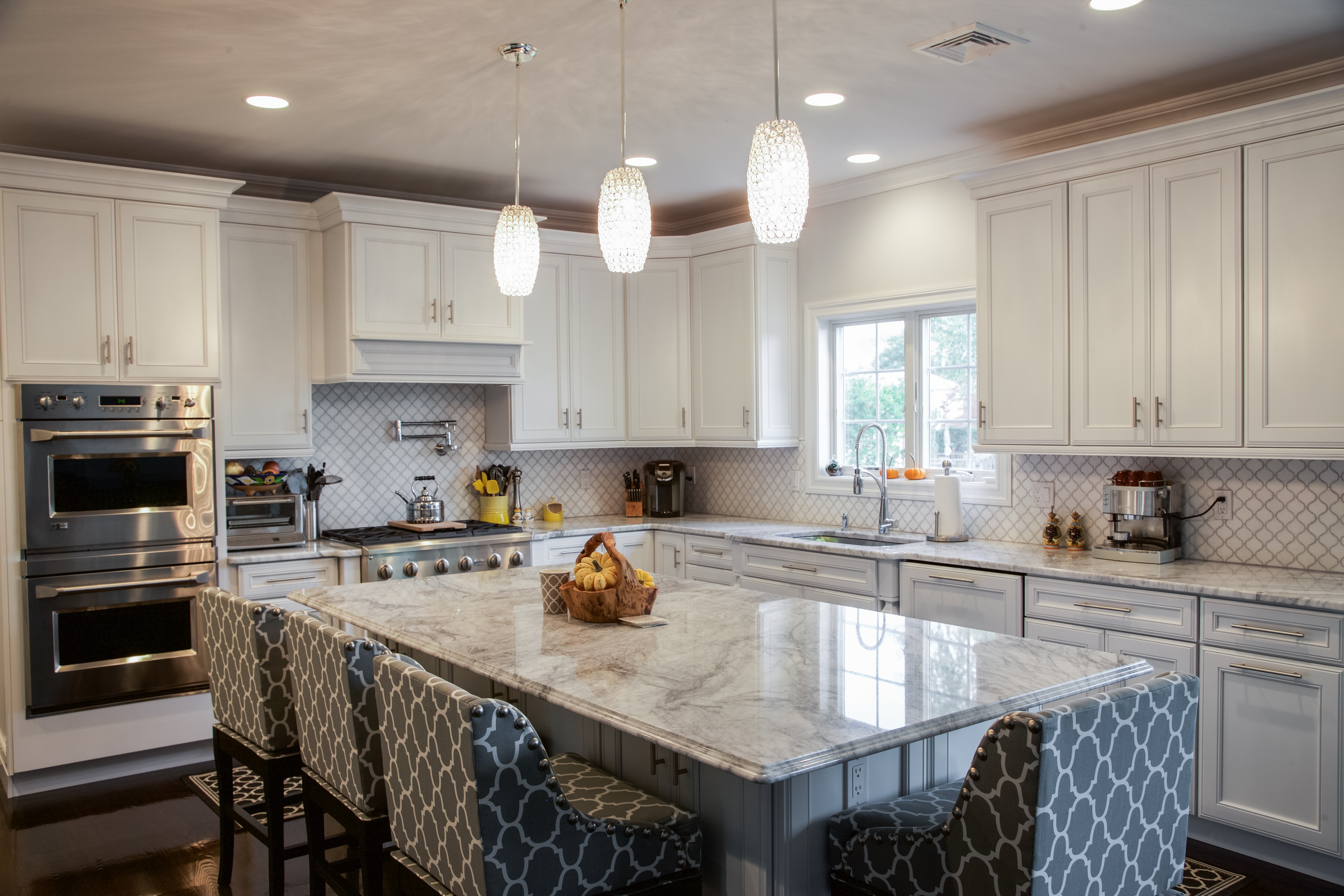 Reflective surfaces, geometric patterns and high-tech appliances This kitchen shows why gray is the new white in kitchen design with the countertops and island boasting gorgeous white marble with gray veining. The marble countertop and island accentuate the white cabinets and the geometrically patterned barstools. Stainless steel appliances, recessed lighting and a tile backsplash with a contrasting pattern all contribute to this stunning kitchen.
2. Contemporary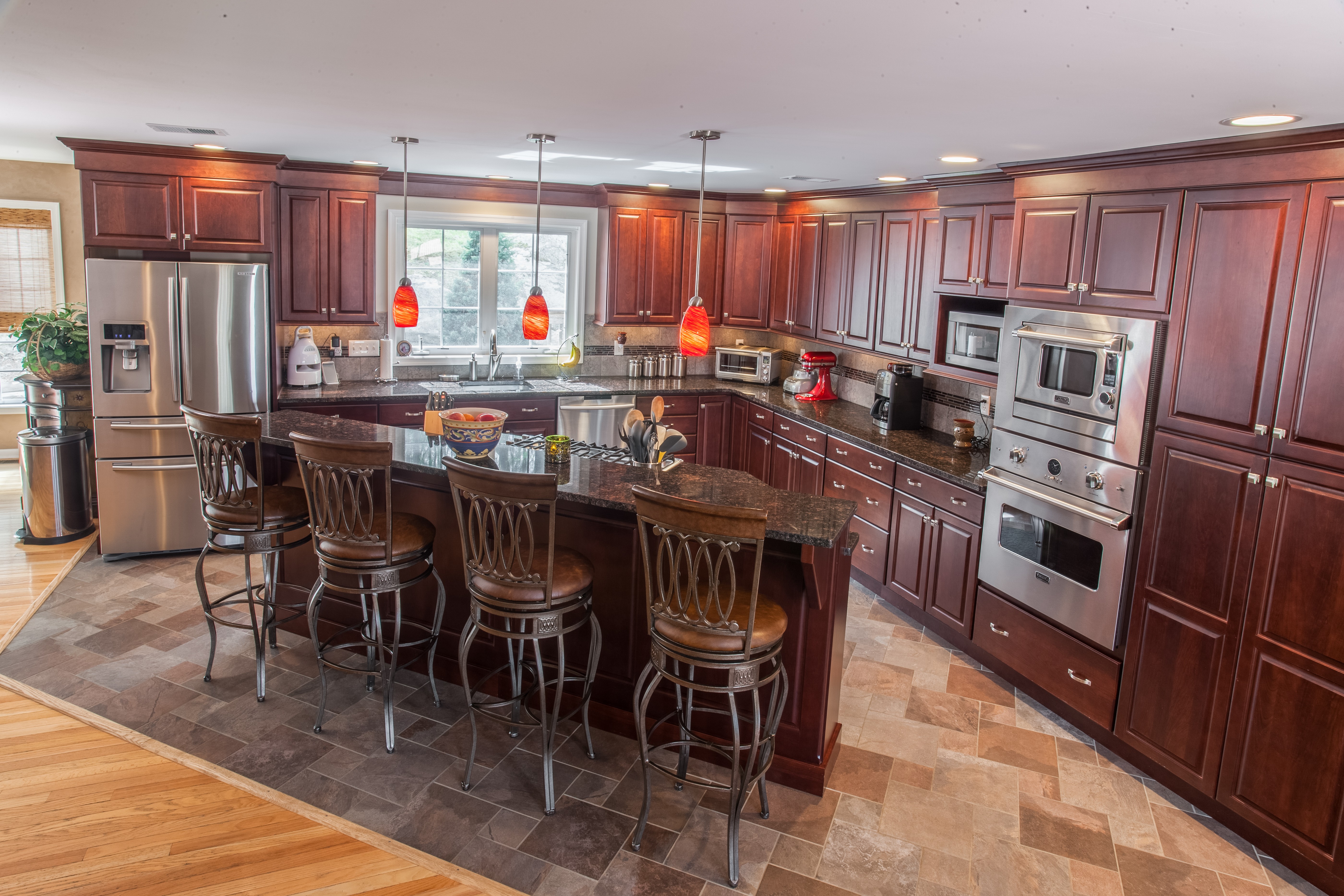 Contemporary doesn't have to be purely functional. Family friendly can be as beautiful as this fantastic variegated granite tile floor, warm-toned cherry cabinets, and tan brown granite countertops. An island with a built-in cooktop and the stainless steel appliances give the space a high-end look, especially when paired with recessed lighting and stylish seating.
3. Less is more.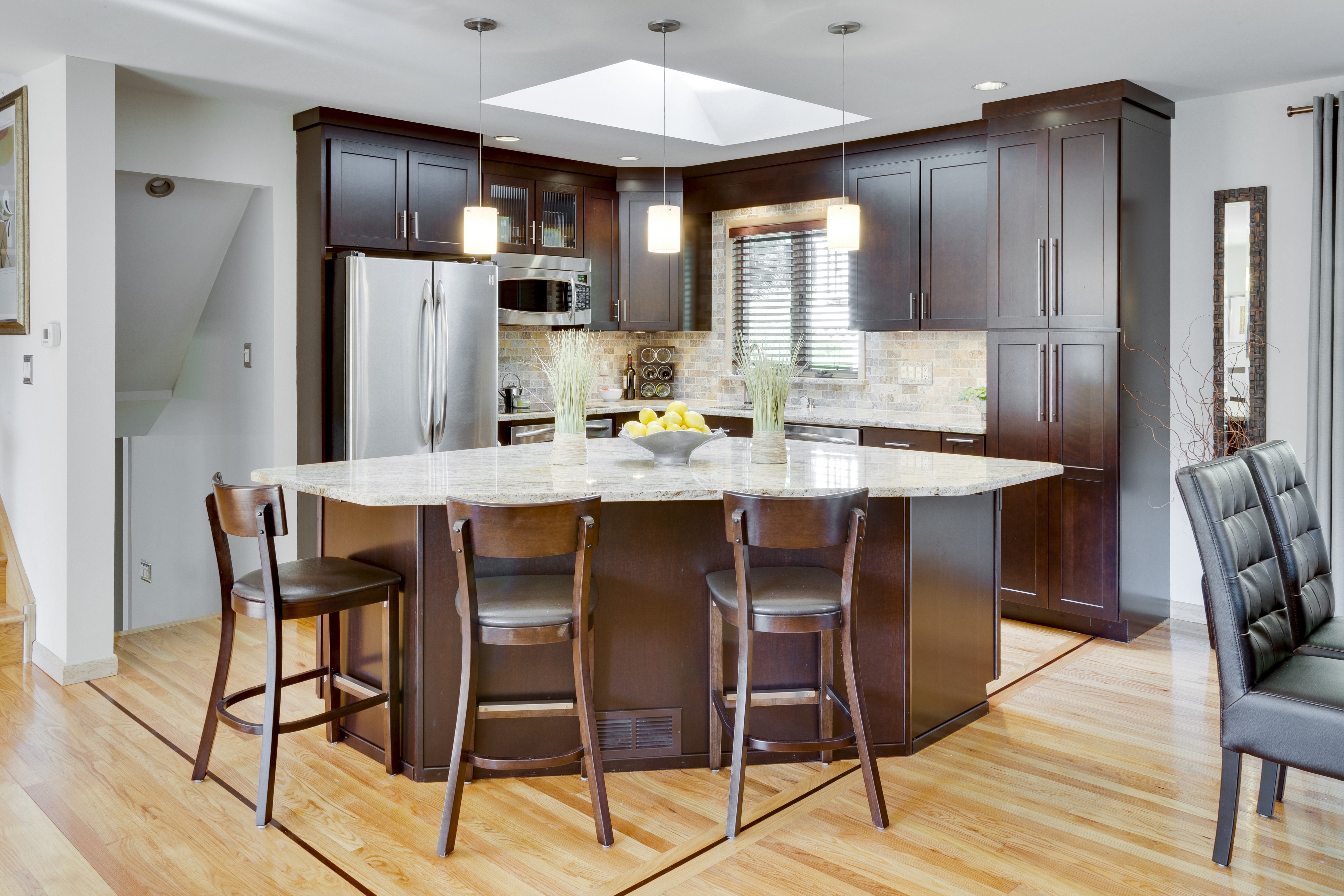 Small doesn't have to mean less. Skylights can make a small space seem much larger, and an island can be fashioned into any shape to better serve the flow of the space and made elegant with the addition of a white marble work surface which seems to absorb the natural light and brighten the area. Floor to ceiling cabinets is another way to add style and give a space a larger feel.
4. Sleek and modern elegance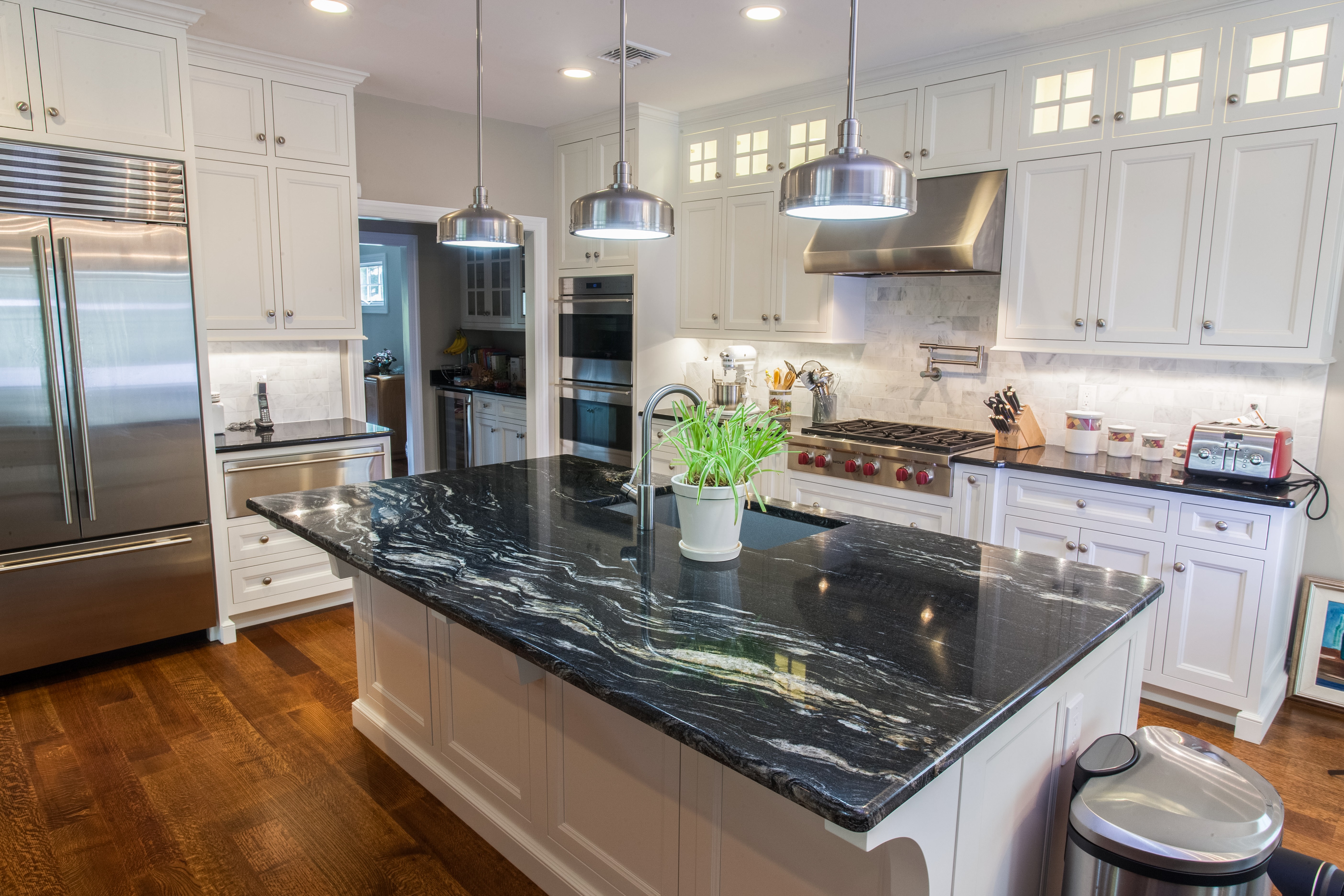 An experiment in contrast, this Cosmic black granite island provides a focal point in this modern kitchen. Install stainless steel fixtures, high-tech appliances, and a warm hardwood floor to create an environment that's anything but industrial.
5. Ultra-modern, ultra-lux.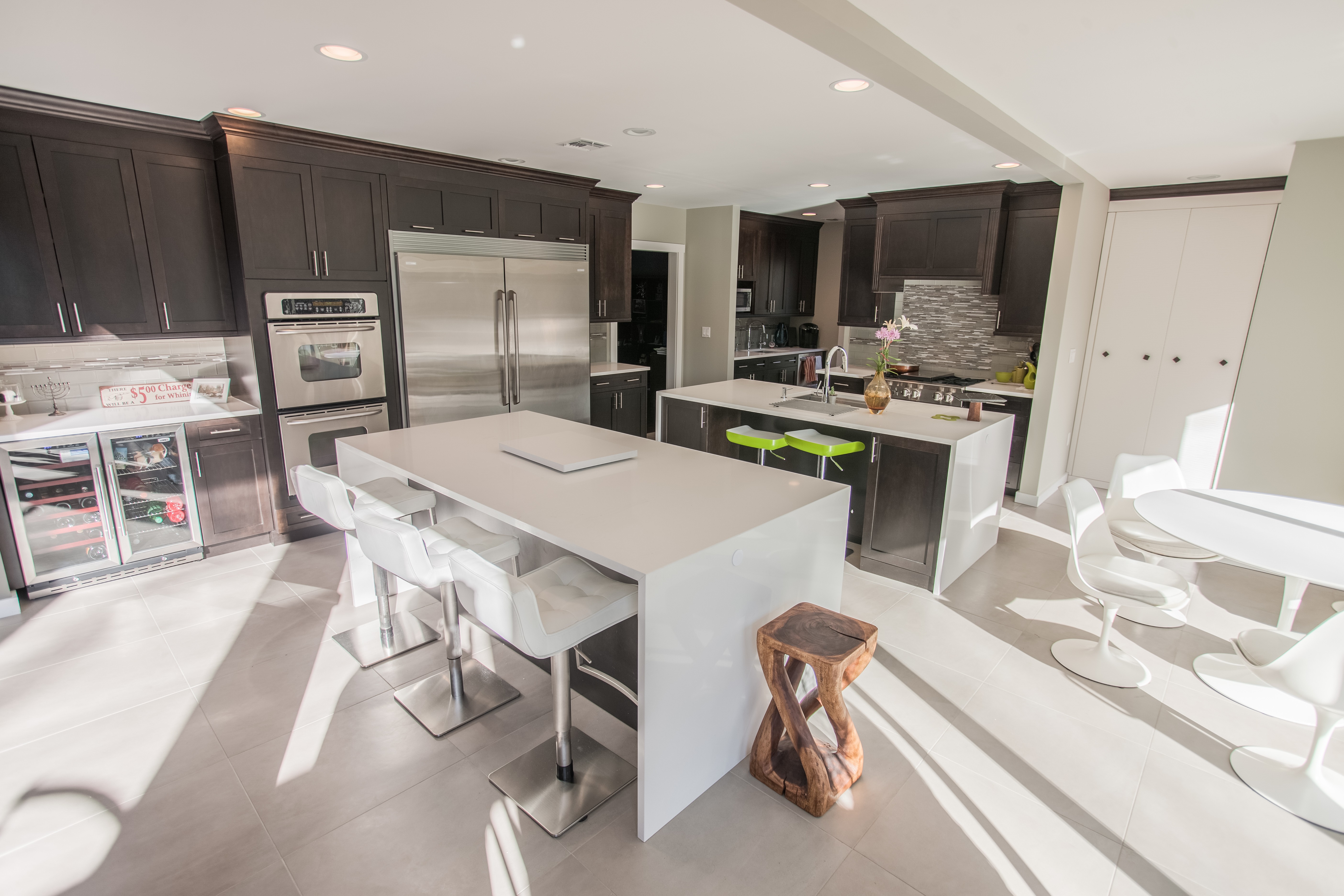 Monotone spaces are in fashion, especially with millennials. To get the look, choose countertops and work surfaces with the same hue as tile for the floor. Reflective surfaces and high-tech materials are vital elements to modern kitchens. Iconic midcentury seating, glass fronts and commercial style stainless steel appliances are a failsafe way to get this futuristic look. Sleek and sophisticated, the modern kitchen is designed to keep clutter to a minimum.
6. Rustic and romantic.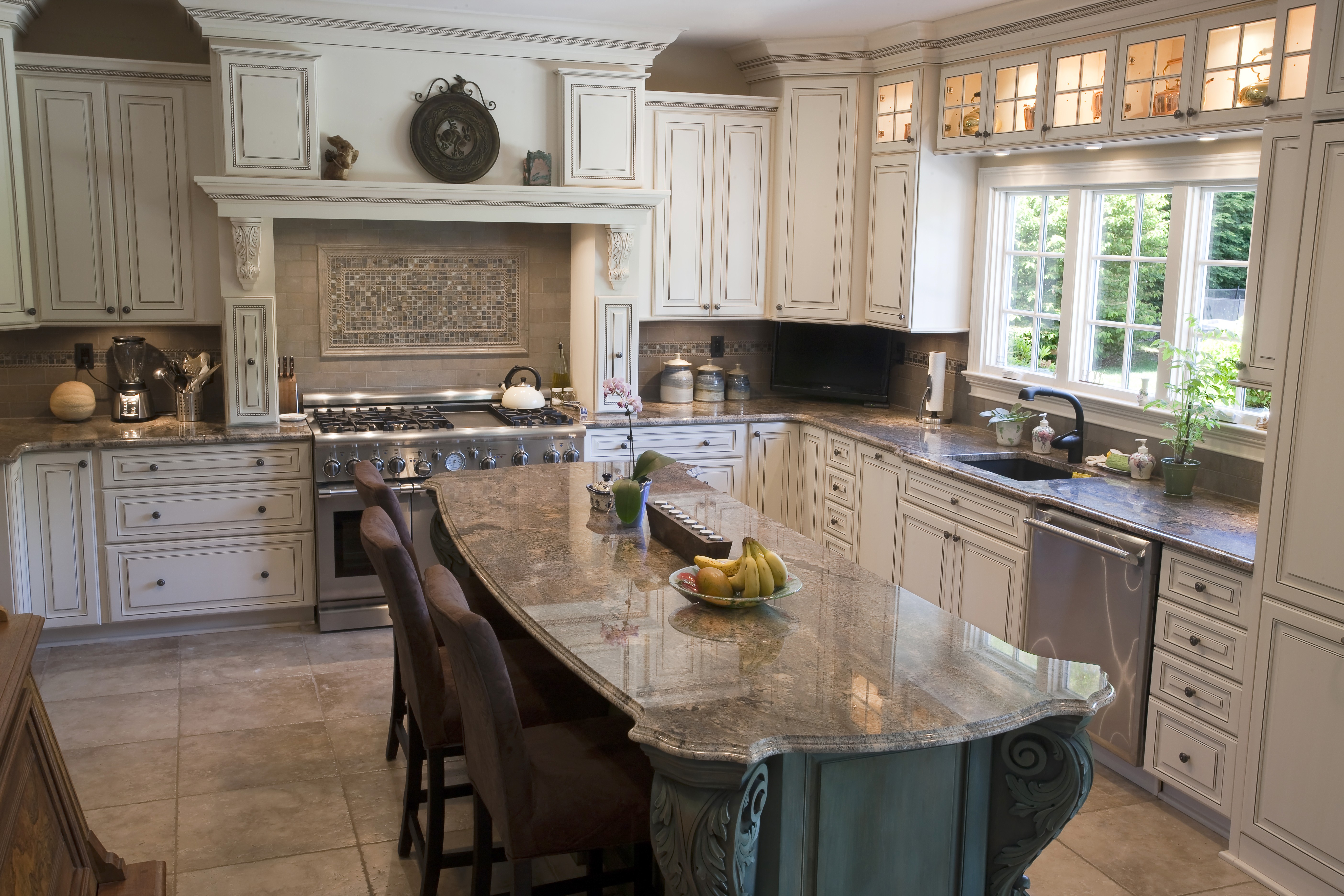 Ibere Creama Bordeaux Light Granite
To create a Mediterranean style kitchen, look for an off-white granite with rich honey, brown, and gold or amber veining to use for the countertops, like this Gold Antique granite countertop, paired with warm-toned cabinets it practically glows. A textured backsplash and rustic artisan lighting are ideal additions.
7. Contrasting Style.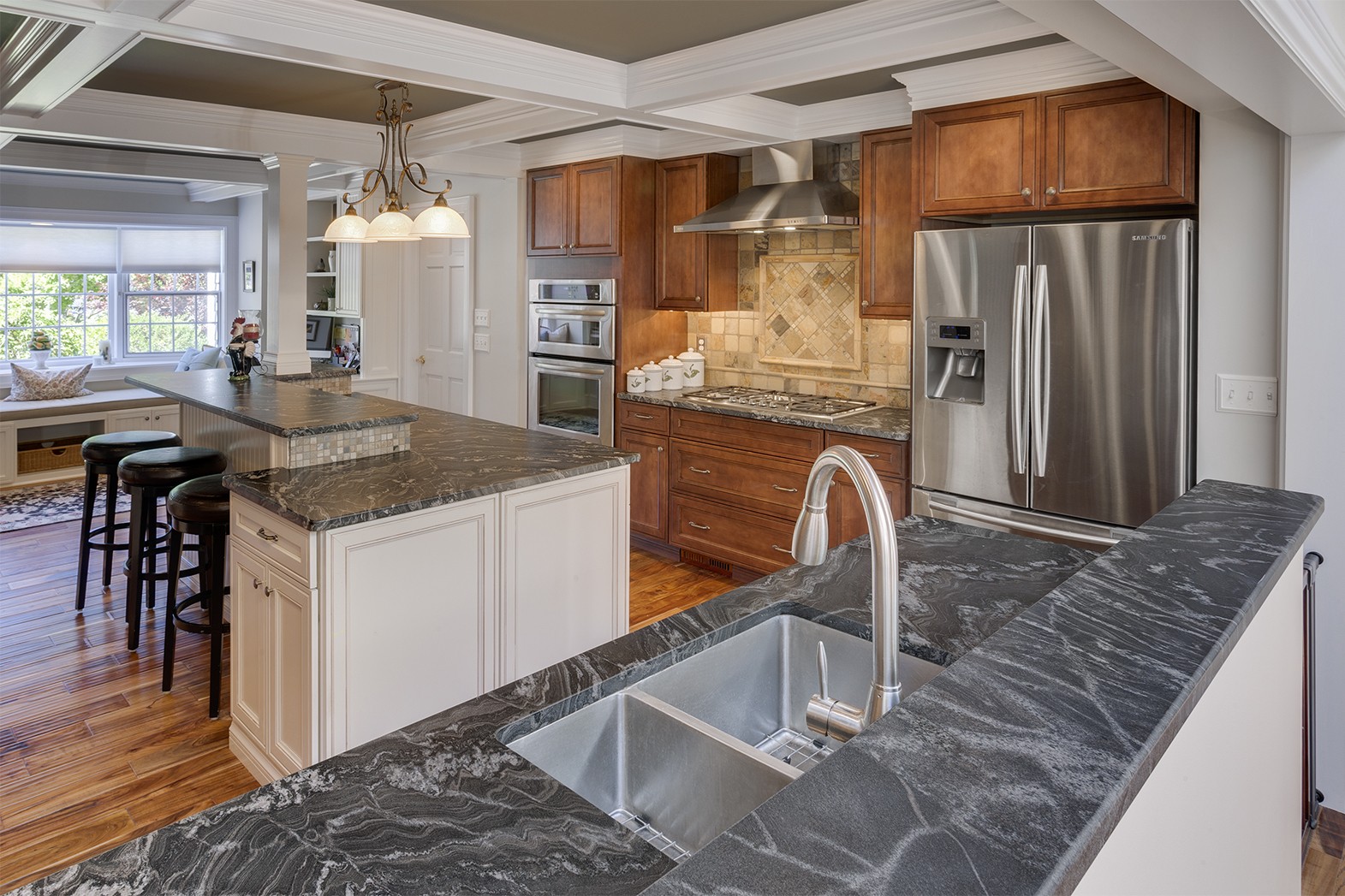 Modern stainless steel appliances, a rustic backsplash, and contemporary countertops like this black and gray granite complement each other beautifully while offering contrast. Modern hardware, hardwood floors, and the spectacular ceiling are all features which can be used individually or together to make a kitchen more than the center of the home, it'll be the center of conversation as well.
8. Glamorize white appliances.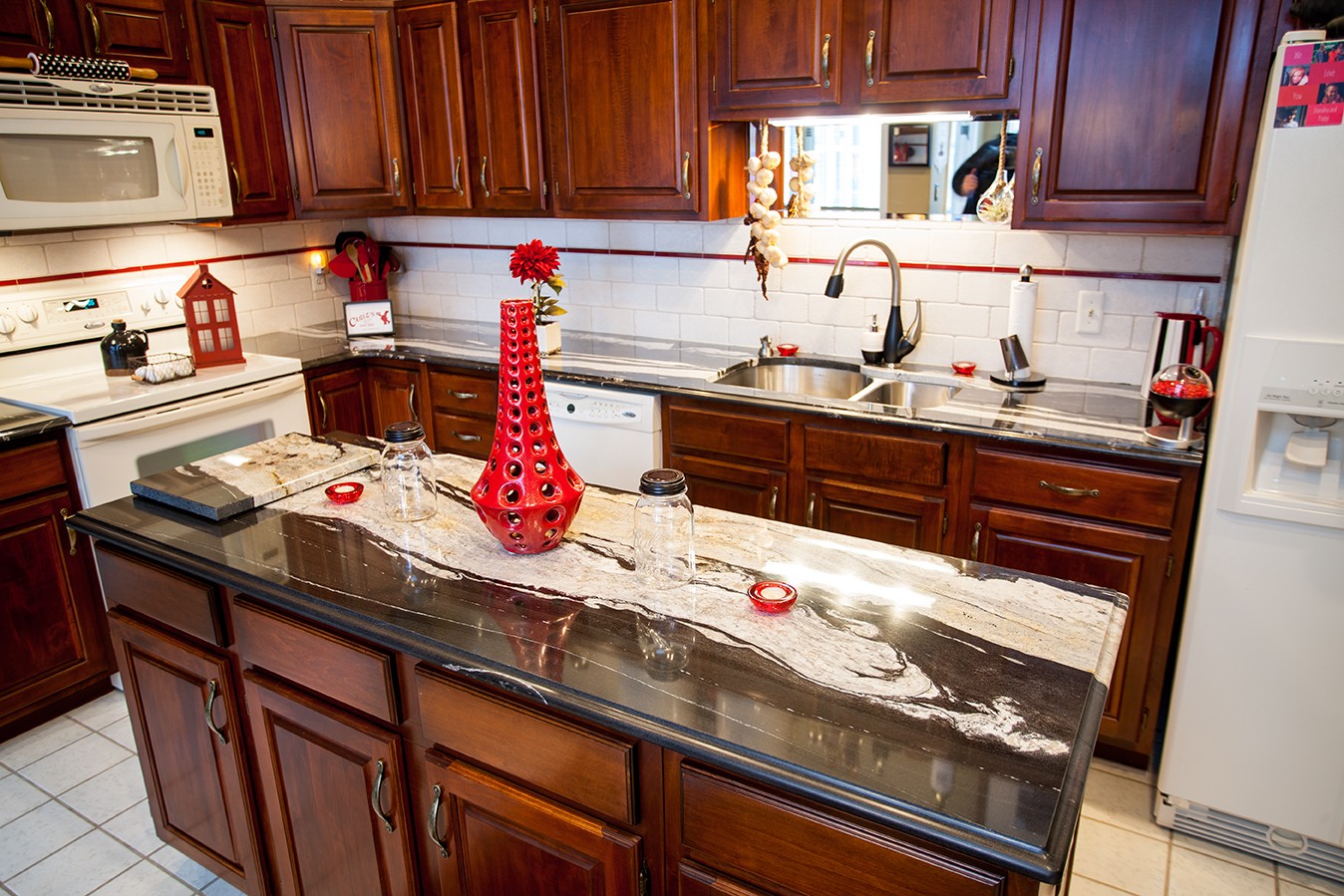 Stainless steel isn't the only appliance finish. If your kitchen design needs to complement white appliances, glam them up with beautiful black and white granite island and countertops, like the ones above. Darker cabinets define sophisticated, as does off-white or grey tile flooring, and a white subway tile backsplash. Brightly colored accents make it pop and give it a Mediterranean feel.
9. Sleek.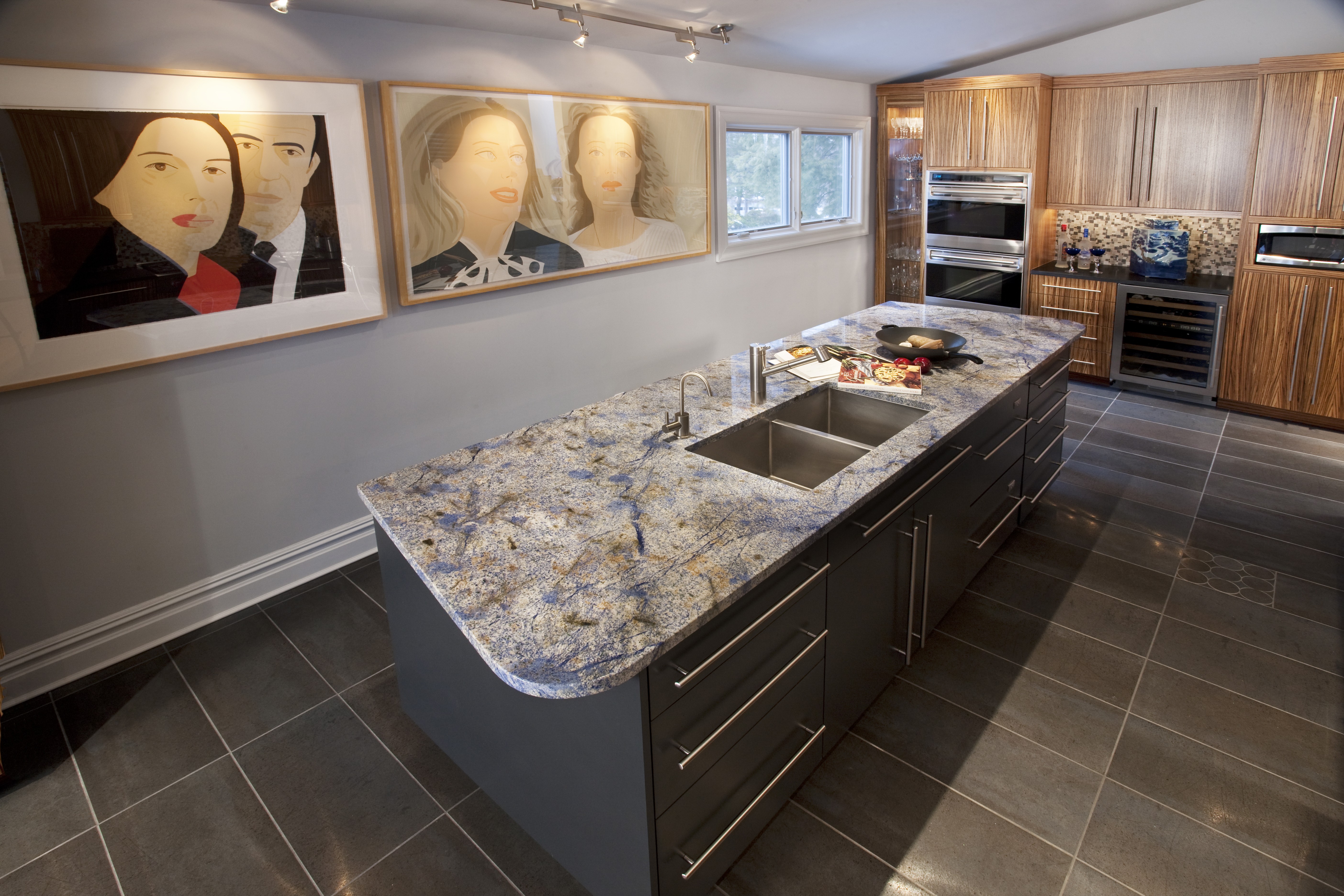 Edgy, sophisticated, and minimalistic are a few of the words the describe this kitchen. Big bold prints serve as the focal points, as is the multi-colored granite countertop that accentuates it perfectly. Dark, rectangular tiles contribute to the clean lines that give this room it "wow" factor
10. Country charm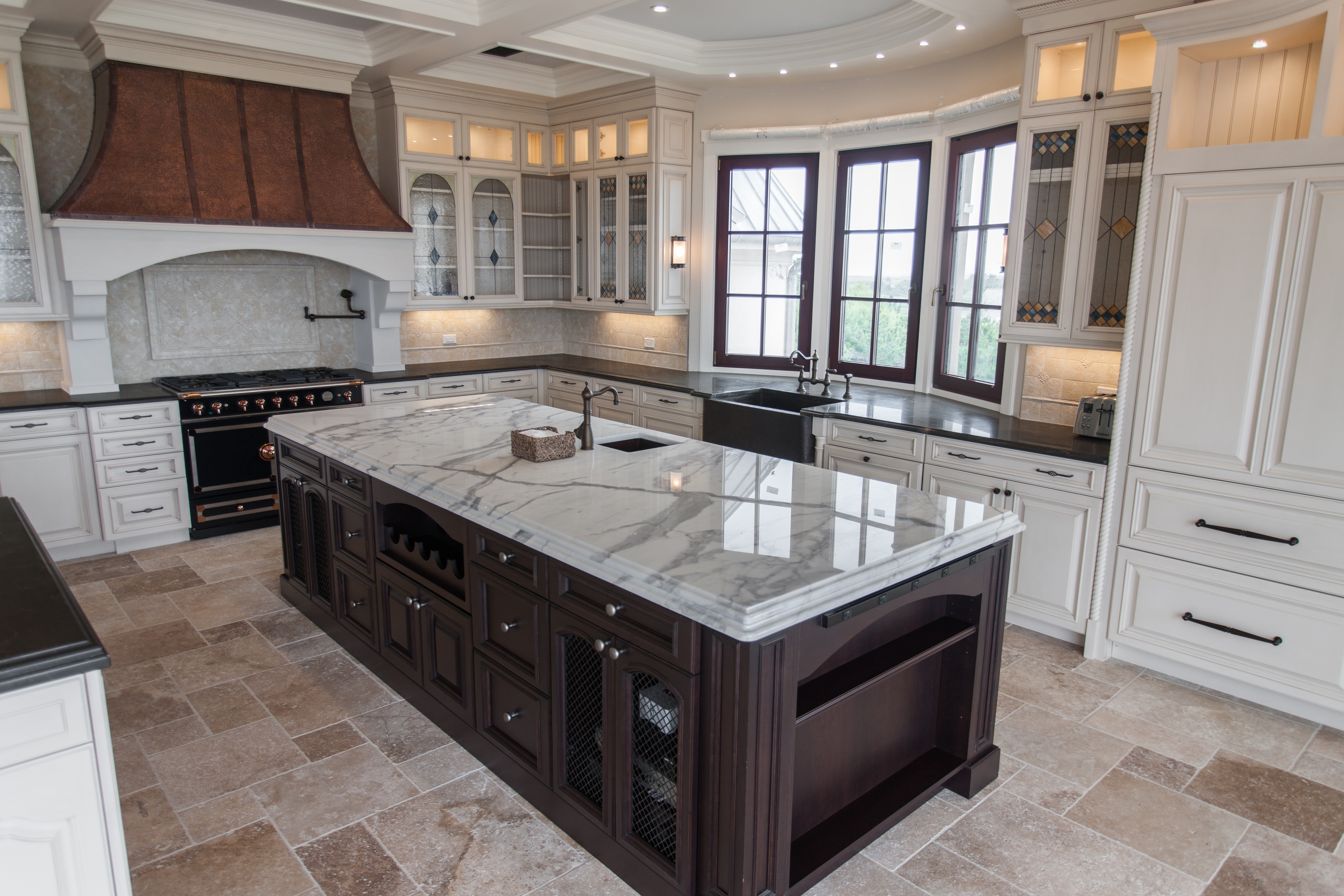 This kitchen envisions a small hotel in the South of France, with elegant and (apparently) timeworn features like the classic white marble island paired with contrasting darker countertops. The dark finish of the appliances and the metal finish of the hood vent take a person back centuries, as do the rustic granite floor tiles and the artisan style cabinet fronts.